Our editors present a guide on the best golf gift ideas for Father's Day, graduation, birthdays and holidays – cool golf gadgets and equipment that will appeal to golfers at a range of skill levels, and that are available at a variety of different price points. Our list of "Do's" and "Don'ts" provide our thoughts on which gifts will elicit an enthusiastic "SWEET!! YOU ARE THE BEST EVER!!!" and which will trigger an "ummmm…is there a gift receipt in the box?"
DO'S
Gift Cards. Not much to say – cash (or a close facsimile) is king!
Pros

The gift recipient gets to choose whatever they want.
Instead of spending your time driving around town or surfing the internet to find the "perfect gift", you can spend that valuable time on the course instead!

Cons

Some circles may consider this an impersonal gift compared to a item you specifically choose (we sure don't, however!).

What to Watch Out For

The best gift cards come from companies that have a wide selection of products. Two that we commonly use are Amazon Gift Cards and Golfsmith Gift Cards.

Pricing

Gift cards generally are found in denominations of $25, $50 and $100. And the total price can be whatever your relative/friend/coworker is worth!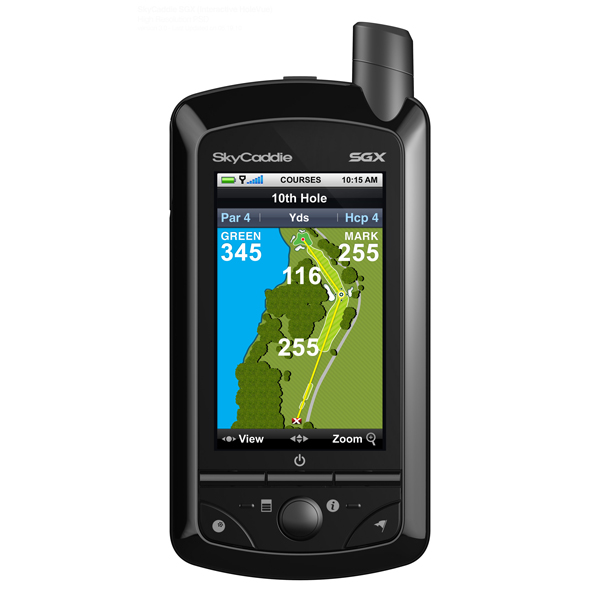 Click image to enlarge
Golf GPS Units. These nifty devices show golfers how far they are from the hole. The advanced units provide overhead satellite maps, aerial videos that show the hole layout, touchscreens, and electronic scoring and statistics.
Pros

These are cool, and the high-end units can definitely impress your friends.
Golf GPS devices are easy to use – just walk to the ball, and the unit will recalculate and display the distance to the green and, in the case of most devices, the distance to various hazards and targets as well.

Cons

Some units require an annual subscription or charge per-course fees to access golf courses. So watch out – you may be giving the gift that keeps on giving! Be sure to check the "Cost/Value" section in each of our reviews to see what sort of ongoing commitment is required.

What to Watch Out For

The devices range in terms of the amount of tech savvy necessary to get up and running. Some are ready to go out of the box, while others require downloading software to a computer and connecting the GPS device to the computer to add the desired golf courses. See the Setup/Syncing section within our How We Test overview, where we rate each unit on how much effort it takes to get started with the device.

Pricing

Low end – $150 (basic units such as the Bushnell neo+ and IZZO SWAMI 1500)
High end – $400-$500 Garmin G5 Approach and GolfBuddy Platinum)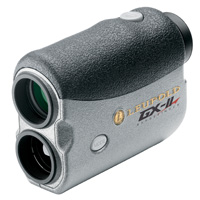 Click image to enlarge
Golf Laser Rangefinders. Another gadget for getting the distance to the hole is a laser rangefinder. These devices look like binoculars, and just require the golfer to aim and push a button to fire a laser and receive an extremely precise reading on how far it is to the target.
Pros

Laser rangefinders are more accurate than GPS devices, and as a result, are generally preferred by professional caddies (who use them during practice rounds – they are not allowed in professional tournaments).

Cons

Acquiring targets that are a long distance away requires a steady hand and some practice.
If your view of a target is obscured (you are blocked by a line of trees, or you are at the bottom of a steep hill and can't see the flag), you cannot obtain a distance.

What to Watch Out For

Some of the advanced devices also provide distances that adjust for the slope (uphill or downhill) between the user and the target. While this is pretty cool, it is also prohibited by the USGA, the official arbiter of the rules of golf in the United States. Thus a golfer cannot use a slope-adjusting laser rangefinder in any round that is submitted for official handicap-keeping purposes, nor can it be used in most amateur tournaments.

Pricing

Low end – $330 (a basic unit like the Opti-Logic Insight GL)
High end – $500+ (top of the line products such as the Leupold GX-4 or Bushnell Pinseeker 1600)
Putters. The putter is the club that players actually use most often during a round, and is also the club that many players don't splurge on for themselves, making it a great gift idea. The caveat on putters is that the choice of a putter is a very personal decision, dependent on the intangible "feel" that a putter provides and the "look" as the player looks down on the ball. High-end putters from Scotty Cameron, Bettinardi, and Rife are spoken of in hushed whispers and regarded as works of art.
Pros

Most golfers will never hit the ball 300 yards, but they can learn to get down in two putts. So it's the one area in which an amateur can actually use the exact same equipment as a pro!

Cons

Since it's such a touchy feely decision, it may be tough to select just the right one as a gift. Still, we think any golfer will appreciate the gift of a well-made putter, some of which qualify as works of art. And if they really like to be unique, consider a custom putter! Custom putters range from those that provide the ability to slightly modify paint-fill colors and add some limited custom stamps, such as from Never Compromise, to fully customized putters from smaller shops such as Kevin Burns, T.P. Mills, Byron Morgan, and Slighter Golf.

What to Watch Out For

Note that we've been careful to qualify our statements by saying that golfers will appreciate the gift of a quality putter. No one wants a lame putter that comes out of the bargain rack from Wal-Mart. You can't go wrong with a top-of-the-line Scotty Cameron putter…but it will set you back at least $300.

Pricing

Low end – used putters on eBay can be a great deal…consider an old school Ping Anser or a rusted-out Newport. If you want to take it to the next step, you can ship old Camerons back to the Scotty Cameron Custom Shop to be restored (and trust us, they will make the putter look llike new – we've done this multiple times and it is an incredible service).
High end – from $150 (Rife Barbados) to $300 (Bettinardi BB Series) to $300-$500 (various Scotty Cameron models).
Golf Push Carts. Most manly men will refuse to rent a push cart for $5 at their local course, even if it would save significant wear and tear on their achy back. But if someone GAVE them a push cart, they might actually use it.
Pros

Even the fanciest models top out at $200, so you can give the best on the market without breaking the bank.

Cons

Someone who always rides in an electric cart may not use a push carts very much (even though it would be much better for their health to get out and walk).

What to Watch Out For

The newer models are getting more compact, but some of the older versions are pretty big, even when folded up. It's worth giving some consideration to the size of the trunk in the gift recipient's car when you choose which push cart to buy.

Pricing
Books / DVDs. Everyone can use a little help with their swing, putting or mental game. Critical Golf provides a list of some of the most popular books and instructional DVDs available, like Dave Pelz's Putting Bible or Phil Mickelson's Secrets of the Short Game DVD.
Pros

Reasonable price points – they make great stocking stuffers!

Cons

Some might take offense at the suggestion that their golf game needs work (even though it probably does).

Pricing
Training Aids. From putting to full swing, for those who are snowbound in winter, or simply can't get to the course as much as they would like, there are endless numbers of training devices to get your game in top form.
Pros

Practice anytime, and it doesn't take 5 hours out of the day.

Cons

Will they really get used? Or will they wind up in the back of the closet with the Thighmaster?

Pricing
DON'TS
Golf Clubs. Most golfers are extremely persnickety about their golf clubs. Some folks always stick with a particular brand, like Callaway or TaylorMade. Others mix and match, always striving for a particular look and feel. Our recommendation on giving the gift of a pricey new set of golf clubs is that unless you know EXACTLY what someone wants, it's best to let them find clubs on their own.
Socks. No one ever wants to get socks as a gift. Enough said.
Golf Practice Nets. Hitting into a net just doesn't feel right. If a trip to the driving range isn't feasible, most folks are likely to just turn on the TV and watch the pros play instead of going to the trouble of setting up a practice net out in the yard.
Golf-Related Clocks or Bookends. A pair of socks would sound good in comparison.
Ball Retrievers. Please do not put anyone else through the pain of waiting for someone in the group in front of them to fish some "free" balls out of a toxic pond.