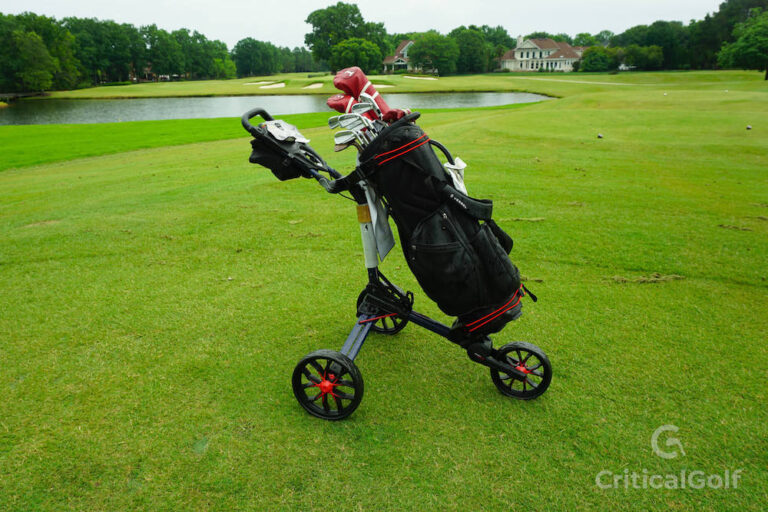 Yes, we actually test these items so we can recommend the best products—learn more about our process. This article may contain affiliate links. Read full disclosure statement.
Whether you have a BagBoy golf bag or you simply need to move your cart or stand bag around the course with you, the BagBoy Tri Swivel II is a great option to consider. This cart surprised us with its maneuverability, although it took a little bit of time to get used to. In fi you are in the market for a push cart this year, take a look at the details of this BagBoy Tri Swivel II Push cart.
Front wheel can turn 350 degrees

Sturdy design 

It weighs about 16 pounds 

Folds to 23. 5" x 13" x 24"

Will fold down in three easy steps 

It has a brake in place, can also lock the front wheel

Will accommodate a larger golf bag
It takes some time to get used to locking and unlocking the front swivel

The three step folding process can take a little while to perfect

 
Bag Boy Tri Swivel II Review Overview
The BagBoy Tri Swivel II is a unique golf push cart that has a front wheel that can make almost a full circle rotation. IF you play courses with windy holes or simply struggle when you have to lift the front of your push cart up to maneuver it, the BagBoy Tri Swivel II Push Cart can be a great solution. Overall, BagBoy is a good name that will provide longevity and durability in this product.
Bag Boy Tri Swivel II

: Features and Benefits
When we tested the BagBoy Tri Swivel II, we found most of the features and benefits to be worth paying for. The thing that probably stands out the most is the Swivel Tech. Although you may wonder whether or not a spinning front wheel is necessary, when you experiment with it, you can quickly see how easy it becomes to maneuver the pushcart.
Swivel Tech Technology
With Swivel Tech Technology, the front wheel on this push cart can swivel about 350 degrees giving golfers more maneuverability and room to get the cart in and out of tight spaces. Whether you are trying to park your cart at the 19th hole after a round or simply want to leave it off to the side of the tee box with ease, the Swivel Tech is a unique feature.
Storage Console
The BagBoy Tri Swivel II has a console at the top that is incredibly functional for a golfer. The top contains a scorecard holder, integrated beverage holder, and golf ball storage. There is also an umbrella holder off to the side, but the storage console is a very useful feature.
Top Lok Technology
The top of this golf bag features the Top Lok Technology that will work with BagBoy or Datrek bags to help lock them in place. With these golf bags, you can ensure that your bag is sitting study, and even on uphill or downhill lies, the bag won't shift. Although this is a great feature, we did not have any problem with the bag moving, even when the bag was not a Datrek bag.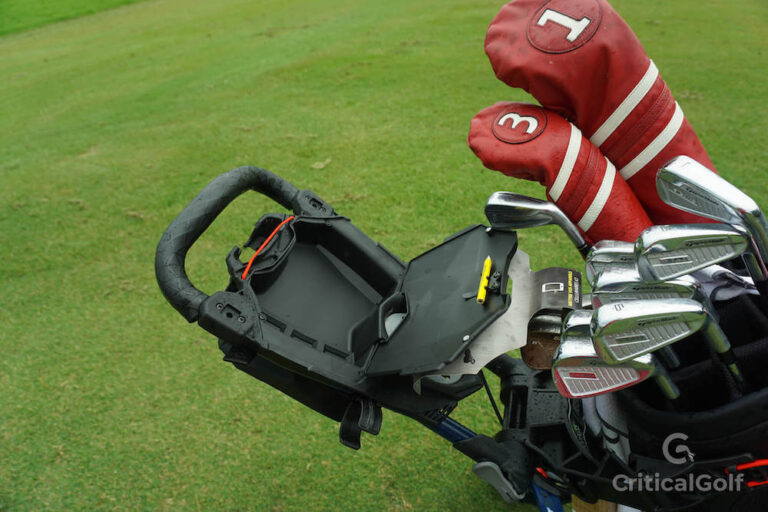 Construction 
The BagBoy Tri Swivel is a three wheel golf push cart designed to work for both cart and stand bags. The construction is durable and will hold up in rainy or rough conditions. The wheels require no maintenance, and it seems to take quite some time to wear the wheels down. As always, walking more on the grass as opposed to the cart path can help.
There is a handle mounted (which I prefer) parking brake that ensures your BagBoy Nitron does not run away from you. 
Size
When unfolded, this push cart is of average size. The compact fold size is a nice benefit. When totally folded, it is only 23.5" x 13" x 24". This is very easy to fit in the trunk of your car and still have room for your golf clubs. When folded, it is 16 pounds, which is a little higher than some other BagBoy Models, but this extra contraption on the wheel and the storage console certainly adds to the total weight.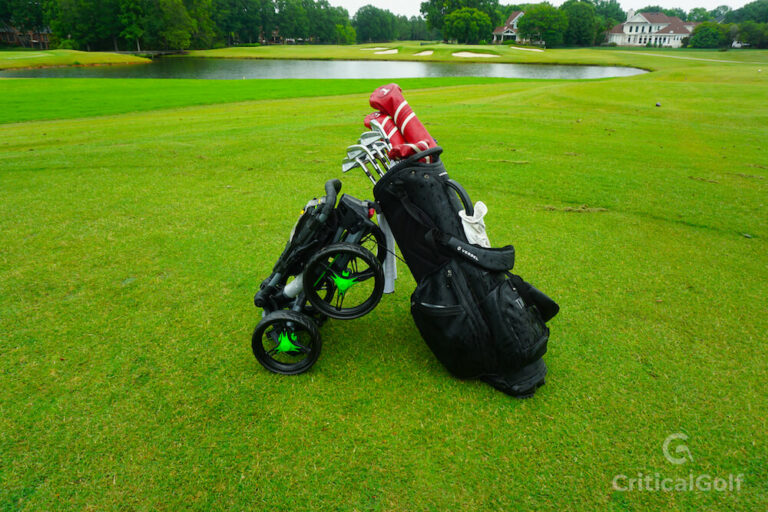 Accessory Options
The BagBoy Swivel II comes with an umbrella holder with a storage clip. This is a great option for those that are looking for extra shade. As far as the top of the bag, the console has a great beverage holder and golf ball storage. There is no large storage bag underneath the bag like you see in other push carts, and this was a negative for us.
Warranty 
The warranty on a BagBoy Tri Swivel II will be one year from the date of the original purchase. Just make sure you get out and use the bag enough during this first year to ensure it is working properly. The major issues we have seen have dealt with the cable that will lock that front wheel in place. The control for the cable is near the handle of the cart, and sometimes this can end up being a problem.
Price/Value 
This BagBoy TriSwivel II push cart is a bit more expensive than other similar options on the market. The reason that you will notice this higher cost has a lot to do with this front wheel technology. The all-aluminum design helps the cart last for quite some time, but if you don't see yourself using this technology in the front wheel, don't spend the extra money o the cart.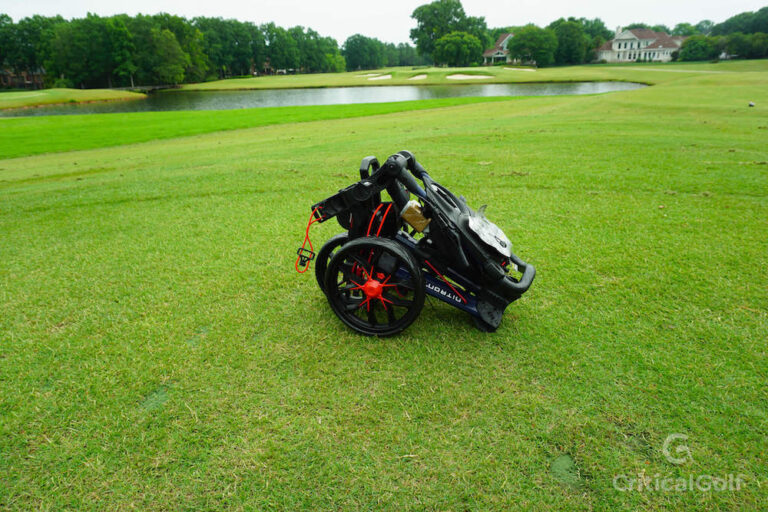 Who Should Play With The BagBoy Tri Swivel II Push Cart
If you are a golfer that finds yourself constantly having to back your cart out of trouble or tip it up to get it to maneuver around certain things, the BagBoy Tri Swivel II Push Cart is a great option to consider. However, we will warn you that it does take a bit of time to get used to the maneuverability as this cart drives differently than others on the market. 
With the aluminum design, players that have a difficult time with rust and deterioration of their push cart will appreciate the BagBoy Tri Swivel and the longevity.
Is The BagBoy Tri Swivel II Worth It?
The BagBoy Tri Swivel is worth it if you are looking for maneuverability and stability. We like the organization, although there was not a ton of storage. However, when trying to maneuver around tight corners or turns and even up and down hills, this is a great push cart. With the slightly higher price point, we recommend the BagBoy Tri Swivel II to the golfer that puts in a lot of miles on the golf course.
About Critical Golf
Launched in the spring of 2009 to shed light on the confusing world of golf equipment.

Our testing staff includes players ranging from low to high handicappers to provide perspectives relevant to all golfers, regardless of ability level. Each product is tested by all staff members to give you the best insight possible.