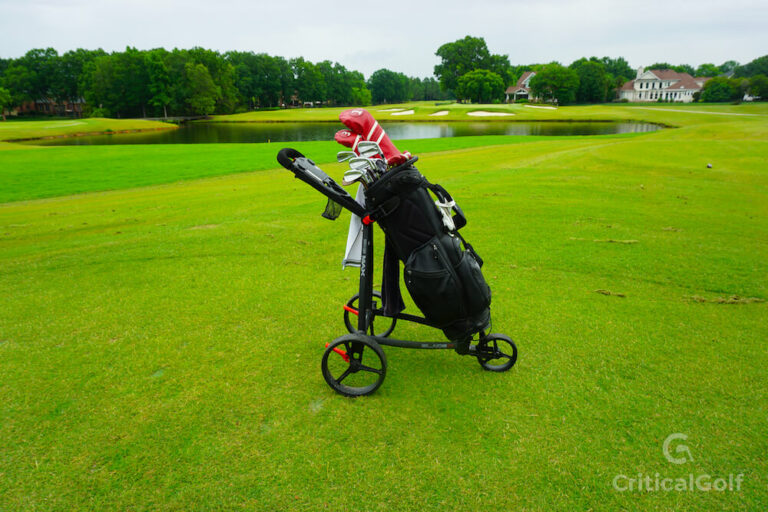 Yes, we actually test these items so we can recommend the best products—learn more about our process. This article may contain affiliate links. Read full disclosure statement.
The Big Max Blade IP is a unique push cart that really sets itself apart from others on the market. This is not necessarily one of the most well known golf push carts on the market, so we were a little skeptical when we first tried it. However, after a few rounds, this one quickly made it to the top of our list of best push carts.. If you think that the Big Max Blade IP could be a good choice for you, take a look at the things that really help to set it apart.
Compact design (Best in class stowaway size – can fit in trunk with bag)

Very durable materials and design

Double brakes 

Adjustable upper bag system 

Folds and unfold in a matter of seconds

Will work with a tour size golf bag 

Weighs less than 15 pounds
The front wheel doesn't swivel

Minimal accessories out-of-the-box
Watch your fingers the first few times folding it!
Big Max Blade IP Push Cart Overview
The Big Max Blade IP Push Cart is a three wheel golf push cart that folds almost completely flat. It is one of the more lightweight designs on the market and will work with any size golf bag. The first thing you will likely notice about the Big Max Blade IP is the ease of use when trying to move it around the course. Whether you are going up or downhill or walking straight down the middle of the fairway, the Big Max Blade IP does what you want it to do.
Big Max Blade IP Push Cart: Features and Benefits
Overall the features of the Big Max Blade IP push cart are great. There was very little that we were left to complain about; honestly, it was mostly nitpicky things that we would like the option to adjust.
Features
Three of our favorite features on the Big Max Blade IP Push Cart are the ways in which you can personalize your trolley, the adjustable bag brackets, and the organizer panel. .
Organizer Panel
One of the worst things about walking the course is when your pockets are filled with all of your gear. The organizer panel can hold golf balls, tees, a ball marker, and a way to store your current and your previous scorecards. The organizer panel helped to speed up play and create a routine for each hole.
Custom Accessory
If you like gadgets and personalizing your golf cart, there are a ton of options for Big Max Blade IP Push Carts. From a phone holder to an umbrella holder, you can really deck this push cart out the way you want it.
Adjustable Bag Brackets
Regardless of the size of your bag, you can get the Big Max Blade IP to work with your push cart. The bag brackets are easy to adjust, and we felt really good about how the bag stayed in place, moving from one hole to the next.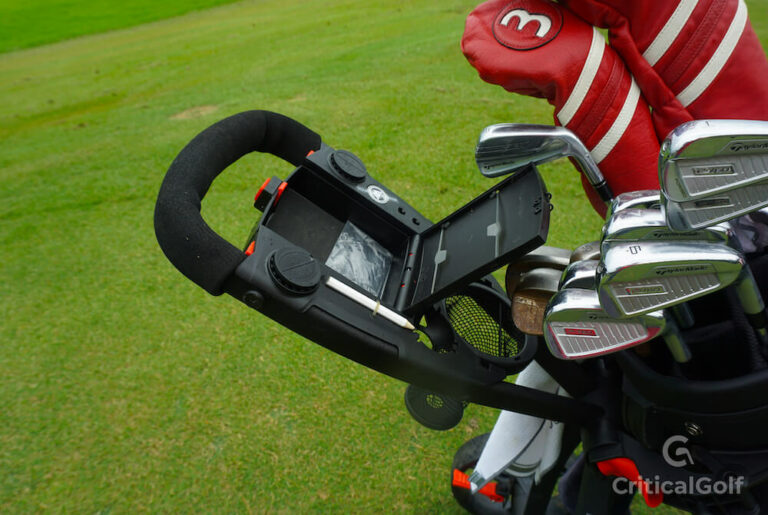 Construction 
We were impressed with the overall durability and materials that the Big Max Blade IP Push Cart was made with. Even with a heavy golf bag on, there was never any worry or concern that the cart might tip. In fact, it has a really modern and clean feel to it, nothing like a bulky plastically or metal push cart of the past.
The only thing that we didn't love about the construction of this push cart was the double brake. Having the two brakes can do a great deal to stop your push cart from heading down a hill or into a curb. However, it would be better if there was just one brake that could stop both wheels. This would make the functionality of the cart just a bit better.
Size
The Big Max Blade IP Push Cart is 34.64×24.4×4.9. The overall weight is just 14.5 pounds. Most of the push carts from Bag Boy are over 16 pounds, so if you are looking for one of the more lightweight yet durable options, this could be a good choice to consider.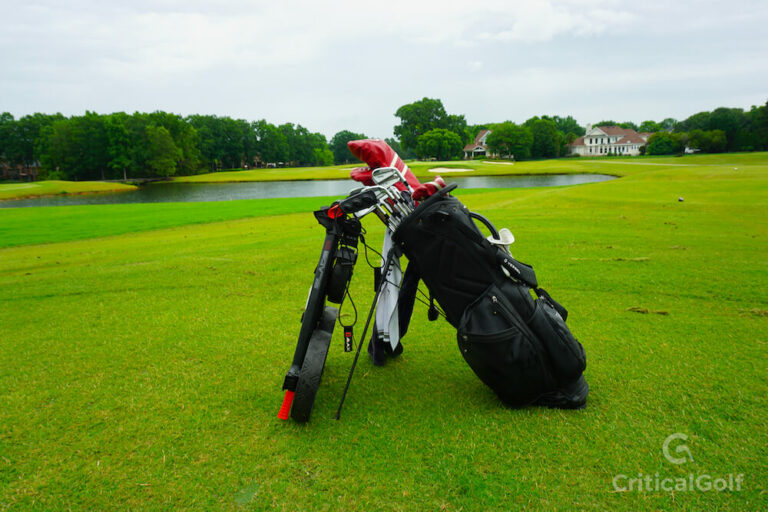 Accessory Options
With the Big Max Blade IP, you will get the umbrella holder, the glove holder, and the super net. The super net will fit under the cart so that you can store all of your extra gear. However, in addition to these great golf cart push care accessories, there are other options to choose from.
There is a Quick Lok Towel, bottle holder, and even a rangefinder bag that can be attached to the golf push cart. Click here to view them all. 
Warranty 
The warranty for the Big Max Blade IP Push Cart is one of the best on the market. With five years, you will have plenty of time to give this push cart a full run for its money and have a strong company to rely on if something should come up. From what we have seen so far, the reason they offer the five year warranty is in place because Big Max Blade knows this will hold up over time.
Price/Value 
The Big Max is priced just a little higher than other push carts on the market, but we found the pricing t be really fair. The way you can trust the durability of the cart, as well as the warranty and the ability for it to fold, helps this cart to be a really great overall value.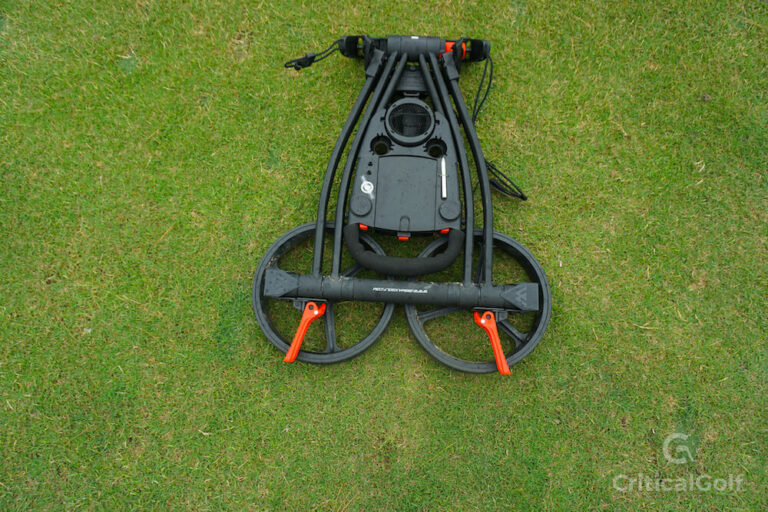 Who Should Play With The Big Max Blade IP Push Cart?
Golfers that use the Big Max Blade IP are those that play a lot of golf and love to walk. If you are demanding about what your golf push cart needs and you like to have all the accessories, the Big Max Blade IP Push Cart is a great choice.
In addition, golfers that have a large bag that needs extra stability will also benefit from the Big Max Blade IP as it helps keep the bag from tipping.
Is The Bag Max Blade IP Worth It?
We know this is not the cheapest of the golf push carts that we have reviewed. However, this is one of those situations in which if you are going to spend the money; it makes sense to get something that is of higher quality. If you keep this push cart in great shape, you will have it for years to come.
About Critical Golf
Launched in the spring of 2009 to shed light on the confusing world of golf equipment.

Our testing staff includes players ranging from low to high handicappers to provide perspectives relevant to all golfers, regardless of ability level. Each product is tested by all staff members to give you the best insight possible.