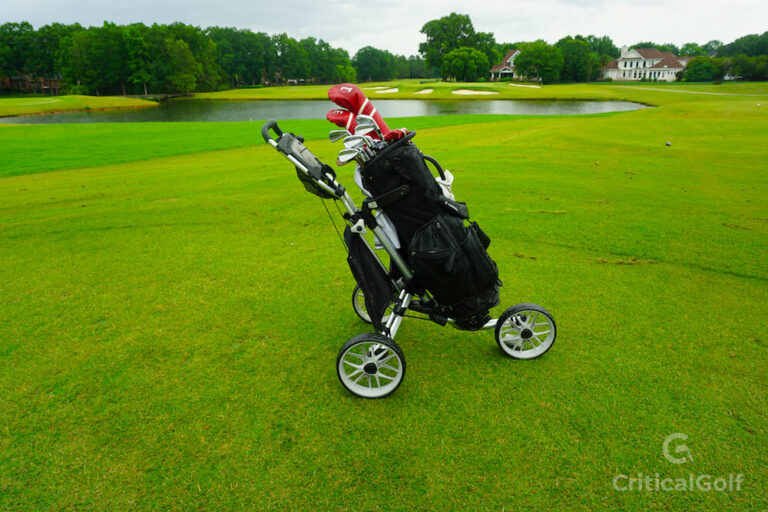 Yes, we actually test these items so we can recommend the best products—learn more about our process. This article may contain affiliate links. Read full disclosure statement.
A golf push cart can be the perfect solution for the player that wants a lightweight and inexpensive way to get around a golf course. Some carts have all the high end features, durability, and impressive turning functionality, and others are all about value and function. The CaddyTek 3 Wheel Caddylite is one of the more lightweight golf push carts we found, and it does an excellent job of mixing functionality and a moderate budget. Let's take a more detailed look at our experience with the CaddyTek 3 Wheel Push Cart.
Comes with a mesh net, beverage holder, and umbrella holder

Simple folding process only takes a few seconds

Smooth rolling over all types of terrain 

Adjustable handle

Foot brake 

Front wheel alignment mechanism 

Fair pricing

Weighs only 13 pounds 

Will fit both cart and stand bags
Not the most stable push cart on the market 

Maintenance free tires don't provide the smoothest ride 

The folding process takes a little bit of time to learn
CaddyTek 3 Wheel Push Cart Overview
The CaddyTek 3 Wheel Push Cart comes with three maintenance free tires, it folds up easily, and it has plenty of accessories for the avid golfer. If you are worried about lifting a cart in and out of your car, don't be! The CaddyTek 3 Wheel Push Cart weighs in at around 13 pounds. This does give it some great lightweight functionality, but it takes a bit away from its stability and durability. If you are on a budget but still want accessories and unique features, the CaddyTex 3 Wheel Push Cart is a great option to consider.
CaddyTek 3 Wheel Push Cart: Features and Benefits
The main things that stand out about the CaddyTek 3 Wheel push cart are the lightweight features and functionality and the ability to fold this cart up so quickly and easily. For the fair price that this CaddyTek 3 Wheel Push Cart is offered, it makes a good overall investment. However, when you pay a little less for a push cart, sometimes you get a little less technology.
Features
Overall the CaddyTek is a 3 wheel design with enough stability to hold a large cart bag or a lightweight stand bag. Three of the main features to consider here are the adjustable handle, foot brake, and the front wheel alignment mechanism.
Adjustable Handle
With the CaddyTek 3 wheel, you can adjust the handle so that it is a comfortable height while walking the golf course. For taller or shorter golfers, the adjustable handle makes a lot of sense and makes walking quite a bit easier on the back, neck, and shoulders.
Foot Break
The foot brake is a great feature when playing a hilly golf course. Letting the golf push cart get away from you is a significant problem, especially as this one doesn't have the best stability. Use the foot brake whenever necessary to avoid this issue.
Front Wheel Alignment Mechanism
The front wheel alignment mechanism makes it really easy to get the CaddyTek started out on the right path. The only thing to watch out for here is that the cart does not have a front wheel that swivels.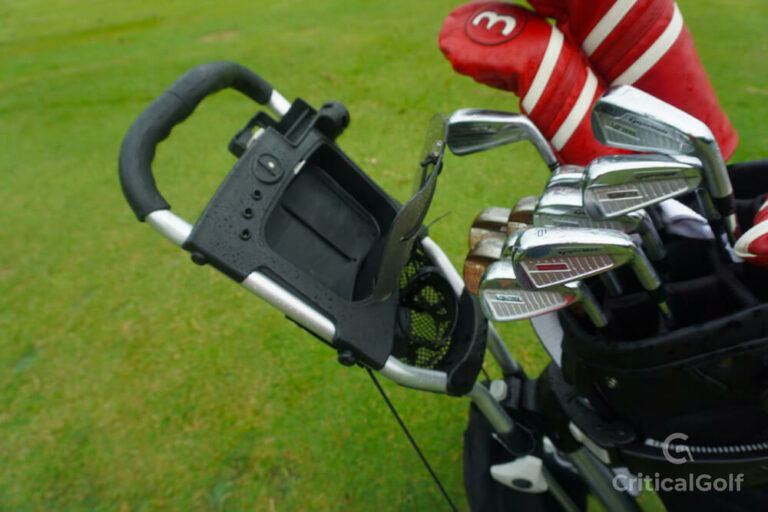 Construction 
The CaddyTek 3 wheel folds down easily and has two 11 inch tires and one eight inch tire. When you fold the cart down, you won't have to worry about taking the tires off, so it becomes pretty easy to work with this push cart. 
The thing you will notice right when you get the push cart is that it is not nearly as durable as some of the others on the market, making it more of a value type cart than something we would recommend for an everyday golfer.
Size
Overall the CaddyTek 3 wheel is a bit more on the small side; it has a total weight of only 13 pounds, making it one of the lighest push carts that we have tested. For the golfer that does not want to deal with pushing around a heavy or bulky push cart, this can be a good thing. 
However, we will warn you that if you are a player with a 40 pound cart bag that still has your first golf ball down at the bottom, this is not the push cart for you. The stability is just not there.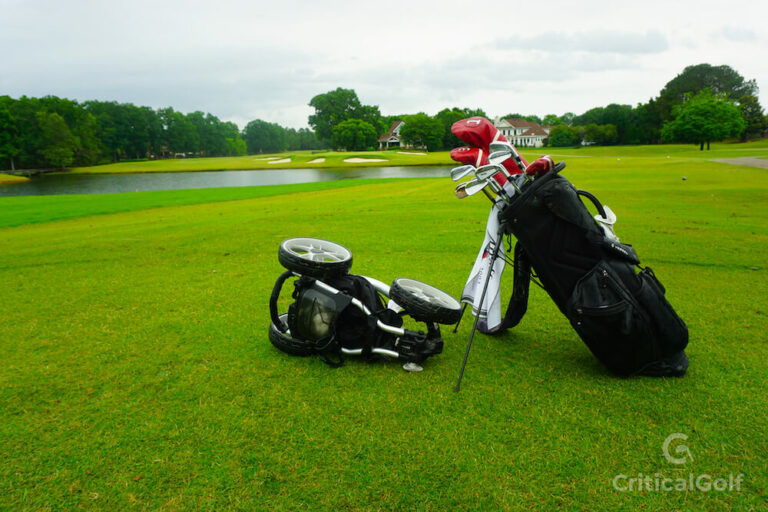 Accessory Options
The CaddyTek 3 Wheel push cart comes with a mesh net, a beverage holder, and an umbrella holder. Having these three features included is a great benefit. In addition, you can purchase other accessories that will work with the CaddyTek, but nothing specifically stands out as an additional option for golfers looking for the extra bells and whistles. Some people were able to find a seat for the Caddytek 3 wheel but the overall weight of the cart is a little lite to add a seat.
Warranty 
The warranty is a one year manufacturer's warranty from CaddyTek. With the price of the cart, this is about all you can expect from a warranty. Overall we didn't find too many of the golf cart features to be easily breakable; you likely won't need your warranty.
Price/Value 
This 3 wheel push cart from CaddyTek is really affordable. In fact, the value is one of the best on the market. Purchasing this golf push cart today will help you pay for itself in just a few rounds. In addition, you can burn some extra calories along the way.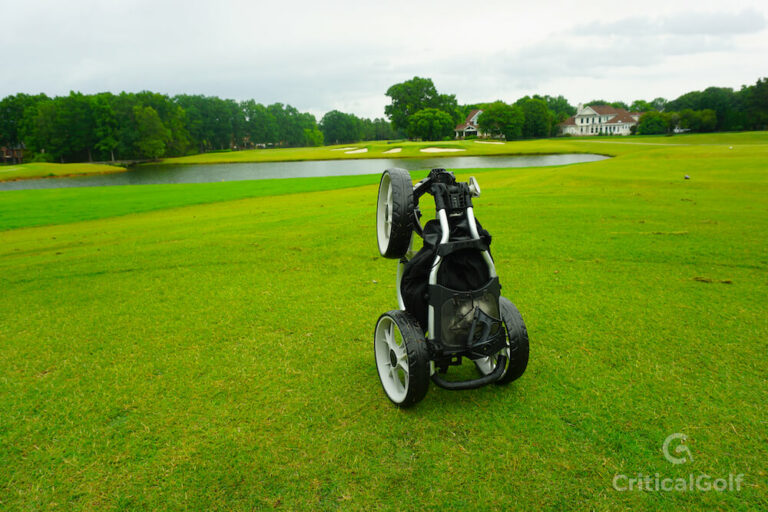 Who Should Play With The CaddyTek 3 Wheel Push Cart?
The golfer who thinks the occasional walk around the course is good for their health and wants to ensure they have accessories and features necessary to make it a good walk. The Caddytek 3 wheel is lightweight and easy to maneuver, but it doesn't have the longevity or durability that some of the other top push carts on the market will have. If you play golf and walk every day, you may want to consider something slightly more high end.
Is The CaddyTek 3 Wheel Push Cart Worth It?
The CaddyTek 3 Wheel Push Cart is worth it because of the functionality and overall ease of use for the price. This is not the best push cart on the market, but Caddytek is a reliable brand, and this is without a doubt a step up from some of the cheaper push carts on the market. If you are not overly picky about the maneuverability of the cart and you don't have a very heavy golf bag, consider this to be one of your best options.
About Critical Golf
Launched in the spring of 2009 to shed light on the confusing world of golf equipment.

Our testing staff includes players ranging from low to high handicappers to provide perspectives relevant to all golfers, regardless of ability level. Each product is tested by all staff members to give you the best insight possible.