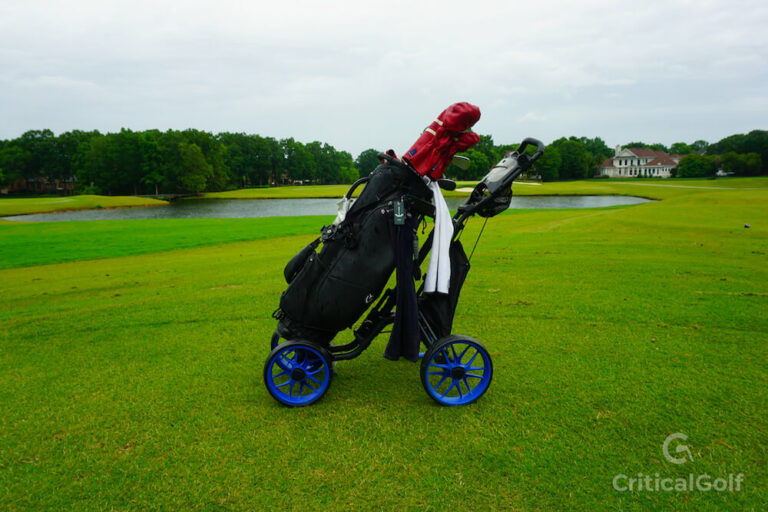 Yes, we actually test these items so we can recommend the best products—learn more about our process. This article may contain affiliate links. Read full disclosure statement.
Four wheel push carts tend to have more stability and extra storage. If you are a golfer that likes to walk fairly often, you have probably considered giving the four wheel push cart a try. The CaddyTek Explorer V8 4-Wheel Caddy Cruiser push cart is one of the more affordable yet highly functioning options on the market. We have been playing with this CaddyTek 4 Wheel Cruiser for a few weeks and wanted to fill you in on all the functionality and benefits of this push cart.
Scorecard holder and storage compartment 

Clamp type golf bag holder

One click folding 

Strong and stable, without being overly heavy 

Basket with cooler built in 

Durable aluminum frame 

Adjustable handle

Maintenance free wheels
It can be difficult to turn with a heavy bag in place
CaddyTek 4 Wheel Cruiser Push Cart Overview
The CaddyTek brand makes a wide range of golf push carts, but this particular four wheel model is known for its One Click Folding mechanism. Most four wheel golf push carts are not all that easy to fold up, but the CaddyTek only takes a few seconds. In addition, there is plenty of stability and storage with the CaddyCruiser One and a total weight of around 17 pound
CaddyTek 4 Wheel Cruiser Push Cart: Features and Benefits
The CaddyTek 4 Wheel Cruiser Push Cart has all the bells and whistles that you would expect from a premium model, but the pricing is kept really fair. Overall we were a big fan of the stability the cart gave us, especially when traveling through thicker grass or rough terrain. The only major downside is the fact that turning the cart takes a bit of time to get used to. A three wheel cart with a front wheel that swivels is considerably easier to maneuver.
Features
Overall the CaddyTek is a 4 wheel design with enough stability to hold a large cart bag or a lightweight stand bag. Three of the main features to consider here are the 4-Wheel body, maintenance free wheels, and the built in cooler.
4-Wheel Body
A four wheel body typically means a heavy and bulky push cart. However, CaddyTek did a great job of ensuring that you have room for your gear and the base of support you need without making the push cart overly bulky.
Maintenance Free Wheels
With four wheels on a push cart, it is important that they are maintenance free. The wheels are larger in the back than they are in the front, and that helps with overall maneuverability. The wheels do not need to come off when storing the push cart, and that's a huge benefit for us.
Built in Cooler
CaddyTek used the space under the CaddyCruiser to ensure that you had extra storage. This is a unique cooler bag design that does a pretty good job of keeping your water or your lunch clean as you walk the course.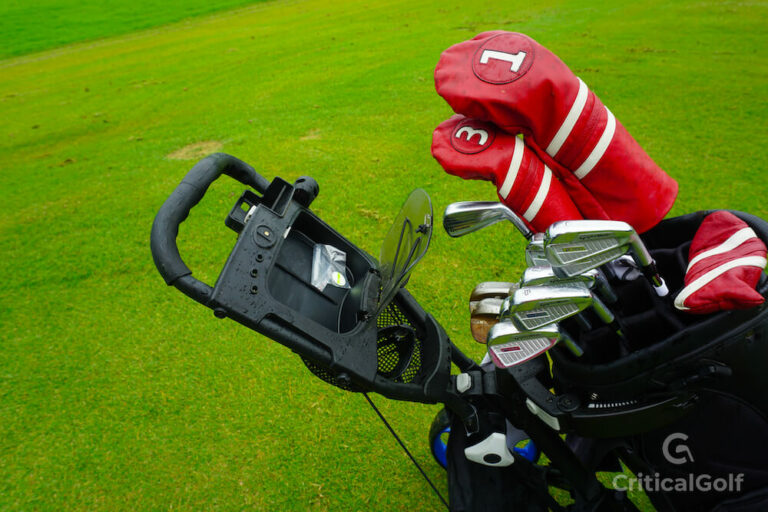 Construction 
The CaddyTek 4 Wheel Cruiser is made with aluminum materials that are built to last. You will not notice any rusting or deterioration on this cart at all. Even if you play golf in the morning and have lots of dew on the push cart, it is unaffected. In addition, the accessories and attachments are all high quality and do not feel as though they are going to snap off. 
There are two other features worth mentioning here; the first is the adjustable handle. For those that are not "average" height, it can be hard to find a push cart that feels comfortable pushing. Since 4 wheel designs sometimes need a bit of extra effort for turns, we like the adjustability of this handle. Pushing the cart was comfortable regardless of height. 
There is also a convenient foot brake installed on the CaddyTek 4 Wheel. The foot brake is a single foot brake which we prefer to having more than one brake for the individual wheels. This was a well-thought-out push cart that can really work for any player.
Size
The fact that the CaddyTek 4 Wheel is a four wheel design will make it just a little bulkier than other push carts on the market. However, when you fold this push cart down, you will find that it is 17x14x26.4. We were impressed by how small the cart folded up and the fact that you can do it with the click of a button.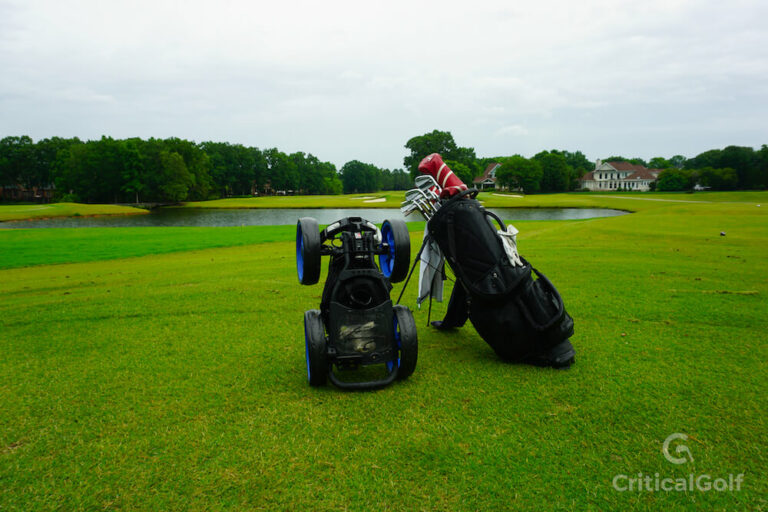 Accessory Options
CaddyTek does not nickel and dime with the accessories on this push cart. At the top of the cart is a scorecard holder that also has some room for golf balls and tees and your phone. It's a convenient storage area for those that want to stay organized. 
In addition, you will get an umbrella holder, beverage holder, and then that cooler bag that is built into the bottom part of the cart.
Warranty 
The CaddyTek 4 Wheel Cruiser comes with a one year manufacturer's warranty. This is pretty standard in the push cart category and should give you plenty of time to determine if your push cart is going to have major issues. We have heard some complaints about CaddyTek customer service, so make sure you are quick to follow up on any potential issues.
Price/Value 
After playing with the CaddyTek 4 Wheel Cruiser for a few weeks and seeing how stable the golf bag stays and how easy it is to maneuver the cart down the fairway or through the rough, we are impressed with the overall value. This is not the cheapest nor the most expensive cart on the market, but when you look at what you get for the money, it's a good value.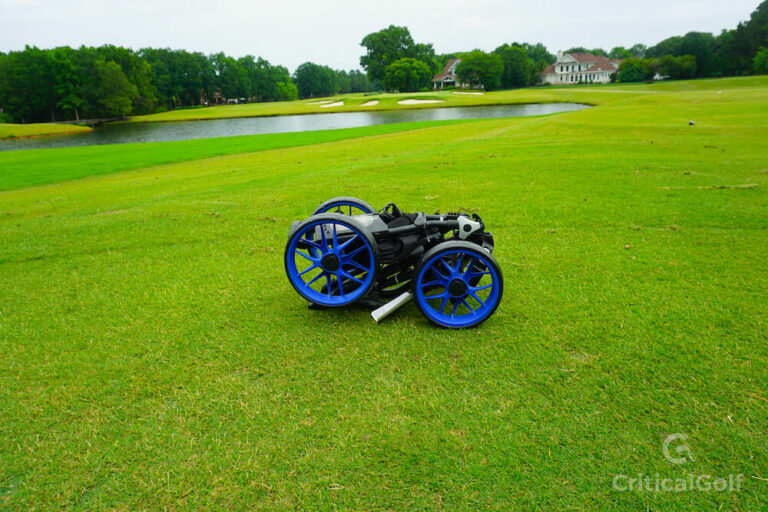 Who Should Play With The CaddyTek 4 Wheel Cruiser Push Cart?
Golfers that play a lot of golf and want to have a stable "home base" will love the CaddyTek 4 Wheel Cruiser. With the extra wheel, this cart does not ever feel as though it's going to tip, and that could make it a good fit for the player that plays hilly golf courses. 
If you like accessories and want to make sure your cart comes with lots of options, the CaddyTek 4 Wheel Cruiser will check all the boxes for you. If you have a lightweight stand bag or a cart bag, the CaddyTek 4 Wheel Cruiser will be able to accommodate you.
Is The CaddyTek 4 Wheel Cruiser Push Cart Worth It?
Before testing this cart, we were a little skeptical. The CaddyTek 3 Wheel Lite golf push cart was really lightweight and felt a little flimsy, and we worried that a four wheel cart from the company might not have the maneuverability necessary for most golfers. 
However, after giving this cart a try, we found it to be one of our favorite four wheel push carts on the market. With the ability to customize the storage, the one click folding, and the fact that you can purchase it in a few colors, the CaddyTek 4 Wheel Cruiser is worth it.
About Critical Golf
Launched in the spring of 2009 to shed light on the confusing world of golf equipment.

Our testing staff includes players ranging from low to high handicappers to provide perspectives relevant to all golfers, regardless of ability level. Each product is tested by all staff members to give you the best insight possible.