The Rovic RV1S, by Clicgear, retains a "compact" cart form, with few differences from the Rovic RV1C. The RV1S ("S" for "swivel"), at 13″ x 15″ 24″ folded is the same size as the RV1C ("C" for "compact"), but otherwise offers a nearly identical feature set, with the main differentiators the swiveling front wheel of the RV1S and foot brake. Hey, maybe they saw how we fell for the Bay Boy TriSwivel? Better yet, you have the same high-quality frame of other Clicgear/Rovic carts with this new feature.
The RV1S comes with console with cup holder (and this is a larger console than the Rovic RV1C), umbrella clip and holder, and two accessory tabs. Speaking of accessories, if you want 'em, Rovic's got 'em. This range from a cigar holder, watch mount, valuable bag, and even a steering knob. Just wow…
The Rovic RV1S and is available in 4 different colors: Charcoal/Black, Charcoal/Lime, Arctic/White and Silver/Black. Just a Benjamin more than the RV1C, we think that is worth it for the swiveling front wheel.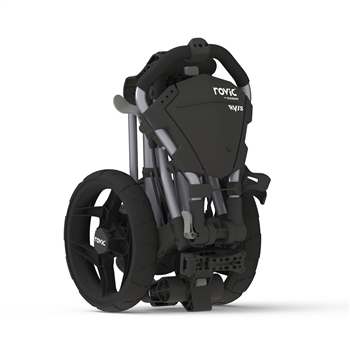 Click image to enlarge
Also good news…the Rovic line is keeping a lower price point than the Clicgear-branded carts, such as the Clicgear Model 8, which makes this an infinitely better buy (er, a $90 better buy). And add on the 3-year warranty on the frame. Not bad!
Retail price: $190
Amazon.com: Check price now
---