Yes, we actually test these items so we can recommend the best products—learn more about our process. This article may contain affiliate links. Read full disclosure statement.
Some golf push carts are manufactured with value in mind, and for others, speed and performance is paramount. With the Sun Mountain Speed Cart, GX expects a ton of performance and durability and some of the best storage and organization on the market. Although there are a few flaws with the Sun Mountain Speed Cart GX, this is our favorite premium golf push cart on the market. If you are an avid walker, this should be in your top three when choosing a golf push cart.
Newly designed handle 

Built in bracket for seat or seed bottle

Ergonomically efficient for plenty of speed

Easy to fold 

Weighs 17.5 pounds 

Tracking system for adjustment 

Mesh basket included for headcover storage
The Speed Cart GX tends to pull to the right even after adjusting the tracking

Sun Mountain products rarely go on sale
Sun Mountain Speed Cart GX Push Cart Overview
The Sun Mountain Speed Cart is not a new product as it was one of the first durable and folding three wheel push carts to hit the market back in 1999. However, the Speed Cart has been updated and upgraded many times since then, and the new GX is the latest version on the market. The Sun Mountain Speed Cart GX has impressive accessory options, great durability, and plenty of strength to hold either a cart or stand bag.
Sun Mountain Speed Cart GX Push Cart: Features and Benefits
There are some great benefits to the Sun Mountain Speed Cart GX, one of them being speed. If you are a quick walker, the cart is not going to hold you back in any way. In fact, you can walk at whatever pace you like, and the GX will simply glide along the surface of the turf.
Improved Brackets
The brackets used to hold your golf bag on the cart can be a bit tricky. Companies need to make them strong enough to hold the bag in place but large enough to accommodate even the biggest bags. These new and improved options from Sun Mountain include slightly upgrade bungees that are long enough to accommodate even the larger golf cart bags.
Mesh Storage For Headcovers
Headcovers can be annoying while you are walking as they don't really need to be on, but storing them just takes up all of your space. Luckily with the Speed Cart GX, the handle has been redesigned to allow for extra storage and a better overall experience with headcovers while on the course.
Quick Folding
We have to tell the truth on this one; the Sun Mountain Speed Cart GX is quick folding once you learn how to fold it. It takes a few times to get the steps down and learn this process, and then once you do, it is smooth sailing from there. Make sure to read directions or even watch a video otherwise; you could end up a little frustrated.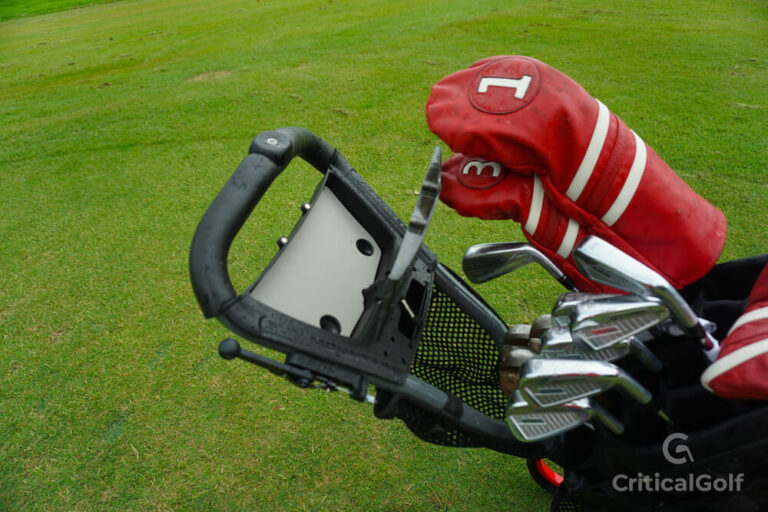 Construction 
The high quality construction of the Speed Cart GX is apparent as soon as you take this out of the box. Although about a pound heavier than some of the other leading golf push carts, you can feel the extra weight and the way it impacts durability. The cart will not rust, and after many rounds, it still looks brand new.
Size
The Speed Cart GX from Sun Mountain will fold down to 37 x 16 x 13. The length is a little high when folded, and it is certainly not the most compact golf push cart on the market. However, we still had no issues fitting it in the trunk of the car with the clubs or finding a spot to place this push cart on a garage shelf.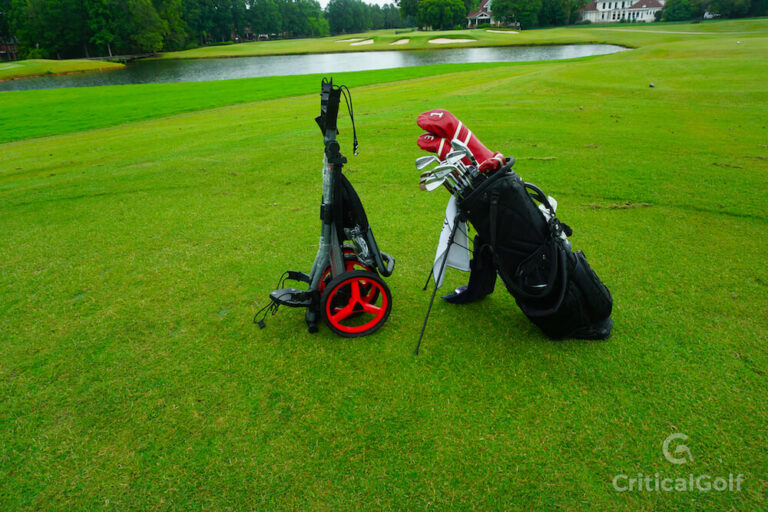 Accessory Options
The Sun Mountain Speed Cart GX comes with a mesh bag for storage as well as a small storage compartment at the handle of the cart. There is a bracket included that will allow you to attach a sand/seed bottle or a seat. Anything additional like an umbrella holder would also need to be purchased separately. If you have the money to spend, you will have no issues setting this golf cart up to work for your needs.
Warranty 
Sun Mountain offers a 3 year warranty with its golf push cart products. This is a fair warranty considering the overall quality of this product and how it can be used on the golf course. We were impressed with the overall durability and found that there would be very few warranty related issues.
Price/Value 
As always, one of the downsides to the Sun Mountain products is the pricing. This is one of those "you get what you pay for" situations. If you like a higher quality feel and ride to your push cart, this is the way to go. We did find that when purchasing push carts, paying a little more upfront has a direct impact on how often you will need to purchase a new push cart.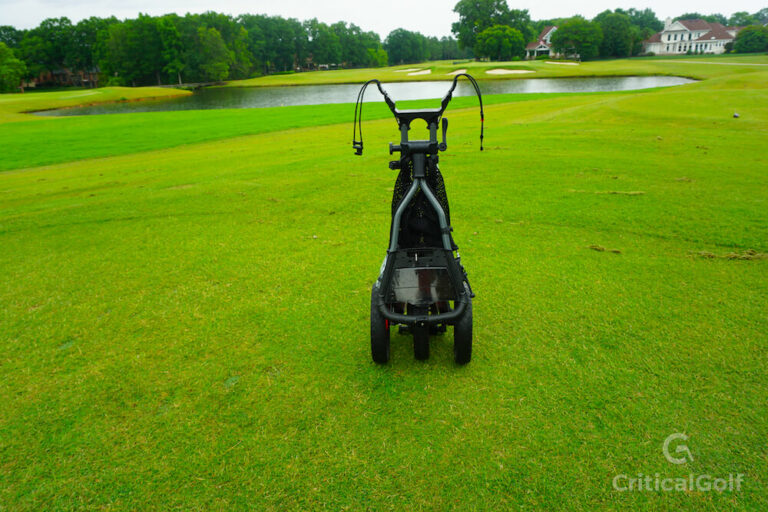 Who Should Play With The Sun Mountain Speed Cart GX Push Cart?
Everything about the Sun Mountain Speed Cart GX is for the golf power walker. If you like to push through the golf course with ease, this golf push cart can do it. The Sun Mountain Speed Cart GX has all the room you will need for your accessories, and you will have no issues with overall speed or maneuverability. New golfers to low handicap players will benefit from this push cart and its capabilities.
Is The Sun Mountain Speed Cart GX Push Cart Worth It?
The SunMountain Speed Cart GX Push Cart is worth it despite a few of its flaws. Some golfers really struggled with the cart pulling to the right, but after some adjustments to the tracking system, this should be something you can figure out. Overall, we were impressed with the durability and ease of use that you get with the SunMountain Speed Cart GX. The three wheel design is certainly better for speed and maneuverability. We never felt as though the Speed Cart GX was going to tip or that it couldn't keep up.
About Critical Golf
Launched in the spring of 2009 to shed light on the confusing world of golf equipment.

Our testing staff includes players ranging from low to high handicappers to provide perspectives relevant to all golfers, regardless of ability level. Each product is tested by all staff members to give you the best insight possible.