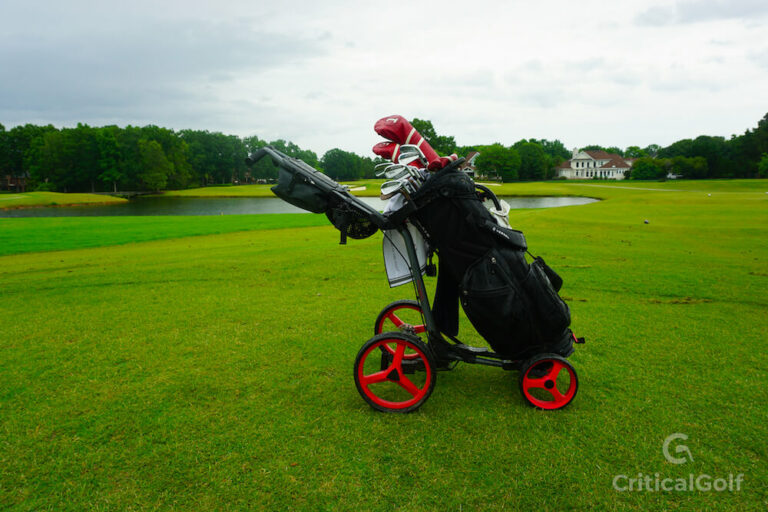 Yes, we actually test these items so we can recommend the best products—learn more about our process. This article may contain affiliate links. Read full disclosure statement.
Sun Mountain is known for its premium golf products. Whether you are looking for the new C130 golf bag or a way to push that golf bag around the course, the Sun Mountain products have a strong name in the industry. The Sun Mountain PathFinder 4 push cart is a four wheel design with tons of stability and plenty of storage. If you like to have a home base for your clubs and all of your gear as you make your way around the course, the Sun Mountain PathFinder 4 is a great option.
Folds in two easy steps 

Upper and lower bag brackets

Can hold accessories in the top storage container

Mesh Bag for extra storage 

Tracking system for easy adjustment

Four wheel design with a stable base

Weighs 17 lbs, not overly heavy for a four wheel push cart
The bottom bag strap seems a bit short for larger bags

Sun Mountain products tend to have a higher price point
Sun Mountain PathFinder 4 Push Cart Overview
The Sun Mountain PathFinder 4 Push Cart is a premium golf push cart that folds in two simple steps, has a relatively small overall size for a four wheel push cart, and has all the storage you will need for your gear. One of the things that really helps the Sun Mountain PathFinder 4 Push Cart stand out is the maneuverability. With Sun Mountain, you won't have to worry about your ability to push the cart through rough terrain or up and down hills; the push cart does the work for you.
Sun Mountain PathFinder 4 Push Cart: Features and Benefits
When Sun Mountain first started making golf push carts, they focused mostly on the quality and the functionality and not the size. Many golfers found that the overall size of the cart was just too bulky to work for their needs. The Sun Mountain PathFinder 4 is an updated version that works for those that want a more streamlined, less bulky look without giving up storage and functionality.
Features
The three most impressive features of the Pathfinder 4 are the accessory console, the adjustable bungee cords, and its quick folding capability. 
Accessory Console
The accessory console at the top of the push cart is a great design with plenty of storage. We were able to hold our cell phone, scorecard, and also extra balls and tees. In addition, you also have the option to use a charging plug while the cell phone is sitting in its compartment.
Adjustable Bungee Cords
For more stability of your golf bag, there are upper and lower bag brackets that allow your bag to stay in place even on rough terrain. The issue with these bungee cords and straps is that the bottom one is often a bit small for a larger golf bag. Some golfers had trouble fitting the strap around their C-130, a popular Sun Mountain bag for walking.
Quick Folding
Sometimes the folding process on a push cart like this with the four wheels requires a more extensive process of removing wheels. Luckily with the PathFinder 4, you will get this cart almost flat with two simple steps. We found the foldable parts to be rather accurate and had no trouble opening and closing the golf push cart.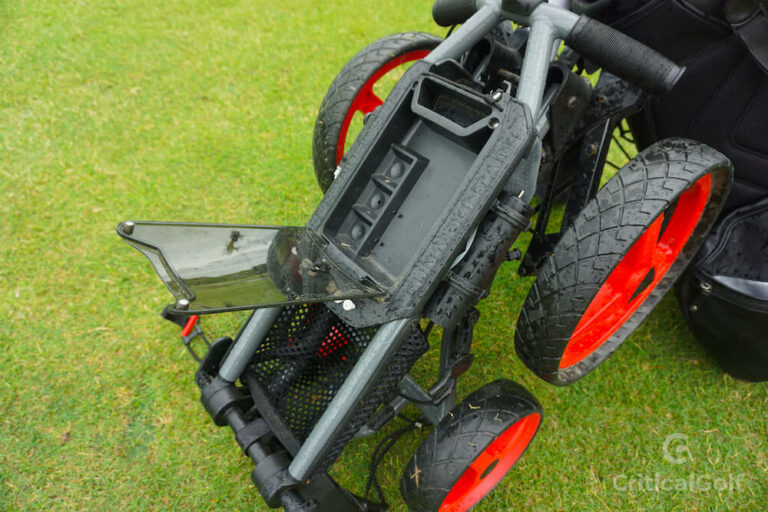 Construction 
The Sun Mountain Pathfinder 4 Push Cart is a great option for those that want an overall lightweight construction. The cart weighs 17 pounds which is not all that much considering it is a 4 wheel push cart. In addition, the aluminum material will help fight against rusting, even in those early morning rounds. The only thing to be careful of here is that the end of your golf bag will be rather close to the turf; this is not a very elevated golf push cart.
Size
When folded, the Sun Mountain Pathfinder 4 is 26 x 16 x 14. We were impressed with the overall compact size of this push cart and how it did not have any impact on the maneuverability or stability.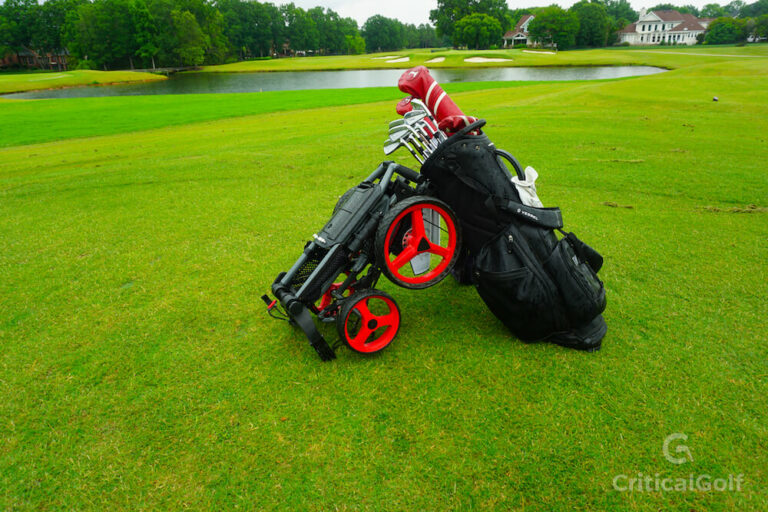 Accessory Options
Sun Mountain doesn't always include accessories when they sell their push carts. Many times you will have to upgrade and add on these options, which is not hard to do, but something to keep in mind from a cost perspective. This cart has the storage console at the top and an additional mesh bag, but everything else will be extra.
Warranty 
Golf push carts from Sun Mountain often have a 3 year warranty. This is longer than most competitors that offer just the one year warranty. If you are a serious player and put a lot of time in on the golf course, this three-year warranty can be helpful.
Price/Value 
As great as the quality of the Sun Mountain products are, you can expect that their pricing is going to be slightly higher. However, if you can afford a bit more money upfront, the longevity that you get from this cart, as well as the overall durability, will be well worth it.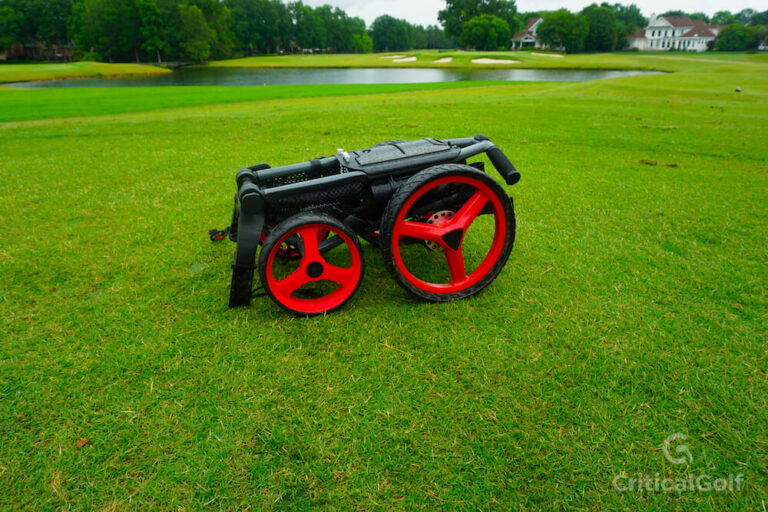 Who Should Play With The Sun Mountain PathFinder 4 Push Cart?
We found the SunMountain PathFinder 4 push cart to be best for those that play a lot of golf but don't want a large and bulky push cart. If you like something lightweight that maneuvers easily and has plenty of durability, this is a great option. We found this to be the most stable of the push carts that we tested.
Is The SunMountain PathFinder 4 Push Cart Worth It?
Golfers will have strong opinions as to whether or not the three wheel or the four wheel push cart is best. The four wheel PathFinder 4 from Sun Mountain has some of the best stability on the market, and it still remains only 17 pounds. 
Avid golfers can trust the products they are getting from SunMountain as there will be plenty of durability and strength to make it through the years. Whether you have a cart bag or a stand bag, you should have no issues using the SunMountain PathFinder 4 Push Cart. 
The bottom line here is if you have the money and you care about quality, the Sun Mountain PathFinder 4 is a great option to consider.
About Critical Golf
Launched in the spring of 2009 to shed light on the confusing world of golf equipment.

Our testing staff includes players ranging from low to high handicappers to provide perspectives relevant to all golfers, regardless of ability level. Each product is tested by all staff members to give you the best insight possible.