Yes, we actually test these items so we can recommend the best products—learn more about our process. This article may contain affiliate links. Read full disclosure statement.
When you think about companies specializing in golf bags, Bag Boy is undoubtedly one that comes to mind. My first golf travel bag was a Bag Boy many years ago, and it held up quite well. The Bag Boy name is known for making heavy-duty golf bags and travel products that are also fairly priced. I recently took a trip and used the Bag Boy T-750 to see how it helped up, and I was pretty impressed with the value that you get for the money. Let's take a deeper look at our Bag Boy T-750 Travel Cover review.
Dual zipper

Upgraded handles

Strong at the top

Two wheels

Lots of padding

Outside pocket

Plenty of accessories available
Heavy drag feel when pulling

Zippers can be a little difficult to operate
Bag Boy T-750 Travel Cover Features and Benefits
Of all the bags we tried in our travel bag testing this year, the Bag Boy T-750 had the best accessories available. If you want to add a club tracker, cooler or stiff arm to this bag, you will have the option to do so. Overall the bag got a 4.28/5 rating and was considerably more durable than we expected it to be. In addition, the padding inside at the top of the club head is quite impressive.
Features
The feature I always like to look for first is club protection; after all, my main goal here is to keep my clubs intact during my golf trip. I was impressed with the 360 protection built into the top of this golf bag. The golf clubs had several inches of paddling that felt more than adequate on this soft sided golf cover.
Addition features that I found to be helpful included a zipper that goes all the way around and easily allows me to get my bag in. I had no trouble fitting the driver, and I know that oversized putters would not be an issue either. Bag Boy always offers the Bag Boy Backbone if you find you want something with a slightly hard top to keep pressure off the long clubs.
You can tell when you look at the Bag Boy T-750 that it's not quite as premium as some of the Sun Mountain, Ping, or Ogio options on the market. However, as an amateur golfer that simply likes to travel, I mostly care about club protection and value.
Maneuverability
Maneuverability always increases when the travel case has wheels, but it can decrease a bit when the wheels are inline style as opposed to something that spins and swivels. The other issue I had with the Bag Boy and maneuverability was the fact that my golf equipment was sagging a bit when the clubs were in this.
With the majority of the padding being at the top, the middle and end of the bag will fall down and almost drag a bit as you roll through the airport. For a lightweight carry bag, this will be less of a problem than for a cart bag.
There are skid bars on the back of the bag that help ensure that the bottom materials and fabrics do not wear out over time.
Protection
Protection with this travel cover is about as good as it can get for a soft sided travel case. At the top, you won't feel as though your clubs can get damaged from any side. I always find it kind of annoying when there is no padding in the back and only on the sides or the front.
Do we think that baggage employees at the airport will pay attention to where the padding is and where it isn't?
Padding is best when it is all the way around, and the Bag Boy T-750 does an excellent job with it. Certainly, the T10 Hard Top Travel Cover from Bag Boy or the Samsonite Hard Travel Covers may give you a bit more piece of mind, but these are different styles and have their own positives and negatives.
Storage
One of the major positives of staying away from a hard case golf travel bag is that you can add things to the bag before you zip it up. If you want to keep your golf balls, tees, golf shoes, rangefinders, and other accessories in the Bag Boy T-750, you can. However, it was not the largest of the travel golf bags we tried. If storage is your main concern, something like the SunMountain ClubGlider Meridian could be a good choice.
Overall I didn't have any trouble closing the travel bag, and the internal compression strap makes sure that all of your gear stays in place while you are on the plane.
There is also an external pocket if you can't get everything you want in your stand bag or inside the zipper of the Bag Boy Travel Cover.
Material
The Bag Boy T-750 is made with a nylon material that seems to hold up quite well over time. The full wrap-around padding at the top also seems to be quite durable. We liked the addition of the rubber skid bars on the bottom to help protect the bottom of the bag from deteriorating due to dragging.
Overall this golf bag is offered at a lower price point than other companies like TaylorMade, Titleist, and Callaway, but the material is certainly not made to be cheap or flimsy in any way.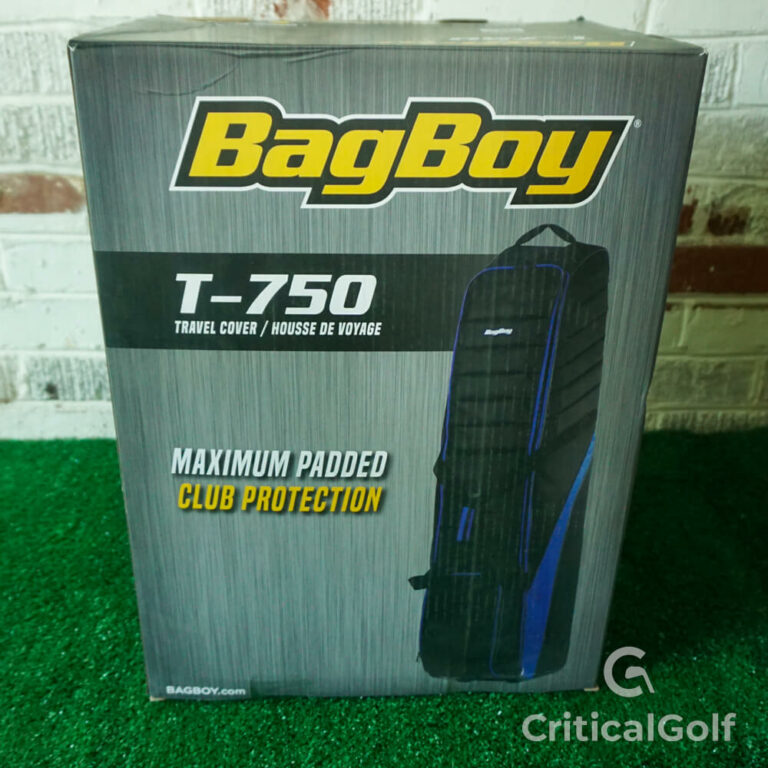 Packing
Packing up my bag with the Bag Boy T-750 was really easy. The zipper opens plenty wide enough to get all of my gear in, and there was no problem getting the driver to fit. The one problem I kept running into was the zipper functionality. The zipper just does not move as smoothly as I would have hoped.
I'm a bit worried about this long term and making sure it doesn't get even more difficult to operate as time goes on. Something to keep in mind if you struggle with packing, maneuvering, and zippering.
Weight
The Bag Boy T-750 weighs 8.5 pounds. This is about average for a soft-sided cover and still gives you plenty of weight to be able to pack all of your gear into place.
Construction
The bag is made with an extra thick 4 sided padded top. This material is a high density form, allowing for a tremendous amount of protection. In addition, I had no trouble getting the driver to fit even with this extra padding built in.
At the bottom of the bag are two in-line skate wheels to help make maneuverability with this golf travel cover considerably easier.
Size/Compact
The Size of the Bag Boy T-750 is about average when it comes to size. Since it is soft cover, you can fold it down and store it up to the level of the skid bars. Overall you won't have a hard time fitting all of your gear or finding a place to keep this bag before your next travel date.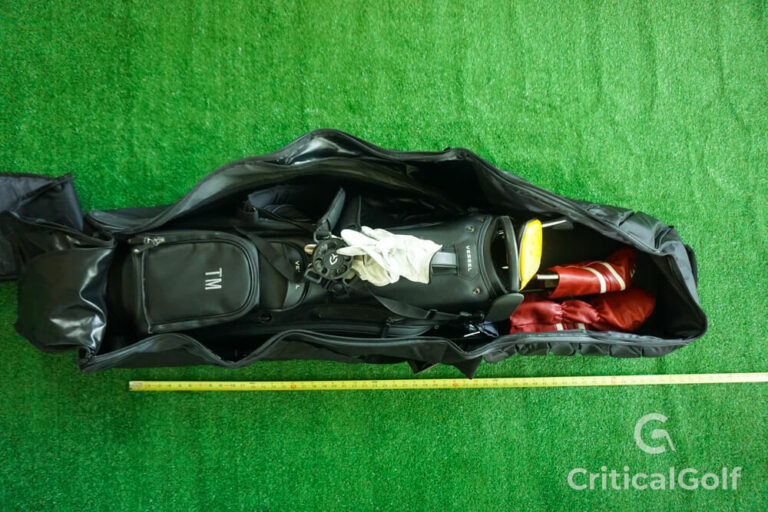 Additional Bag Boy T-750 Travel Cover Options
Bag Boy is one of the industry leaders in golf bags and travel covers. If you think that the T-750 is not the perfect match for you, here are a few other options to consider investing in.
Bag Boy T2000 Golf Travel Bag
https://bagboy.com/products/t-2000-travel-cover
The Bag Boy T2000 Golf Travel Bag is a more premium model than the T-750. This is still a soft-sided golf travel bag, but it has some additional features that set it apart. For starters, there is a skid-resistant ABS Base and the StandGuard High Density foam padding that keeps your stand bag from getting damaged. There is an oversized shoe and accessory pocket that helps when you are traveling for a longer trip. Lastly, the two tone color options also help this bag to stand out and have a more premium look.
Bag Boy T 460 Travel Bag
https://bagboy.com/products/t-460-travel-cover
The Bag Boy T460 is a budget-version golf travel bag. It is made with a 600D polyester material, so not nearly as durable as the T2000. It has easy access to your golf clubs and an oversized pocket on the front. The major downside of this golf travel bag is that it has no wheels. If you are doing curbside check-in that may not be that big of a deal, but traveling through the airport, expect to be dragged down by this heavy bag. For a golfer going on a quick trip or somebody who travels just once a year, this one will do the trick.
Bag Boy T-10 Travel Cover
https://bagboy.com/products/t-10-travel-cover
The Bag Boy T10 features the technology to help all golfers stop worrying about their golf clubs getting crushed. The top of the bag features a crush-resistant ABS Top that protects against any damage and ensures that there is not much room for the movement of clubs. The larger wheels on the T10 help with maneuverability, and the StandGuard protection is once again put into place to help ensure your stand bag makes it through your next adventure in traveling.
Frequently Asked Questions
With Bag Boy having so many good options for golfers to choose from, sometimes it can be hard to decide which is best for you. Here are a few of the questions that you should consider before purchasing this particular travel cover.
Does the Bag Boy T-750 Travel Cover have a warranty?
The Bag Boy T-750 Travel Cover has a one year warranty. This warranty starts on the date of purchase. Overall you will notice that the return policy and warranty from Bag Boy are not all that generous, so keep a close eye on any potential issues you see coming up.
Can you return the Bag Boy T-750 Travel Cover?
The Bag Boy T-750 Travel Cover can be returned within 7 days of purchase. This is a very short window for a return, so make sure you are careful to decide if this is the best golf bag for you.
What is the weight limit for the Bag Boy T-750 Travel Cover?
The Bag Boy T-750 is made with enough durability to hold quite a bit of weight. You will, of course, be subject to oversized luggage charges if you try to pack this bag down a bit too much. However, it's safe to put 40-60 pounds worth of golf gear in here without having to worry about it ripping.
Is Bag Boy a good golf brand?
Bag Boy is a good golf brand. They are known for making great products for the average golfer looking for a mix of quality and longevity in their products.
Where are BagBoy golf bags made?
Although the Bag Boy name has changed ownership several times, they are still located in Richmond, Virginia.
Are Bag Boy push carts good?
While you are searching for travel bags, you may also want to take a look at the pushcarts that Bag Boy offers. This company was the first to offer the three-wheel push cart, and they are becoming more and more recognized for advances in this game area.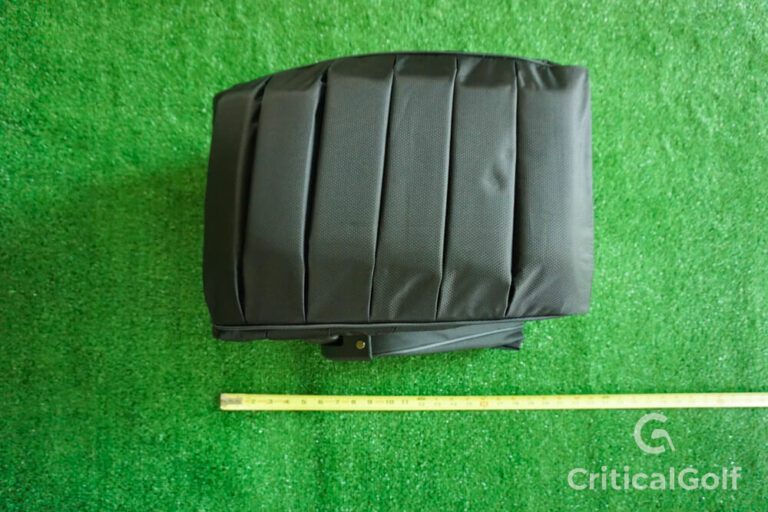 Who Is The Bag Boy T-750 Travel Cover For?
The Bag Boy T-750 Travel Cover is best for the golfer on a budget but still cares about the protection of their clubs. We get it; it's much more fun to spend your golf budget on clubs and not on a travel bag. However, if you don't purchase the proper travel cover, you may be spending even more money on new golf clubs.
Instead, purchase something like this PBag Boy T-750 that gives you a little bit of both protection and value. You will find some flaws with this golf bag, but the price it is offered is expected.
I would say that you can travel several times a year, and this bag will barely show any signs of wear and tear. For the weekly traveler, I may look at something like the Club Glove Last Bag.
Final Thoughts: Is The Bag Boy T-750 Travel Cover Worth It?
Now that you have made it to the end of the Bag Boy T-750 review, you should see that this is a solid golf travel bag that has good value, strong protection for the clubs, and a decent amount of space to keep your clubs. Although it is not the more premium of the Bag Boy golf travel bags, it is one of my favorites. It takes all the most critical features and includes them in a bag that's easy to use, easy to store, and easy on the wallet.
About Critical Golf
Launched in the spring of 2009 to shed light on the confusing world of golf equipment.

Our testing staff includes players ranging from low to high handicappers to provide perspectives relevant to all golfers, regardless of ability level. Each product is tested by all staff members to give you the best insight possible.