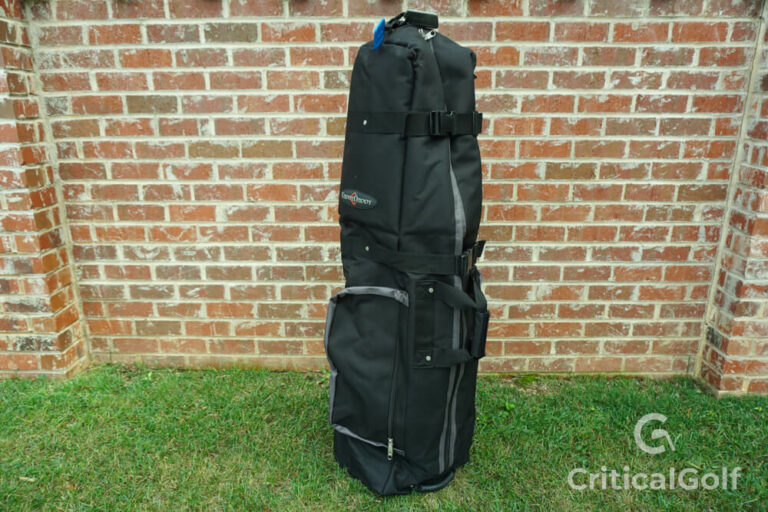 Yes, we actually test these items so we can recommend the best products—learn more about our process. This article may contain affiliate links. Read full disclosure statement.
I don't know about you, but when you go on two golf trips a year, it's a bit hard to spend $500 on a travel case for the clubs. I would much prefer something with a label like Stealth or Rogue on it for that price and how often I'll use it. However, the Caddy Daddy Golf Constrictor 2 golf travel bag turns out to be one of the best golf travel bags for durability, despite its low pricing. If you haven't seen this CaddyDaddy Golf Constrictor 2 Travel Cover and are looking for something that will take your mind off of your clubs getting smashed while you fly, you may want to keep reading.
Durable golf travel bag for the price

Rubber handles

High-quality material

Two outside storage pockets

Extra compression straps for securing the golf bag

Has two medium in line skate wheels on the back

Lockable zippers
It can get a bit tight with a longer driver

More dated, not as modern look

It feels a bit droopy

Inside storage is minimal
CaddyDaddy Golf Constrictor 2 Travel Bag Features and Benefits
We gave the CaddyDaddy Golf Constrictor 2 a 4.15/5 and considered it to be the most durable budget bag. You won't break the bank, but you get protection for your golf clubs that will be well worth the money you spend. Here are how some of the features are stacked up compared to others on the market.
Features
The CaddyDaddy Golf Constrictor 2 is a soft sided golf bag travel cover that is one of the best selling in the value category. The storage outside of the bag is excellent for extra gear like golf balls and even golf shoes.
In addition, you will feel like the heavily padded design keeps your golf equipment safe and sound. The bag has two wheels for easy rolling and can fit a golf stand bag and a golf cart bag. Overall there are no overly high end or fancy features like you get with something like the ClubGlider Meridian or some of the Bag Boy heavy duty travel bags.
Maneuverability
With only two weeks on this CaddyDaddy Travel bag, expect to get a bit more pull and drag than you would with something that had four wheels. In addition, these are inline wheels, not rotating wheels, so there is some limited maneuverability.
Pulling the bag, you will notice a slight drag in the middle. Mostly we noticed this with all of the soft-sided travel covers, but some are worse than others. This one wans't the worst, but it wasn't the best.
Protection
The protection that the CaddyDaddy Golf Constrictor 2 offers is good. The upper part of the bag has heavy padding in place to ensure that your clubs are protected where it matters the most. Of course, for the price the bag is offered, it doesn't have the same premium materials that you get with others, but there was nothing alarming about the protection offered with the CaddyDaddy Constrictor II.
Storage
Overall, storage on the outside was great, but storage on the inside is minimal. The oversized pockets on the outside of the bag are typically on my wish list when looking at a great golf travel cover, but the inside storage is tight. In fact, I had to clean out my bag a little to make sure I felt comfortable about the way this bag was sitting in there.
Material
The material is really durable polyester. It does not seem to rip or fray in anyway, even after being used several times. In addition, the heavy duty curb rails and inline wheels seem to be high enough quality that they will hold up well over time. The combination of rubber and plastic is good for the price.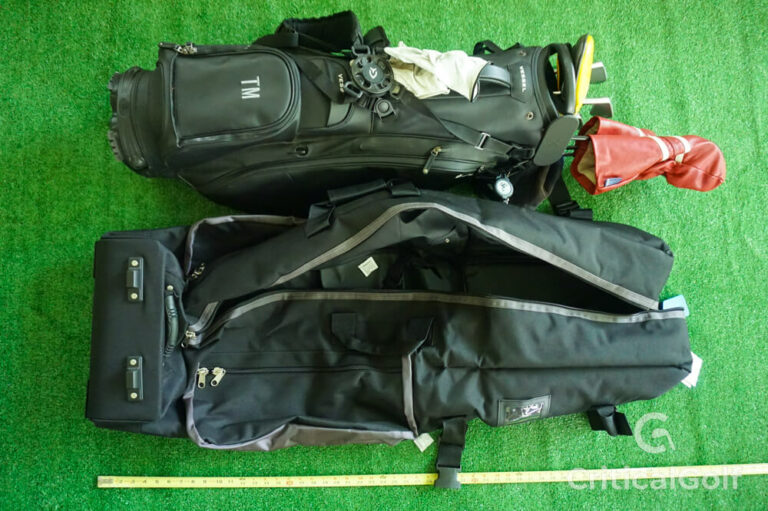 Packing
There is only one zipper on the bag, so you have to commit to your packing and get everything set before you zip and unzip. I had difficulty fitting the driver in the bag and had to pack it outside the bag. This leaves the shaft on the driver a little too exposed for my liking, so keep that in mind if you have a larger bag and a standard or longer driver.
Weight
This bag weighs in at just under nine pounds, which was considered a positive in our book. The more padding and features you get, the heavier the bag gets. This is a bit of a problem when trying to get through security, but I had no trouble keeping all of my gear in this bag under $50.
Construction
The bag is made with an 1800D fabric construction. This is pretty thick, and you can tell when you get it that the Caddy Daddy Constrictor 2 is actually pretty durable, more durable than I thought for the price. Of course, with it being soft sided, you won't get the same protection as a hard sided, but it's certainly good enough.
The inline skate wheels are a good addition to the bag, and there are curb rails behind it to ensure that you don't wear out the bottom of the bag as you drag it along.
Size/Compact
The bag itself is 51 x 13 x 15 inches. This is big enough to fit a smaller cart size bag or any stand bag. The larger bags are a bit of a tight fit, and I didn't like the way the top of the clubs fit when the bag was a taller cart bag.
Folding up the CaddyDaddy when you are done with it is pretty simple; it's not like it gets small, but certainly easier to store than a Samsonite Hard Cover.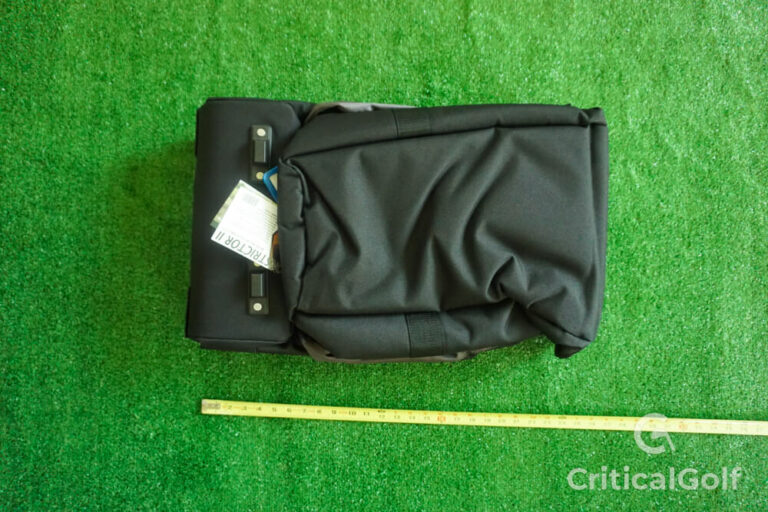 Additional CaddyDaddy Golf Travel Cover Options
If the CaddyDaddy Golf Constrictor 2 is not the perfect option for you, there could be others from this brand. The CaddyDaddy golf travel covers have been made in Arizona for the last twenty years. This company almost always has products in stock, and they do an excellent job of offering high-quality products for a fair price. Here are a few other bags that could be a fit for what you need.
CaddyDaddy Enforcer
The CaddyDaddy Enforcer had a bit more protection built in to help keep your clubs safe when you travel. The crush resistant hard ABS molds are added to the top of the bag to help ensure that your club heads are adequately protected.
This bag is not bigger than the CaddyDaddy Golf Constrictor 2, and we recommend it more for the stand bag than the cat bag. This option also has inline skate wheels and two large external pockets to store your extra gear.
The base of the bag is soft, so you can easily fold this up and store it when not in use.
CaddyDaddy Constrictor
>>Check Price for Constrictor<<
The CaddyDaddy Constrictor is the original option before Constrictor 2. This bag is cheaper, but it has much less protection than the CaddyDaddy Constrictor 2. The whole thing weighs less than 5 pounds, so you won't have much extra protection from this travel bag.
Inside the CaddyDaddy Constrictor, there are internal and external compression straps that keep your golf bag in place. In addition, the 1800 D Fabric is known to stay in place. If you are looking for a great deal and still want that one year full bag and club protector replacement, this is a great option to consider.
Frequently Asked Questions
Here are a few of the most commonly asked questions about the CaddyDaddy Golf Constrictor 2. These are the types of things you should consider before checkout so you can enjoy the bag you have had for a long time.
Does the CaddyDaddy Golf Constrictor 2 Travel Bag have a warranty?
There is a one year replacement warranty on the CaddyDaddy Constrictor 2 Travel Bag. This warranty is also going to cover any damage that was done to the golf clubs in your bag while they were inside the CaddyDaddy. It's a strong warranty policy, especially considering the total price of this item.
Can you return the CaddyDaddy Golf Constrictor 2?
Depending on where you purchase the CaddyDaddy, you should be able to return it within 30 days of purchase. If you are experiencing issues with the performance, the warranty will kick in and help you cover the costs.
Are CaddyDaddy golf travel bags good?
CaddyDaddy golf travel bags are good. They have impressive padding and material, and the wheels even hold up quite well. This is still considered a value type golf bag, but for the price, it is offered, you will enjoy what it has to offer.
What is the weight of this bag?
The weight of the CaddyDaddy Golf Constrictor 2 is just less than 9 pounds. This is about standard for a bag with a padded top like this. You will still have plenty of room to fit your clubs and your gear and not go over the limit set by the airline.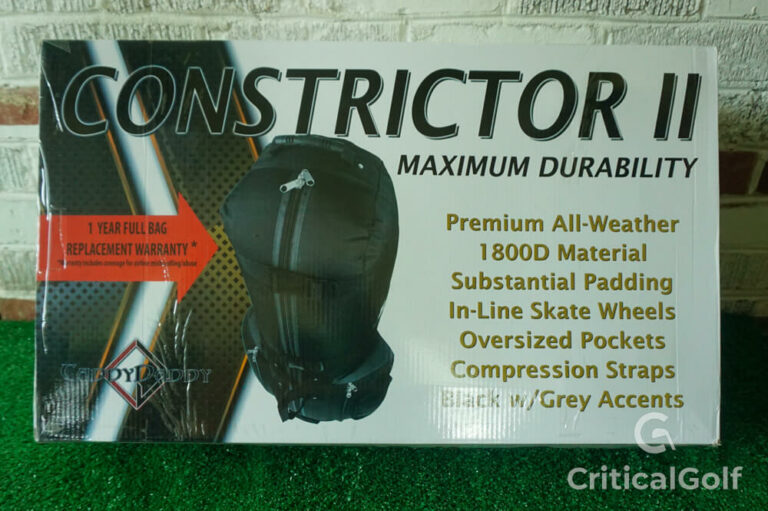 Who Is The CaddyDaddy Golf Constrictor 2 For?
We love the CaddyDaddy Golf Constrictor 2 for the golfer that travels a few times per year and is on a bit of a budget. You won't have to worry about something terrible happening to the golf clubs, but at the same time, you can save up for that new TaylorMade wedge you have been eyeing. Club protection doesn't need to break the bank and the CaddyDaddy Golf Constrictor 2 proves that.
Final Thoughts: Is The CaddyDaddy Golf Constrictor 2 Worth It?
In the end, we gave CaddyDaddy a strong rating. It wasn't the best overall, but it was one of the best for durability (especially considering the price). If you travel semi frequently but can't afford one of the big name brands, this one is worth a shot. We also recommend sticking with this model if you have a stand or carry bag, as there is not much room once the cart bag is in place. Overall it's a good company that stands behind its product.
About Critical Golf
Launched in the spring of 2009 to shed light on the confusing world of golf equipment.

Our testing staff includes players ranging from low to high handicappers to provide perspectives relevant to all golfers, regardless of ability level. Each product is tested by all staff members to give you the best insight possible.