Yes, we actually test these items so we can recommend the best products—learn more about our process. This article may contain affiliate links. Read full disclosure statement.
Ogio has a strong reputation when it comes to golf bags, but a large portion of its business is in the travel sector. If you are looking for backpacks, duffel bags, or a specific travel case, the Ogio brand has you covered. In addition, they make some golf club travel covers or bags that are also worth trying. I recently tested the Ogio Alpha Travel Bag and found it to be the best lightweight option on the market. Here is some feedback on my testing of this bag so that you can see if it could be the best option for you.
Very lightweight option

Will fit both cart and stand bags

Compression straps to lessen movement

900D polyester body fabric

Easy load D load shape

Very roomy, can pack for an entire weekend

Two outside storage compartments

Will fit a driver with ease

Lockable exterior zippers
Droopy feel

It doesn't breakdown well

A bit flimsy feeling
Ogio Alpha Golf Travel Bag Features and Benefits
When I first took the Ogio Alpha Travel Bag out of the box, I wasn't all that impressed. The Ogio golf bags always have great features and designs, and I was hoping for just a bit more with the Ogio Alpha. However, throughout the testing process, the product did quite well, earning a total of 4.30 out of 5 in our rating system.
Features
The overall features of the Ogio Alpha Travel bag are rather basic. It has everything you need to protect your golf equipment but nothing that is really over the top. It's important to mention that the overall pricing is also more fair than something that offers overall premium protection.
Probably the two most important features that will stand out to you are the lightweight feel and the overall storage capacity that you get. We also had no issues with accessibility when trying to load the bag up.
With foam padding and two sets of compression straps, golfers should be pretty confident that their golf equipment is protected. However, don't expect that same piece of mind you get with something like Sun Mountain, Titleist, or Bag Boy.
Maneuverability
The maneuverability of the Alpha is just alright. There are wheels which certainly helps as it is much easier to get around with than just a standard carry bag. However, we don't love how the bag turns as you pull it.
There will be times when going around sharp corners that you may have to stop and maneuver the bag. The wheels are durable and should hold up fine over time, but they can feel as though so you are restricted in some of your movements.
For an occasional traveler, this is not a big deal. However, if you play golf and travel all the time, it may get frustrating.
Protection
The Ogio Alpha Travel cover has good protection, certainly not more so than any other golf travel bag on the market, but there is padding around the top part of the bag that helps to keep golf clubs from rattling around too much.
The compression straps are also a good feature as they keep your cart bag or stand bag locked in, with plenty of room for extras to be stored all around it.
Storage
Ogio claims that the reason they made this Ogio Alpha Travel bag is to give golfers the extra room they need for things like headcovers, rangefinders, golf towels, golf shoes, golf balls, and even that extra putter you decided you wanted to bring along just in case.
If you are smart about how you pack your travel bag, you may be able to use this as your only luggage for a weekend golf trip.
Material
The 900D polyester material can be ordered in a few different colors to help make it easier to see which of the golf bags are yours. In addition, you can get different patterns that will help your clubs stand out from others in the airport.
Packing
Packing the Ogio Alpha Travel Bag is relatively easy. The D Loading Shape, as Ogio calls it, means you won't have to fight with your driver to get it in the bag. Instead, just open the zippers entirely and drop the clubs in place.
Of course, something like the Sun Mountain Meridian that allows you to stand and load the bag is a bit more convenient, but the Ogio Alpha Travel Bag does not make this process overly difficult.
Weight
The bag weighs just 6.3 pounds, and it is partially why we called this the best lightweight golf travel bag on the market. If you are smart about what clubs you bring and how many golf balls you load down your bag with, you should have no issues with the total weight and avoid excess weight baggage charges.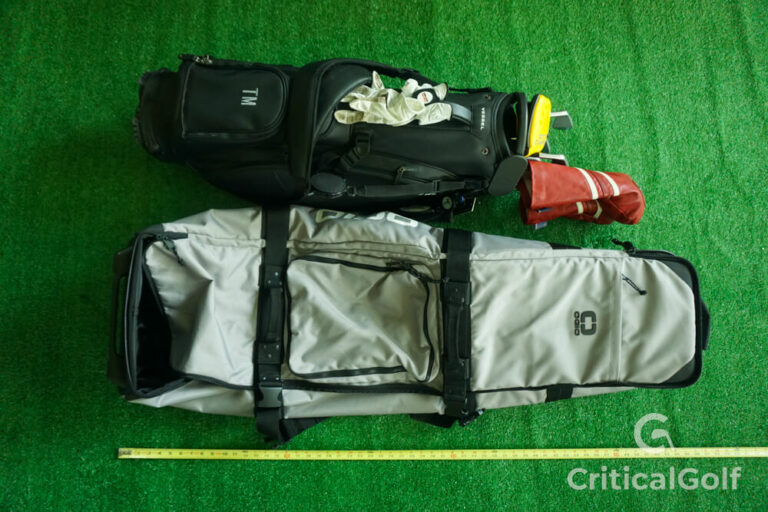 Construction
The Ogio Alpha Travel cover is a soft-sided cover made with a 900D polyester material. The bottom of the bag near the wheels features a skid plate to help you move quickly through the airport at warp speed without feeling like you are dragging your fabric golf travel cover along the ground.
Don't expect this construction to be anything that really stands out among other golf travel bags, but it also doesn't set a particular model back.
Size/Compact
The overall size of the Ogio Alpha is 51″ L"x 12″ W"x 14″ H." With this lightweight fabric's design, it can stretch relatively easily to accommodate all of your gear. The only negative here is that it doesn't break down to a small compact unit; instead, it's a bit bulky for storage.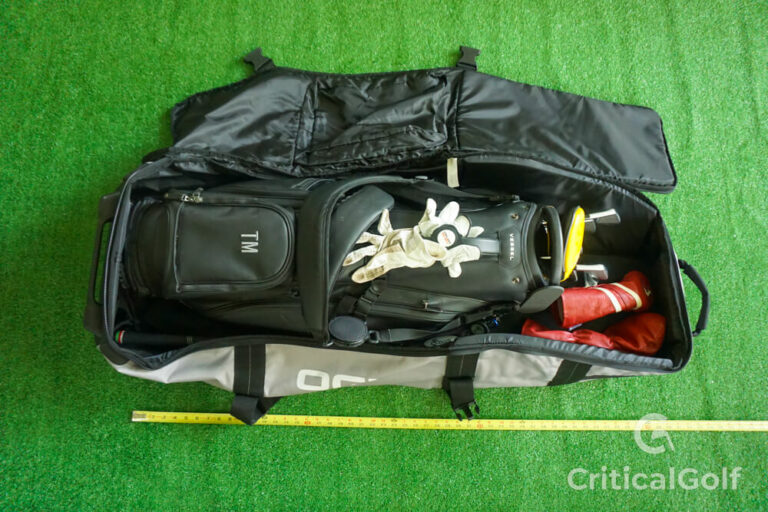 Additional Ogio Golf Travel Cover Options
If the Ogio Alpha Golf Travel Bag is not the best option for you, this well-known brand has two other options. Ogio didn't go overboard with their travel cover offerings, they just made three different sizes, and each bag features almost the same technology and fabric with just slight modifications.
Ogio Alpha Travel Cover Max
The Ogio Alpha Travel Cover Max is best for golfers with staff bags. This particular model will hold a huge golf bag with plenty of padding and foam to protect the golf clubs. There are also oversized heavy-duty wheels that make the Ogio Alpha Travel cover a much smoother ride, even with all of that heavy gear in place. The same compression straps also lock the bag into place. The only negative here is the bag's total weight of 12 pounds.
Ogio Alpha Travel Cover Mid
The Ogio Alpha Travel Cover Mid is a bit more compact for golfers that need a little less gear. This has a similar skid plate and rails to help protect the bottom of the bag. It also is made with a durable 1200D polyester fabric. If you are worried about the organization and overall maneuverability, this is an excellent option to consider.
Frequently Asked Questions
Here are a few questions about the Ogio Alpha golf travel bag. Remember that this is an option for both men's and women's golf equipment as long as the specifications of the golf cart or golf stand bag fit within the dimensions.
Does the Ogio Alpha Travel Bag have a warranty?
The Ogio products come with a limited lifetime warranty. The specifics of this warranty are a bit detailed, but the bottom line is that if you have a problem related to the original construction or design, they will take care of it for you.
Can you return the Ogio Alpha Travel Bag?
Ogio offers a solid free returns program. If you are not 100% satisfied with your product, you can return it within the first 100 days. With this program, no questions are asked, and they simply take the bag back.
Are Ogio golf travel bags good?
Ogio travel bags are good; they have high-quality materials, good exterior, and interior padding to protect club heads, and a modern and lightweight design.
What does Ogio stand for?
The name OGIO stands for Our Gear Is Organized. As we mentioned, this brand makes a wide range of equipment ranging from backpacks to travel golf covers.
Is Ogio Callaway brand?
Callaway purchased Ogio, but they still don't operate under the same logo. The Callaway golf brand continues to purchase large golf equipment manufacturers and organizations to grow its brand continually.
What is the weight of this bag?
The Ogio Alpha weighs 6.3 pounds. If you choose the Ogio Alpha Max, you will increase the weight to 12 pounds; this should show you how lightweight and easy to work with the Alpha Max is.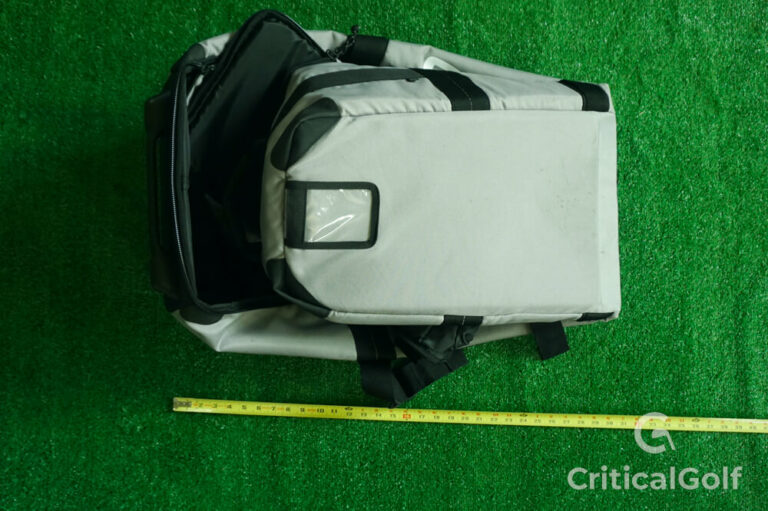 Who Is The Ogio Alpha For?
The Ogio Alpha is best for golfers that like a lot of gear and want to keep the price of their golf travel bag in check. This is not the most expensive travel bag on the market, but it will hold everything you need for a weekend golf trip. Be smart about how you pack and take care of the Ogio Alpha; it should last you for years to come.
Final Thoughts: Is The Ogio Alpha Travel Bag Worth It?
At this point, you should have a little bit better of an idea as to whether the Ogio Alpha Travel bag is a good fit for your needs. When we did our travel bag test this year, we wanted to make sure that the products that are highest in price are genuinely worth the money. The Ogio Alpha is fair in price for the amount of protection, maneuverability, and overall quality it offers. Whether you are new to the game or have been playing your entire life, I recommend this bag highly for the golfer that occasionally travels to moderately. For heavy travelers, spending just a little more on something more maneuverable will be a better choice.
About Critical Golf
Launched in the spring of 2009 to shed light on the confusing world of golf equipment.

Our testing staff includes players ranging from low to high handicappers to provide perspectives relevant to all golfers, regardless of ability level. Each product is tested by all staff members to give you the best insight possible.