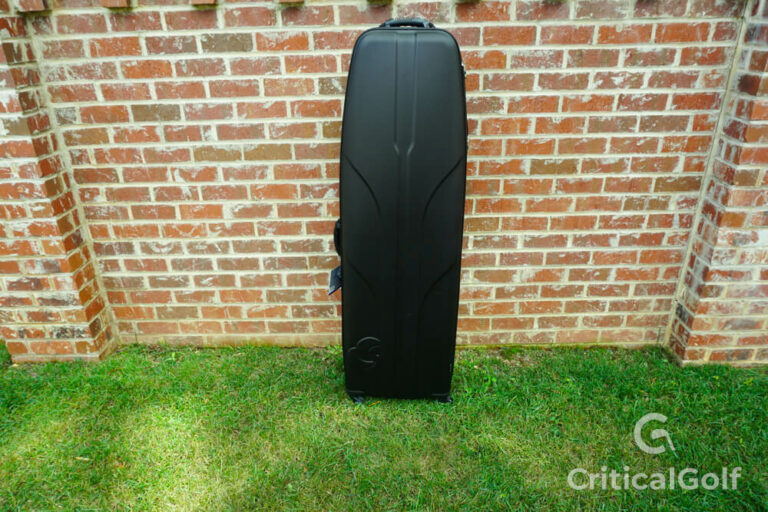 Yes, we actually test these items so we can recommend the best products—learn more about our process. This article may contain affiliate links. Read full disclosure statement.
Does it pain you to watch your golf clubs in an airport and know how they are tossed around? You aren't alone. Air travel can do major damage to golf club heads, and a bit of help from a quality travel bag is necessary.
The Samsonite Hard Cover Travel bag is the perfect solution for golfers worried about damage to golf clubs while traveling. With heavy duty solid ABS plastic, this golf travel bag seems like it has everything you need to keep your clubs intact. We were curious if this Samsonite Hard Sided golf travel case actually held up when put to the test. Here is what we found.
Looks sleek

A premium liner on the inside of the travel bag

Plenty of room

Strong brand reputation

Extra foam cushioning in the upper part of the bag

Six total wheels

Can stand upright
Not much room once the bag is in place

Heavy
Large footprint, won't store easily
Samsonite Hard Cover Travel Bag Features and Benefits
The Samsonite Hard Travel Cover comes with a strong reputation. Companies like Samsonite, Sun Mountain, ClubGlove, and SKB are standard names when it comes to golf travel covers that actually work. With the Samsonite, I was impressed with the way this bag handled itself but, most importantly, the way it protected my clubs. The total rating for the Samsonite was 4.78/5.
Features
The most prominent feature of the Samsonite golf travel bag is that it is hard sided. Soft sided golf covers are without a doubt more popular. They can be easier to work with from a weight and maneuverability standpoint, but the protection doesn't compare.
Inside the Samsonite Travel bag, you will find a premium liner and internal compression starts. The straps were great for helping keep the bag in place, something that is important when you have a standing cart bag.
The padding and quilted interior made me feel better about all of the components on my golf clubs, not just the heads. You have likely seen the way golf equipment manufacturers pad the top end of the travel bags, but this thing has padding throughout.
Overall there are enough features here to keep your clubs protected but also to keep you organized as you travel.
Maneuverability
To start off, it's worth mentioning that this is a big and bulky travel cover that I was worried would be difficult to maneuver. The thing is, with the wheels in place, it's actually really easy. In fact, the wheels roll better and help you maneuver better than most other bags on the market.
One issue with maneuverability is putting this travel bag in and out of your car with the clubs loaded in. It's a bit awkward to deal with.
The wheels include four that spin and then two different wheels for dragging and pulling. The rubber pull handle is strong and has enough durability to get you through quite a bit of travel.
Protection
Club protection from the Samsonite Golf travel bag is excellent. At no time did I think that my clubs were in a position of risk. In addition, the way that you can lock your clubs into place helps ensure that things stay put inside the case.
Golf clubs are expensive, and a carry bag doesn't do much to protect them inside a soft-sided golf travel bag.
Storage
The Samsonite Golf Travel Bag will allow you to fit your golf cart bag or stand bag with ease. This won't allow a staff bag, and when your bag is in place, there isn't much room for others things. You may be able to carefully position your golf shoes or a dozen golf balls.
However, it's important to remember that with a hard sided cover like this, there isn't much room for the extra gear. Look for a soft sided option from CaddyDaddy, Callaway, Bag Boy, or Ogio if you need an alternative that lets you squeeze in those extra training aids.
Material
The durable outer plastic does not scratch or scuff easily, and it's also very hard to dent. When I first got the Samsonite Golf Travel bag, I was a little concerned because it doesn't feel all that heavy or durable. However, after using it, I've noticed that it's got some great technology and it's plenty durable.
The premium material on the inside of the travel bag will also help from additional scratches or damage to the golf bag itself.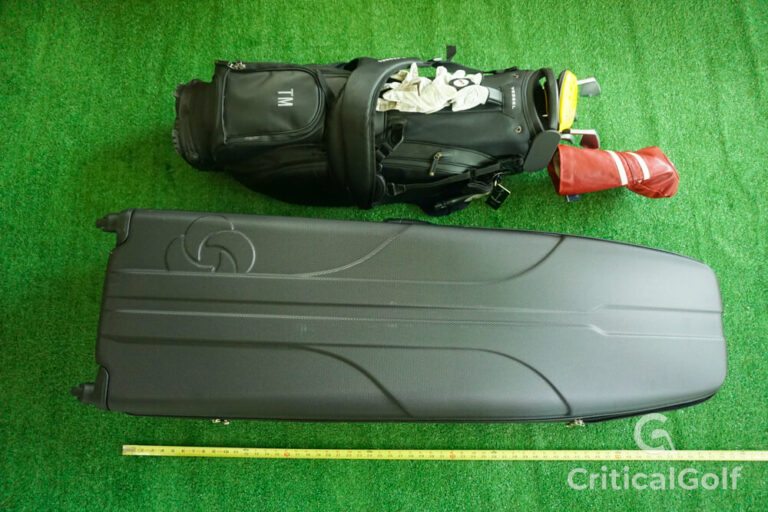 Packing
Packing up the Samsonite Golf Travel bag is relatively easy. You won't need a stiff arm in place to get the clubs to fit, and the case can accommodate up to a 48 inch driver. Overall I found it easier to pack the bag while it was on the ground and then stand it up after the fact.
Standing the bag up is not hard, but I felt there was a risk of it tipping when packing and unpacking. Leaving it down on the ground makes it considerably easier to get your gear into the right position and ensure those straps are tight.
Weight
There are some reports out there that this travel case from Samsonite is less than 10 pounds, but that is just not the case. It's nearly impossible to put an ABS Shell and in-line skate wheels on a bag that will accommodate golf clubs that are 48" and have weighed less than 15 pounds. The Samsonite Golf Travel bag is exactly 15 pounds, and it's not terrible for the protection you get.
I would highly recommend having a lightweight stand bag for traveling and combining that with the Samsonite. You will have plenty of room, and you won't break your back loading this in and out.
Construction
The Samsonite Golf Travel bag is made with a durable ABS plastic shell. Samsonite calls this a lightweight material; however, when you put your gear in here and start moving it around, it's pretty heavy. The construction of the bag is certainly durable, and it looks sleek.
I was a bit worried about the overall look of the bag, considering it's a bit bulky, but it has a sleek and more professional design than others on the market. This travel bag looks like you spent some money on it if that kind of thing matters to you.
Size/Compact
The Samsonite Golf Travel Bag is 54″ H x 12″ W x 16″. It's a bit bulky, and it won't be your friend if your garage is already packed with golf gear. However, the overall size is about average when you put this particular model up against many of the others on the market.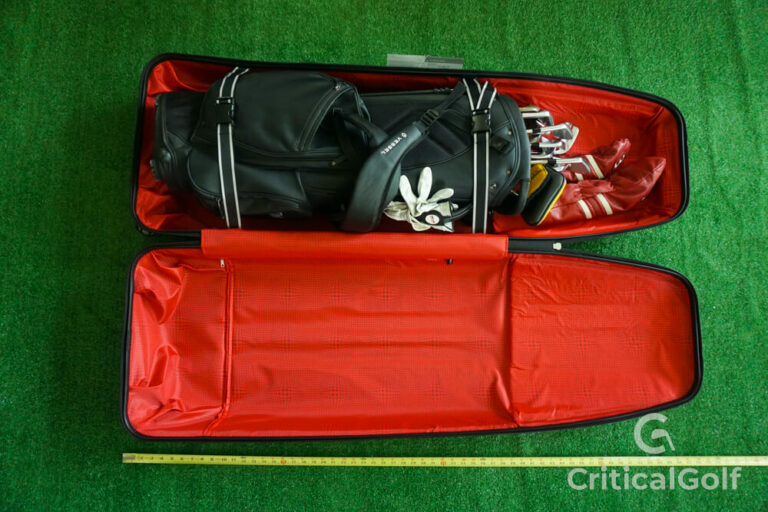 Additional Samsonite Hard Cover Travel Bag Options
If the Samsonite Golf Travel bag is not for you, there are some other options that this company produces that could be a better fit.
Samsonite The Protector
>>Check Price for The Protector<<
The Samsonite Protector Travel Cover is a 100% polyester design with a hard side top that helps to protect your clubs. You will find plenty of room for clubs up to 48 inches long, but it does not have the spinner wheels seen on other models from Samsonite.
The Protector is slightly more affordable than the hard sided Samsonite Golf Travel bag, and it has comfort handles at the top and side to make it easier to transport.
Samsonite Spinner
>>Check Price for Spinner<<
The Samsonite Spinner is similar in size to the Hard sided golf travel bag. This is made with a box weave nylon material and will hold clubs up to 48" long. With four multi directional spinner wheels and a tapered shape, many golfers like the way the Samsonite Spinner maneuvers its way around the airport.
Samsonite 3 Piece Travel Set
>>Check Price for Travel Set<<
The Samsonite Deluxe 3 Piece Travel set is a cheaper model that comes with a wheeling travel cover, duffel bag, and shoe bag. This is a lightweight version for golfers that are looking for less of a burden when they travel. The internal compression straps are beneficial inside the bag, but the overall coverage is not all that great. If you just started out in your golf traveling journey, this is an option to keep on your list.
Frequently Asked Questions
Here are a few of the most commonly asked questions about Samsonite travel covers. Overall, if you want peace of mind in how your golf clubs are protected when you travel, this will be the best option on the market.
Does the Samsonite Hard Cover Travel Bag have a warranty?
The Samsonite Hard Cover Travel Bag comes with a 5-year warranty. This is a very long warranty in the golf gear industry and should certainly be considered when you travel often.
Can you return the Samsonite Hard Cover travel bag?
The return policy for the Samsonite Hard Cover travel bag will vary based on where it was purchased. However, with most purchases, you will have 30 days to return; shipping costs on this return are a little higher, make sure you keep the original box.
Is the Samsonite Hard Cover Travel Bag made out of plastic or metal?
The Samsonite Hard Cover Travel Bag is made out of plastic. The outside cover is very durable and hard, but the inside has foam padding and a premium liner.
What is the weight limit for the Samsonite Hard Cover Travel Bag?
The Samsonite Hard Cover Travel bag can hold quite a bit of weight. However, it's important to note that the total weight of this case is about 15 pounds. This means you will have to be careful to ensure your stand bag or cart bag does not weigh too much and go over the airport heavy bag guidelines.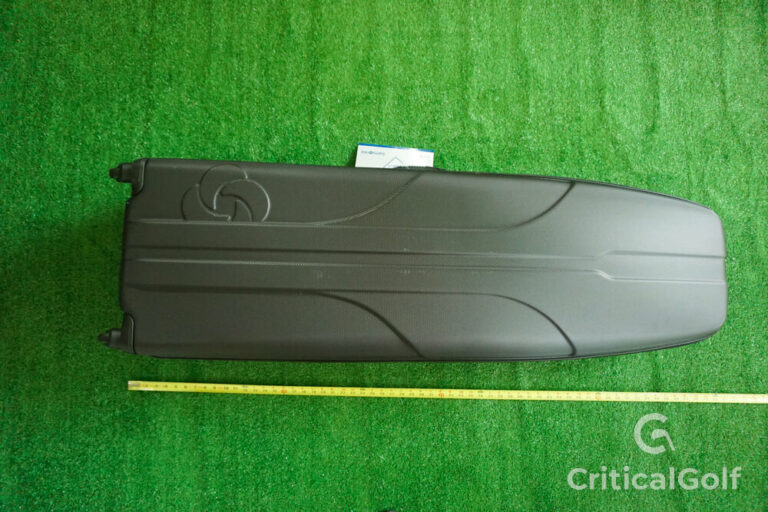 Who Is The Samsonite Hard Cover Travel Bag For?
The hard shell on the exterior of the Samsonite Golf Travel bag makes this an excellent option for the golfer that travels frequently. I also think this is a bag you should consider if you have high-end golf clubs. I'm not saying your ten-year-old TaylorMade irons aren't good; it's just much more painful to replace a brand new set of the P770s or a Mizuno blades, and the Samsonite Golf Travel Bag could prevent you from having to do this.
Final Thoughts: Is The Samsonite Hard Cover Travel Bag Worth It?
The Samsonite Hard Cover Travel Bag is worth the money. In fact, I'm more of a soft case person, but I can't deny that this Samsonite Golf Hard-sided travel cover case is truly one of the best on the market. You won't have any trouble making your way through the airport; just save a place in the garage where you can store this, as it is a bit bulky. If you just bought those new $1500 irons, this is the golf club travel bag I would put them in.
About Critical Golf
Launched in the spring of 2009 to shed light on the confusing world of golf equipment.

Our testing staff includes players ranging from low to high handicappers to provide perspectives relevant to all golfers, regardless of ability level. Each product is tested by all staff members to give you the best insight possible.