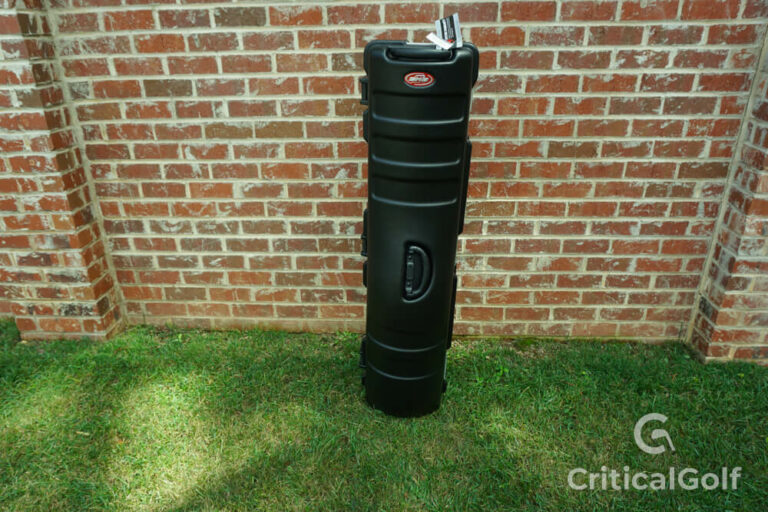 Yes, we actually test these items so we can recommend the best products—learn more about our process. This article may contain affiliate links. Read full disclosure statement.
Golf clubs are expensive to purchase, and having to replace damaged or broken ones after a golf trip goes wrong is a major problem. If you have seen some of the treatment of golf travel bags and cases by airline employees, it may be no surprise that a hard case could seem like a good idea. The SKB Golf Cases are known for their impressive hard plastic design. We decided to put one to the test on of our last trips and wanted you to see what we learned. This particular model is the SKB Deluxe Travel Case.
Will fit lightweight stand bags quite well

Foam club protector on the inside

High-quality protection

TSA approved Locks on clasps

High quality drag, no drooping

Comes with two wheels
Not great for cart bags, it certainly won't fit a staff bag

Won't have much room for other golf equipment

Higher starting weight on this hard shell design
SKB Golf ATA Deluxe Golf Travel Case Features and Benefits
With the SKB Golf Cases ATA Deluxe Travel Case, we knew we were getting a high quality outer protection on our clubs. I've always liked the soft sided covers from Club Glove, Bag Boy, and Sun Mountain, so this was a different experience trying this SKB travel bag. I found some positives but also some negatives that may keep me from fully recommending the case. The total overall rating for the set was 3.68 out of 5, one of our lowest performances.
Features
Outside of the hard outer case that defines this bag, there are also some other features that stand out. The TSA Locking system for ease of airline travel is probably one of the best features that we noticed; I felt secure about what I could leave in the bag, and how it would be when I got back to it after the flight.
In addition, the industrial strength latches helped the golf bags feel even more secure, without a chance for my golf balls to bounce down the tarmac. Overall the features of the SKB ATA don't hold it back; it comes down to the size where you find the most significant issue.
Maneuverability
The Deluxe Standard ATA Golf Travel Case has two wheels that help make it easy to push and pull through the airport. However, these are not rotating or pivoting wheels, so you are a bit limited in what you can do and overall accessibility in some areas of the airport. I didn't notice any trouble getting this travel case to and from my destination, but I know in a busy airport with the hard shell case, it can be a bit difficult trying to move through without those more premium wheels.
Protection
Protection on this travel case from SKB was some of the best that we found. With the $1,500 club coverage and SKB's unconditional lifetime warranty, this is a travel case meant to last for a very long time. With the soft shell cases I'm used to traveling with, the protection from this bag stood out as the best overall feature.
Storage
Storage on the SKB ATA Deluxe was not very good. In fact, I could not even get the case to close when I first put my golf bag in. There is no question that the interior dimensions of this golf travel case are small and that you will need to use this with a smaller stand bag. Large stand bags, staff bags, and golf cart bags will not fit with the Deluxe model. If you like the protection and want something that could fit larger golf bags, other models from SKB come at slightly higher prices.
Material
The outer material of the travel case is a polyethylene. Inside you will find foam padding. The high-quality latches are made of metal. Overall I had no complaints about the material from both a quality and a longevity standpoint.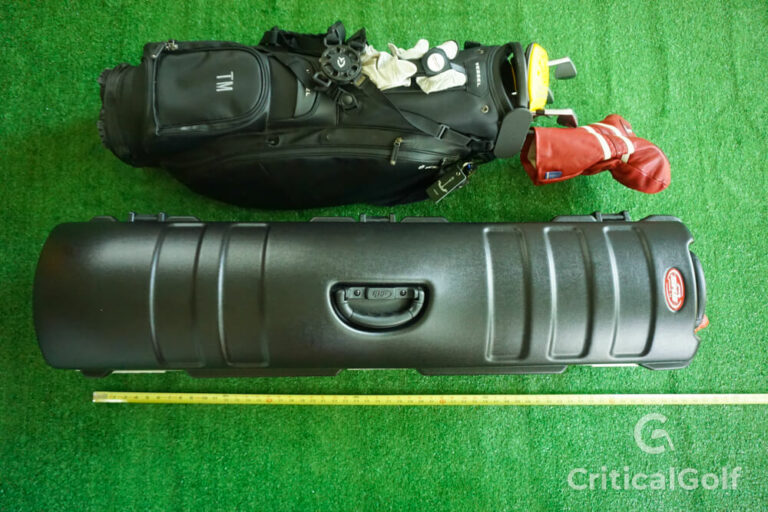 Packing
When putting my clubs inside this travel case, I had no trouble with getting it into place and feeling like it was secure. However, packing my other gear around it was not an option. Make sure you have room in your suitcase to bring your shoes and other gear.
Weight
The total weight of the bag is 18 pounds. Certainly, this is one of the more expensive options, and it could be a deal breaker for those that like to have a lot of gear with them when they travel. Expect to pay overage charges for weight if you want to keep a couple dozen golf balls in your bag.
Construction
The SKB ATA Deluxe is a molded design made with ultra-high molecular weight polyethylene. The golf bag travel case is designed to withstand some heavy-duty travel and will ensure that the travel cover does not bend, break or crack with your clubs inside it. Overall the construction felt good, and as though there were no shortcuts taken when it came to performance or specifications.
Size/Compact
This is where the SKB travel case started to struggle in our review. The interior length claims to fit a 46 inch driver, and although we didn't find the length to be an issue, it is the overall height of the golf travel case. You will have a hard time getting the travel case to close with any extra equipment in your bag. The internal dimensions are 48.75 x 11.25 x 14.25. My recommendation would be to do a bit of measuring before you decide which of these golf travel bags is best for your needs.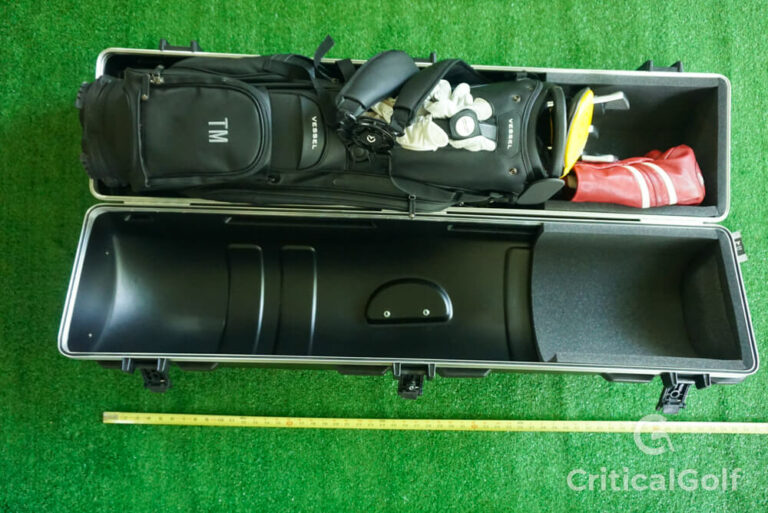 Additional SKB Golf Cases ATA Deluxe Golf Travel Case Options
As we mentioned, the SKB Golf Cases ATA Deluxe is not the best choice for a very large bag. There are, however a few other choices from this manufacturer.
ATA Staff Pro XL
>>Check Price for ATA Staff Pro<<
The Staff Pro XL will fit drivers up to 49", so it is a bit longer than the standard Deluxe travel case. This ATA STaff Pro XL also claims to accommodate the larger handles on some of the more modern golf bag options. If you have a large golf bag, this could be your smarter decision.
Double ATA Travel Case
>>Check Price for Double ATA<<
If you want to fit two bags in one travel case, the Double ATA Travel Case could be your best decision. With the double case, you pay quite a bit more, but not two times the price. For a couple that travels together, this is a great solution.
Roto Sunday Travel Case
>>Check Price for Roto Sunday<<
The Roto Sunday Travel Case is a Sunday Golf Bag and airline safe travel case offered for a fair price. This is a unique concept; you use the travel bag as your golf bag for a few days for a short trip. You will be a little limited on storage, but for a light traveler, this is a good solution.
Space Saver Travel Case
>>Check Price for Space Saver Case<<
One of the significant downsides of the SKB golf travel cases is that they can't be folded down for storage. With the Space Saver, you can at least break the travel case down into a few different pieces to make it easier to store when you are not traveling.
Frequently Asked Questions
As you can see from our review, there are some great features to these SKB ATA cases, and they have made some improvements since the original release of the ATA 300 Category I. However, the size was an issue for us, and it may be for some other golfers.
Does the SKB Golf Cases ATA Deluxe Golf Travel Case have a warranty?
SKB has one of the best warranties in the game. In addition to lifetime coverage, they will also pay if you come across damages that have happened to the travel case based on its construction or manufacturing. With the durability we saw with this travel case, it shouldn't come up as a problem.
Can you return the SKB Golf Cases ATA Deluxe Golf Travel Case?
If you purchase your SKB Golf Cases ATA Deluxe Golf Travel Case on Amazon, you should have free returns included. However, SKB offers some custom golf travel bags, which are non-returnable but still covered under the extended warranty. Before you checkout with your product, double-check that item's specific return policy.
Is the SKB Golf Cases ATA Deluxe Golf Travel Case made out of plastic or metal?
The SKY Golf Cases ATA Deluxe Golf Travel Case is made with durable and long-lasting plastic. This material comes with a lifetime warranty, and it does a great job of protecting your golf club set.
What is the weight limit for the SKB Golf Cases ATA Deluxe Golf Travel Case?
The SKB Golf Cases ATA Deluxe weighs in at 18 pounds and is made with very durable materials. You will have no trouble packing in 50 pounds or more of golf gear, but of course, you will be subject to some overage charges on your luggage. This is not a fragile travel case with low-weight capabilities.
Are SKB cases good?
SKB cases are good when it comes to golf club protection. They lack some of the features that other golf travel bags have when it comes to maneuverability or storage, but when it comes to protecting your equipment, this is a great brand.
Where are SKB cases made?
All SKB cases are made in the United States.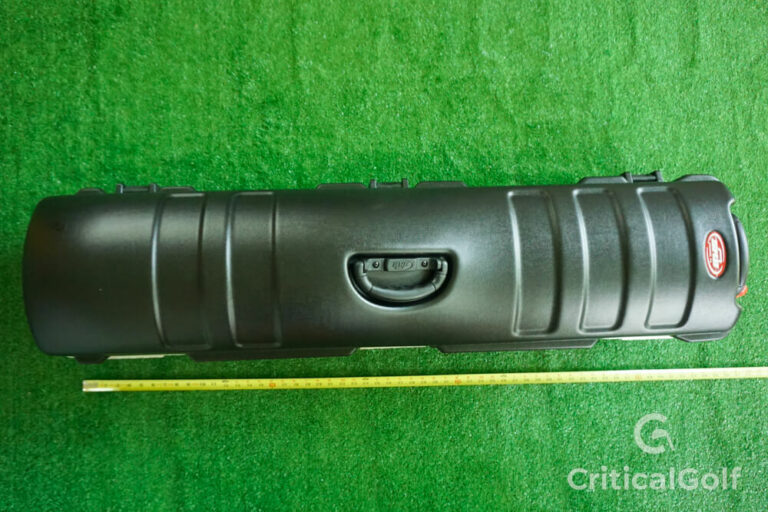 Who Is The SKB Golf Cases ATA Deluxe Golf Travel Case Bag For?
The SKB Golf Cases ATA Deluxe Golf Travel Bag is best for the frequent traveler with a small, lightweight stand bag. For those with a larger cart bag, the Deluxe Staff bag option would be a better overall choice.
The thing that helps this SKB stand out from other golf travel bags on the market is undoubtedly the protection that it offers. In addition, the return policy and overall warranty also make this an easier purchase decision for the nervous shopper.
Final Thoughts: SKB Golf Cases ATA Deluxe Golf Travel Case Worth It?
The SKB Golf Cases is a good choice for the golfer that has experienced some golf equipment trauma at the hands of an airline. If your driver snapped or your putter bent, you would want to stay away from soft covers for the rest of your life; we get that. The SKB Golf Cases ATA Deluxe is a solution for keeping your golf clubs safe; make sure you are smart about the size of the bag you choose and the current golf bag you use. Trust me on this one; there is no room to stretch or push this case out; if your bag doesn't fit, your case won't close.
About Critical Golf
Launched in the spring of 2009 to shed light on the confusing world of golf equipment.

Our testing staff includes players ranging from low to high handicappers to provide perspectives relevant to all golfers, regardless of ability level. Each product is tested by all staff members to give you the best insight possible.