The PUMA BioFly Mesh is a nice shoe that is attractively priced at an MSRP of $100. There's nothing about it that screams "look at me!" from a design or feature standpoint (which seems to run counter to what PUMA usually goes for), but it isn't embarrassingly spartan either.
The BioFly Mesh is made primarily from synthetic materials. This provides a number of advantages – the shoes are extremely lightweight, the mesh uppers breathe well enough that you don't wind up with feet that are pruned from being steamed inside of your shoes and yet are still waterproof, and mud and other stains just wipe off. The trade-off is that it results in a slightly plasticky look.
It wasn't our favorite pair of shoes from a traction standpoint – we couldn't point to any particular mishaps, but at the same time didn't feel particularly locked in either. We did, however shoot one of our best rounds of the year while testing the BioFly Mesh – so it's gotta be the shoes, right? Oops – sorry, wrong manufacturer!
Retail price: $100.00
Amazon.com: Check price now
Golfsmith: Check price now
---
SCORE
92
GRADE
A-
Design
91
Construction
91
Comfort
92
Value
94
PUMA shoes tend to have bold styling that may agree more with millenials than Baby Boomers or those from Gen X. They are not at all afraid to feature their swoosh (which is larger than a Nike swoosh) prominently and in bright colors. But the BioFly Mesh has a style that should agree with everyone – black with a dark grey swoosh. Not that it's completely devoid of bling – for example, there's a reflective silver strip running down the back of the shoe and the heel tab. Maybe if you decided to play night golf? And in case you weren't 100% sure that Rickie Fowler endorses PUMA, they throw in an extra pair of laces for you that are bright orange.
The BioFly Mesh is also available in grey, utilizing different shades of gray for the uppers and swoosh, a white midsole and an orange outsole (yes you get an extra pair of orange laces for that color too) – technically the colors are Tradewinds, Turbulence and PUMA Red.
We liked the shape of the BioFly Mesh, especially the extra width at the base of the toes. The texture of the materials gives the shoe an athletic look (as opposed to something you would wear in the dining room of a country club). We weren't, however, big fans of the plasticky swoosh.
The PUMA BioFly Mesh is low profile, leaving you feeling close to the ground. We also note that the balance is also toward the heels (like the True spikeless golf shoes), which should promote a lower center of gravity. This is a bit different from ordinary shoes, and it does take a little while to adjust.
If you play in wet conditions, have no fear – the BioFly Mesh kept our feet nice and dry walking through wet early morning conditions, and PUMA provides a 1-year waterproof warranty. The synthetic materials make for easy cleaning – mud wipes off easily.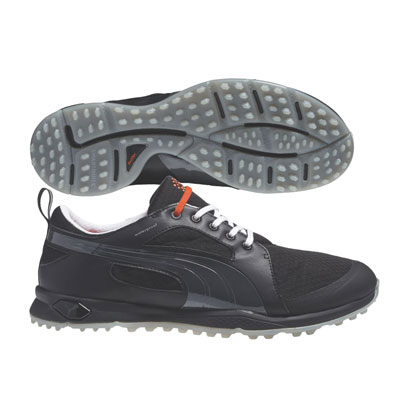 Click to enlarge
At 1.3 pounds for the pair, the PUMA BioFly Mesh is one of the lightest spikeless golf shoes that we've tested. The mesh uppers, foam midsole, and a groove running almost the full length of the outsole made for an extremely flexible shoe. The mesh also breathes pretty well . As a result, the BioFly Mesh is pretty unobtrusive on your feet.
PUMA touts the use of its "SmartQuill" technology – essentially a lot of rubbery "tab-like" spikes on the outsole – on the BioFly Mesh. We were a little underwhelmed by the traction that SmartQuill provided. While we didn't have any slips, the PUMA spikes didn't really instill tremendous amounts of confidence either. On the plus side, since the SmartQuill doesn't really grab much stuff, the bottom of the shoe stays pretty clean.
It's worth nothing that the PUMA BioFly Mesh is nicely priced – at an MSRP of $100, it ties with two others as the least expensive spikeless golf shoe that we've tested. We liked the BioFly Mesh from a value standpoint – there probably isn't anything about it that you'll brag about to your friends, but you won't have too much to complain about either.
Retail price: $100.00
Amazon.com: Check price now
Golfsmith: Check price now
---