Sun Mountain's offering into the superlight/ultra-light category is their Front 9, which at 4 pounds with the rain hood on, is the lightest and most stripped-down of Sun Mountain's carry bags. Don't think of it as small though – they would prefer you consider it to be "efficient." And we'll agree with them on this one – the Sun Mountain Front 9 offers a 3-way top, surprisingly with full length dividers, and the six pockets make it functional. We are big fans of walking the course, and the light bags available nowadays certainly make that more attractive for a wider range of players.
There are a handful of features that most players will want in a bag: at least a few sections for clubs, some pockets to store valuables, a rain jacket, balls and tees, and a beverage container. And this bag has all of that, in a lightweight package. Oh, and if the bag still isn't light enough for you, don't forget to consider picking up a push cart.
Retail price: $169.99
Amazon.com: Check price now
Golfsmith: Check price now
Note: To keep players on their toes, manufacturers often use the same model name across multiple years for carry bags, making larger changes to bag design every 2-3 years. This review is for the 2015 Sun Mountain Front 9 carry bag.
---
SCORE
87
GRADE
B+
Club Storage
86
Pockets/Storage
84
Carrying Impressions
92
Rain Hood
93
Cost/Value
86
Somewhat humorously, Sun Mountain makes a point of marketing the Front 9 as "big enough to carry a full set of clubs." I guess they were worried that people would confuse their bag with one of those quiver-style bags. Yes, we tested this assertion. And yes, all 15 clubs fit just fine. Hey, wait a minute! Dangit Myles, did you not count the clubs again?!
Our 14 clubs fit smoothly in Sun Mountain's new 8.5″ oval top, which features a slight flared opening at top. At about only ½" of flare, this didn't greatly impact our experience with the bag, but hey, at least someone is trying to innovate, right? And it did help a bit with sliding clubs back in or drawing them out.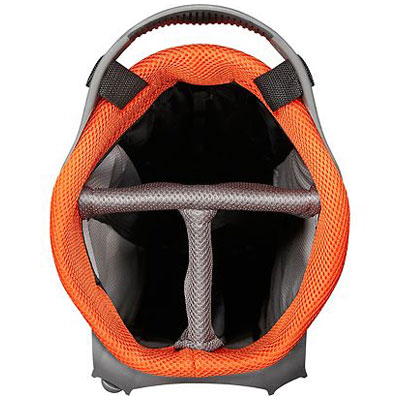 Click to enlarge
The 3-way top divides the bag into a 1-2 pattern, with only a single full length divider running horizontally. Having at least one full length divider is important – with very few sections, a lack of a divider would result in lots of grips getting tied up in the bag. No doubt some players will be fine with the 3-way top, though we prefer a little more organization, say five sectors in a nice 1-2-2 pattern.
If you are overjoyed at being able to carry all 14 clubs in your bags, you'll be elated at the pockets and storage available:
One large garment pocket that runs virtually the entire length of the right side of the Front 9 and is as spacious as one found in larger bags. On the outside of this pocket is a velour-lined valuables pocket. No pockets are available on the inside of the large garment pocket.
On the lower left hand side of the bag is a very good-sized pocket, which we generally used for gloves, scorecards and course guides. This pocket is actually quite a bit larger than you would typically see, perhaps to make up for the bag having fewer pockets overall, but also to balance the beverage sleeve. The sleeve, which is accessed from the outside of this pocket, extends into the pocket, unlike most other designs that keep the pocket and sleeve separate. The beverage sleeve is not insulated and is a bit shorter than most.
On the spine of the bag sit two pockets, which is a relatively standard design in carry bags. The bottom pocket is larger, which we generally used for all of our odds and ends, and a medium sized pocket sits just above, though like the beverage sleeve, it extends "into" the larger pocket, thus sharing the same overall space.
Not included in the pocket count is a pen/ holder, located on the right side of the pocket on the base of the bag on the spine. We would prefer this at the top of bag where it would be more accessible.
The Sun Mountain Front 9 has a cord and loops to hold and secure an umbrella, and a nylon towel loop at the top of the bag. There are no other frills, so don't bother searching for tee holders, a scorecard slot or Velcro to secure your glove.
The "DRY HOOD" (hey, why not name it?) is a DuPont Teflon coated cover that has 2 buttons at the back of the hood to attach to the top of the bag, and a combination of two more buttons and Velcro to attach it at the front. Easy to put on when the rain hits.
Nice and light is how we like our golf carry stand bags, and that is the takeaway carrying impression:
Weight. Tipping the scales at only 4 pounds, including rain hood, the Front 9 bag is in one of the lightest bags we have tested, in the thick of the ultralight/superlight category. Unless manufacturers start stripping out even more space, which seems unlikely, we wouldn't expect bags to get much lighter than this 3.5 to 4 pound range and still have reasonable storage.
Hip padding. Not surprisingly, the amount of hip padding in the bag is less than you'll find in one of the heavier and more full-featured bags. It's not as if you can feel your clubs through the padding, but it is noticeably thinner, though approximately the same in terms of covered area.
Straps. The "X-Strap Dual Strap System" is a simple system that has two independent straps criss-crossing, which allow the bag to be easily carried with just one strap as well. Unlike other manufacturers, straps are attached at the lift handle, as opposed to slightly lower. The shoulder straps are contoured and offer adequate, if not exceptional, padding.
Legs. The Front 9 has a "patented roller-bottom leg mechanism." What this means is, that unlike bags that have this integrated into the base, there is a foot that extends out slightly and activates to extend the legs from the bag. These base mechanisms are more likely to catch on carts, but at least the Front 9 has elastic straps to lock down each of the legs. The legs also have triangular-shaped feet to ensure they don't sink into the mud or the sand (though Rule 13-4 permits bringing your bag into a bunker, we still don't know why anyone would do that…)
Handles. The Front 9 has the two standard handles that most all carry bags have: one at the top of the bag that is integrated into the rim (fun fact: Sun Mountain pioneered this industry-standard lift assist handle), and a nylon handle (with rubber grip) on the spine near the top of the bag. A third "handle" is integrated into the base of the medium sized pocket toward the bottom of the bag.
While the bag itself is relatively basic, Sun Mountain presents you with a wide range of color combinations so you can express yourself on the course: black-white-lime, black-citron, black-white-red, navy, grey-white-yellow, gunmetal-black-red, and, in left-sided bags also, black and titanium-gunmetal-orange.
At an MSRP of $169.99, the Front 9 is the least expensive carry bag in the Sun Mountain line. While other big-name manufacturer's bags start in the range of $150, this fairly small difference in prices leads us to encourage you to first decide what features are most important to you in a bag, and then find the right bag in your price range. If you like to walk and don't need a bag with all the frills, the Sun Mountain Front 9 may be the one for you.
Retail price: $169.99
Amazon.com: Check price now
Golfsmith: Check price now
---