Out of Canada comes Lectronic Kaddy's (yes, alternative spellings seems to be the norm…and it pains us) Dyna-Steer, the "#1 selling remote controlled Kaddy in the world." We are fairly certainly this means it is the #1 selling Lectronic Kaddy in the word, as opposed to the top-selling electronic caddy. Ah, marketing!
This remote control electronic cart has an operating range of up to 150 yards with its included remote, which provides another operating option in addition to the soft touch control panel on the handle. There are five present distance settings, a battery level indicator, and anti-theft function. The Dyna-Steer is powered by dual motors and 12-volt battery. If ever needed, wheels can be made free-wheeling at the push of a hub cap lever. To keep things stable, there is an anti-tip bar to allow the cart to tilt back to a maximum of 15 degrees, and wheels are placed 28 inches apart to provide stability.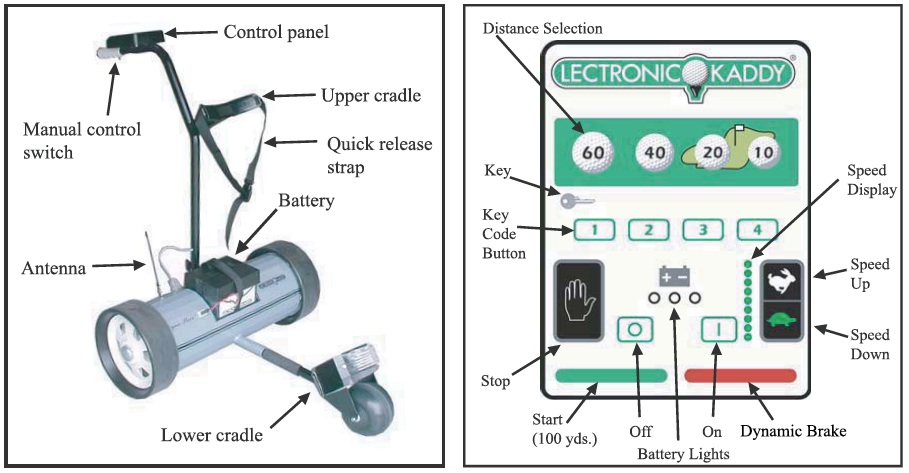 Click to enlarge
But it's not all about technical details, right? For those concerned about fashion, the Dyna-Steer comes in more color options than any other electronic caddy: yellow, green, silver and a hot pink!
The total weight for the Dyna-Steer is just over 26 pounds, excluding battery (which tacks on another 24 pounds). It comes with a 2-year warranty on parts and labor and a lifetime warranty on Dynasteer (we aren't going to try to correct that to be "Dyna-Steer" since it's pretty clear from their site they haven't settled on Dyna-Steer, Dyna Steer or Dynasteer) drive axles. Ah, marketing!
Retail price: $1,595
Amazon.com: Check price now
---