If there is any company that likes yellow balls, it's Srixon. They make eight different models, five of which come in yellow. Same as the traditional white ball, but easier to find in the thick rough or woods where we spend most of our rounds. Oh, and it's easier to determine which is your ball when needing to fish it out of the greenside water hazard.
Srixon, like most manufacturers, offers an Srixon online ball fitting tool, which requires users to enter a barrage of information that we are pretty sure doesn't (or shouldn't) impact the ball recommendation: age, handicap, and rounds of golf per month, current ball along with it's strengths and weaknesses (!), driver distance as well as requiring you to fill out fields for your name, zip code, email, age, etc. (ahh marketing!). The tool asks for a comparison of how your current ball spins on full wedge shots vs what you would like, along with what the most important characteristics are in a ball to you. During our tests it appears that the selection is driven primarily (maybe entirely) by what you select as the most important ball characteristics, as opposed to how you answer the rest of the questions. Just an FYI. They do offer Srixon University, which provides detailed information on golf balls and how to select the right one for your game. This includes areas such as aerodynamics, materials, cover, core, and so forth. The different modules are quick reads, and provide a nice high-level intro to the different topics.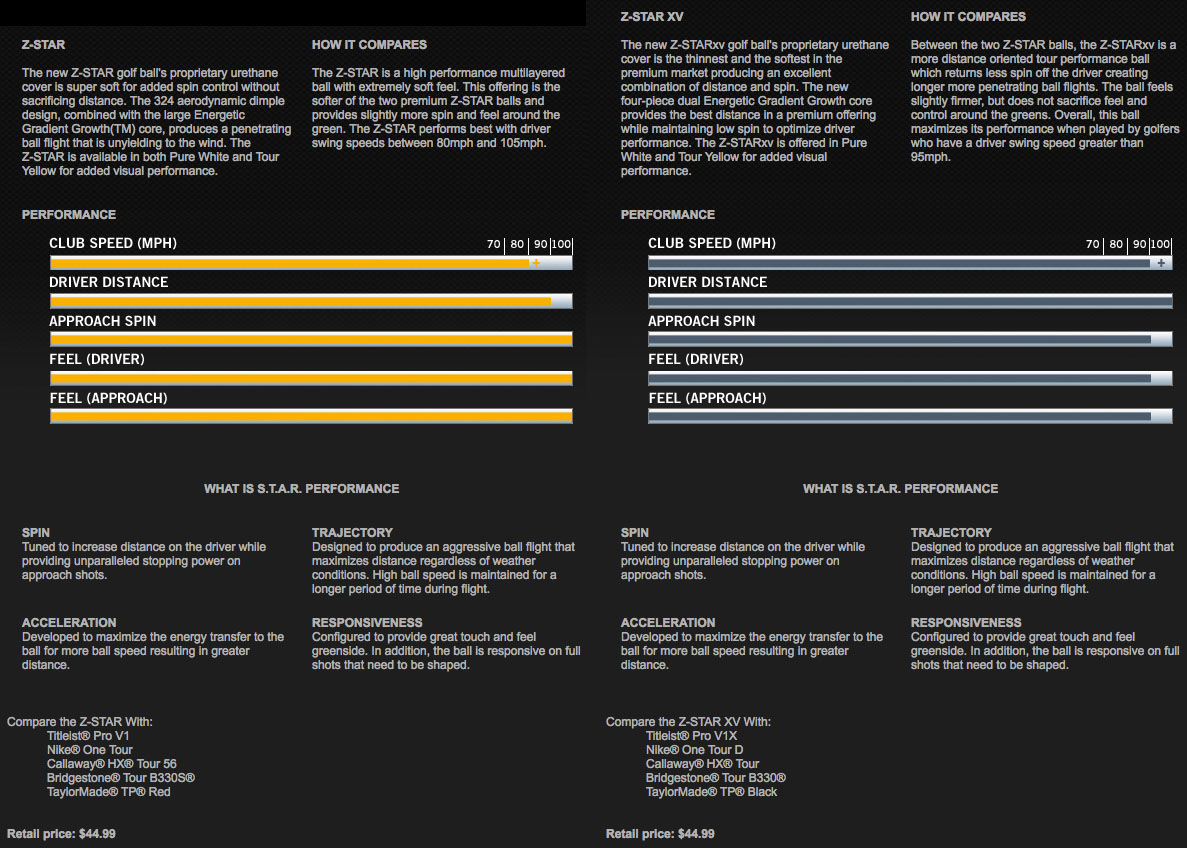 Srixon Tour
Srixon groups their golf balls into three categories: Tour (highest priced, MSRP $45), Premium Distance (mid-priced, MSRP $30), and All-Ability (lowest priced, MSRP $25 and under). Their Tour balls include the Z-STAR, Z-STARxv, and Z-STAR SL. The Z-STAR is intended for players with a driver swing speed between 80 and 105mph (quite a wide range) looking for the softest feel in their performance line and more spin around the green. The Z-STARxv is distance-oriented and provides less spin while feeling slightly firmer, and is intended for players with driver swing speeds in excess of 95mph. The Z-STAR SL is for players with slower swing speeds (under 80mph) looking for a ball providing a high launch angle and greenside spin.
Srixon Distance
In the Premium Distance group, the Trispeed Tour and Trispeed are three-piece balls for players of most swing speeds (70mph and above). The Trispeed Tour is focused more on spin than distance versus the Trispeed, though both balls offer less "performance" (hey, the Srizon bar charts say it is so) than the Tour balls.
Rounding out the Srixon line are the "All-Ability" balls. The Soft Feel and Soft Feel Lady are for players with low to moderate swing speeds. These are designed as high launch and low spin to gain distance. The Q-STAR is advertised as providing the same performance levels as the Soft Feel for players with slightly higher swing speeds.
Srixon Z-STAR
MSRP: $44.99
Amazon.com: Check price now
Golfsmith: Check price now
Srixon Z-STARxv
MSRP: $44.99
Amazon.com: Check price now
Golfsmith: Check price now
Srixon Z-STAR SL
MSRP: $44.99
Amazon.com: Check price now
Golfsmith: Check price now
Srixon Trispeed Tour
MSRP: $29.99
Amazon.com: Check price now
Golfsmith: Check price now
Srixon Trispeed
MSRP: $29.99
Amazon.com: Check price now
Srixon Q-STAR
MSRP: $24.99
Amazon.com: Check price now
Golfsmith: Check price now
Srixon Soft Feel
MSRP: $19.99
Amazon.com: Check price now
Golfsmith: Check price now
Srixon Soft Feel Lady
MSRP: $19.99
Amazon.com: Check price now
Golfsmith: Check price now
---