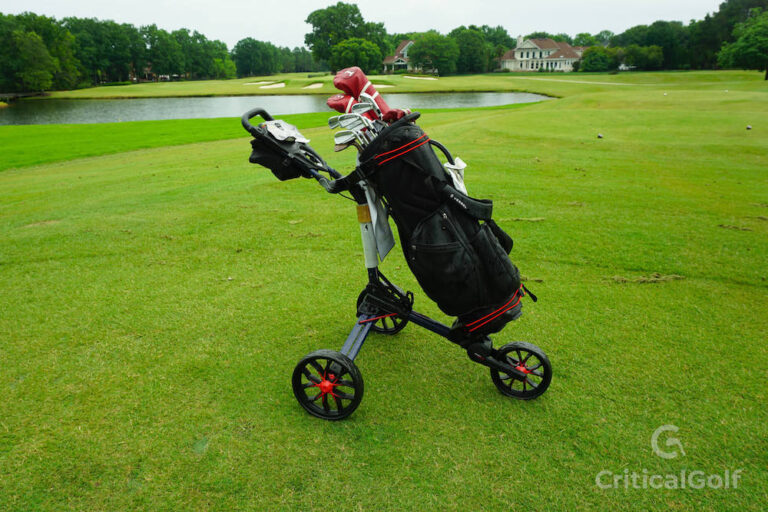 Yes, we actually test these items so we can recommend the best products—learn more about our process. This article may contain affiliate links. Read full disclosure statement.
BagBoy has long been known as one of the best companies on the market for golf bags. However, their production of golf products does not stop at the golf bag. The BagBoy Nitron is a perfect way to push or pull your BagBoy golf bag, or any golf bag for that matter, around the course with you. This push cart has some unique features and overall durability that will make it a good choice for many golfers. If you have been thinking about purchasing the BagBoy Nitron but want to make sure it's the right fit for your game, keep reading while we fill you in.
Nitro Piston easy open technology (best-in-class)

Folds up to 19" x 13.5" x 22" 

Easy to carry

Top Lok technology for BagBoy golf bags

Bungees for all other golf bags

Nice pedestal for bag

Handle mounted parking brake

Comes In a variety of colors

 
Wheels are ok, but not as premium as a Sun Mountain or ClicGear

Single post design does not feel the most sturdy, but doesn't affect performance
Bag Boy Nitron Review Overview
The Bag Boy Nitron is a three wheel push cart that sits relatively high off the ground. It has a full featured console/storage compartment, Top Lok Technology, and it is completely collapsible for easy storage. At just over 16 pounds, this is one of the lighter yet more sturdy golf push cart options on the market.
Bag Boy Nitron

: Features and Benefits
One of the things that stood out right away about the BagBoy Nitro Push Cart is the ease of use. From the time we got the package and opened it to the time we got out on the golf course, it really is just a few minutes. One of the things that really helps players is the ability to open and close this golf push cart in a matter of seconds.
Auto-Open with Nitro Piston Technology 
You can take our word for it on this one; some of these push carts are bulky and difficult to fold up and pull back out. The Nitro Piston Technology makes it feel like this cart does everything itself. It folds down and pops back up with such ease that any golfer can do it.
Top Lok Technology 
If you have a Bag Boy or Datrek golf bag, you can simply lock your golf bag into the top of this push cart. All other golf bags will still secure just fine with the bungees that are included, but the Top Lok is a unique feature. 
Console
The console at the top of the push cart is not huge but big enough to hold a variety of Items.  There is a scorecard holder, dedicated cell phone stand (game changer), and a built-in drink holder (could also use for something else if you don't have a drink…rangefinder?). This is an excellent organizational system for when out on the course. The only thing to keep in mind is that when you fold the cart down, the gear from the top may spill out.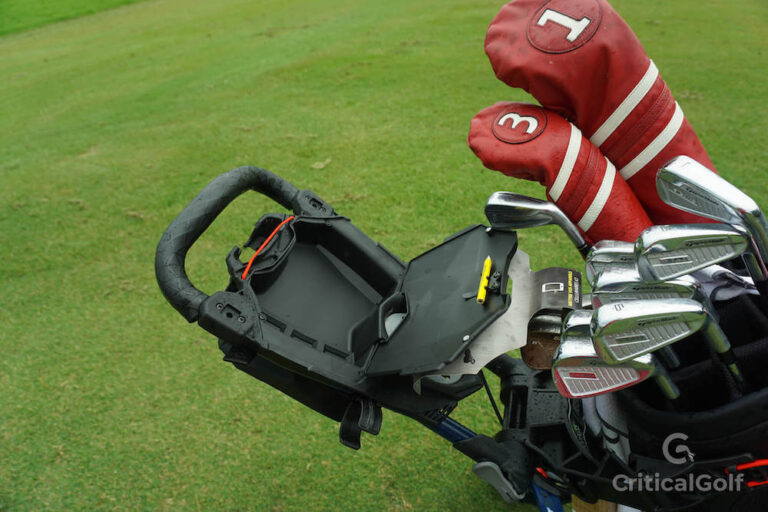 Construction 
The BagBoy Nitron is a plastic golf cart, and it is both lightweight and durable. When unfolded and out on the golf course, it stands plenty high enough that you will not have to worry about your golf bag or your gear (like a towel) dragging along the ground. 
The Nitro Piston Technology allows golfers to fold the push cart down into a small rectangular size box in a matter of about ten seconds. The opening and closing of this push cart are effortless and manageable for any golfer. 
There is a handle mounted (which I prefer) parking brake that ensures your BagBoy Nitron does not run away from you. 
Size
The Bag Boy Nitron is not the most compact that we tested, but it is on the smaller side, especially when folded down (19″ x 13.5″ x 22″).  Weighing ~17 lbs and coming with a nice, built-in handle, it's pretty easy to manage.  As a 3-wheeler, it tends to have a smaller footprint than other larger carts.
No to go on and on about it, but the folding down and opening of the Bag Boy Nitron is what sets it apart – quick and easy and allows you to complete it in a matter of seconds.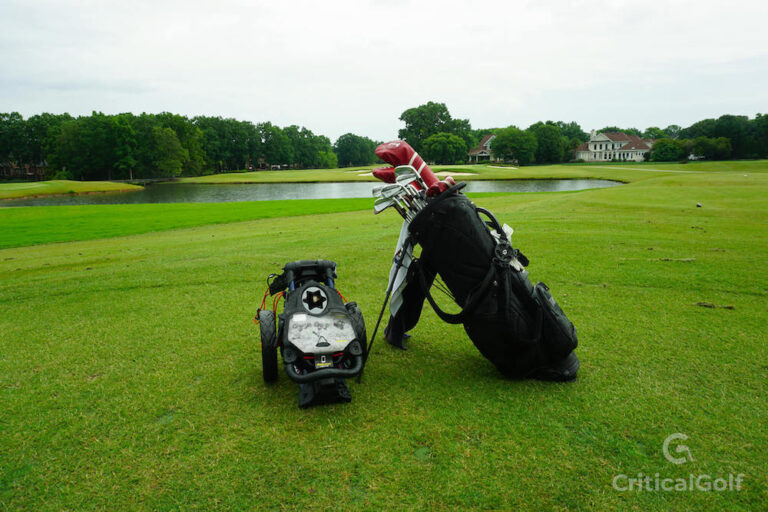 Accessory Options
The Nitron comes with integrated umbrella storage. The umbrella sits right alongside the bottom of the bag if you need it. Under the push cart, there is an extra accessory bag that can hold a jacket, water bottle and anything else, as long as it's not too bulky. 
Otherwise, Bag Boy has a variety of accessory options for additional purchase.  This ranges from attachable seats, storage bags, hand warmers, coolers, solar charging pads, the list goes on.  Click here to view all.
Warranty 
The one-year limited warranty is a little less than we have seen with other push cart manufacturers and a little disappointing. After thorough testing, we are not all that concerned with warranty issues, especially with the no maintenance wheels, but a 2-year warranty would have been nice to have. 
Price/Value 
BagBoy products are known for being more expensive than value brands but not nearly as high as premium brands like Sun Mountain. That is exactly where this push cart stands; it's a good value but not the cheapest on the market. The good news is that there is plenty of longevity.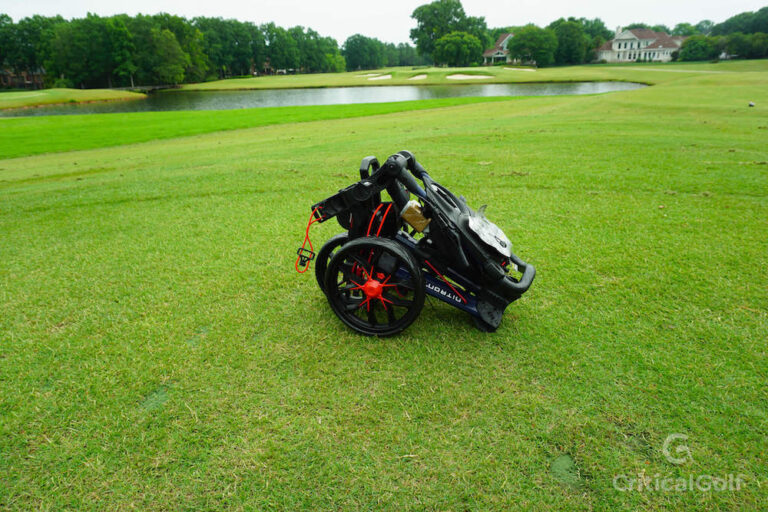 Who Should Buy
The BagBoy Nitron Push Cart?
Now that you have the insider scoop on what to expect with the Bag Boy Nitron, you may be wondering if this is the right golf push cart for you. 
If you are looking for a relatively lightweight (16 pound) push cart that can still hold its own on hills and uneven terrain, the BagBoy Nitron is a good choice. In addition, if you are a player that likes accessories and additional features, the BagBoy Nitron should keep you satisfied. 
For golfers with a BagBoy or Datrek golf cart, the Top Lok Technology is an incredible extra feature that players need to consider. 
Take care of this golf push cart properly, and you could have it for many years. There is little to no maintenance to be done.
Is The Bag Bog Nitron Worth It?
After rigorous testing and considering the value of this push cart, the Bag Boy Nitron is worth it. Although it may feel a little lighter than other carts on the market, it can accommodate even the largest of golf bags and will not tip easily. Overall, the BagBoy Nitron is also a perfect option for those who struggle with folding and unfolding a push cart. If you are young or old, a high handicapper or a low handicapper, the BagBoy Nitron has all the features you would need for a fair price.
About Critical Golf
Launched in the spring of 2009 to shed light on the confusing world of golf equipment.

Our testing staff includes players ranging from low to high handicappers to provide perspectives relevant to all golfers, regardless of ability level. Each product is tested by all staff members to give you the best insight possible.