The Encore is the sequel to Steve Wynn's eponymous hotel in Las Vegas, and together the two resorts are home to the Wynn Golf Club, one of only two golf courses located on the Strip (Bali Hai is the other, and it is expected to close in the near future). The Wynn Golf Club was ranked #66 in Golf Magazine's 2012 "Top 100 Courses You Can Play."
The 5-star Encore glitters at the end of the modern Strip. Note that if you want to step it up a notch, you can stay at the even more exclusive Encore Tower, which has a completely separate entrance, while the 4-star Wynn is a more economical alternative. The lobby at Encore isn't overly ostentatious – one might even consider it to be unassuming, particularly when compared to the Bellagio and the like. The décor emphasizes red (presumably playing upon its symbolization of prosperity in Asia), with a bug and butterfly motif. There's a discernable light floral scent, but it's nowhere near as overpowering as the wafts of vanilla you'll get at Aria just down the street.
The rooms are spacious and modern (no Louis XIV chairs and floral doilies), the fitness center is spectacular, and the spa is in a class all by itself. As would be expected in a resort of this size, the service doesn't feel particularly personal, but the staff is professional and attentive.
For hardcore golfers, the resort suffers a bit in not having any golf "feel" to it – golf is obviously just one type of entertainment available in Las Vegas, and it isn't featured in any way that you would notice. While we try to steer clear of reviewing the actual golf courses themselves (there are plenty of other sources for opinions on that), we did note that while the course is visually interesting and features a multitude of trees, thick shrubbery (in which we were frequently digging for lost balls), rolling fairways and other natural touches, the fact that massive surrounding hotels are always in your sight lines means that you never really forget that you're in the middle of Las Vegas.
If you want a Las Vegas experience and also enjoy golfing, the convenience of having a highly rated course right outside of a hotel located on the Strip, along with an out-of-this-world spa and a top-notch gym, make the Encore an extremely attractive option. On the other hand, if you're looking for a zen-like golf experience that will help you find your inner Bobby Jones, this ain't the place.
SCORE
92
GRADE
A-
Service
93
Accommodations
94
Fitness Center
94
Spa
98
Pro Shop
84
Food
89
Integration
88
Value
88
Expedia: View Wynn Las Vegas deals
Pros:
Large rooms with modern design
World-class spa facility
Excellent fitness center
The only golf course/hotel combination on The Strip
Cons:
Expensive greens fees – $500 (gulp)…per person (double gulp)
Doesn't have the feel of a golf sanctuary
---
93/ A-
SERVICE
Service at the Encore is polite and efficient. It would be unreasonable to expect the Encore, with its more than 2,000 rooms on 63 floors, to feel intimate, but the size of the staff seems to be more than sufficient, and they attended to our needs quickly and professionally.
Checking In. As we pulled into the hotel, we were met by a bellman, and given the option to have our golf travel bags taken directly to the golf course. We deferred, because we still needed to pull some other clothing out of the travel bags, and didn't need an audience watching us re-pack our skivvies. The bellman was, however, kind enough to take away all of our luggage so we weren't encumbered while waiting in the hotel registration line.

The line to check in moved surprisingly quickly – perhaps because of the presence of an attendant monitoring the length of the queue. It was no more than two minutes before we were standing in front of a well-mannered desk clerk. We experienced no hiccups in getting squared away and were off to our rooms in a jiffy. One great feature of the Encore is that the elevators to the room are right around the corner from the front desk – in most of the hotels in Las Vegas, you have to trudge for what seems to be miles through the main casino floor before you reach the room elevators.

Housekeeping. We found everything to our satisfaction on the housekeeping front. The room was kept clean and well-stocked with towels and amenities, and the staff was virtually invisible in the performance of their tasks.
Concierge. The concierge staff was extremely friendly (and attractive), to the point of a very sincere apology for making us wait…when there was only one person in front of us! They were helpful in resolving a dinner reservation foul up (which was entirely our fault) and securing a new table for us.
---
94 / A
ACCOMMODATIONS
The Encore is generally considered to be a 5-star hotel, and the room lived up to our expectations. We booked a Panoramic Queen Suite for our two-night stay. The stunning view down the Las Vegas Strip (which included a partial view of the golf course) presented us with a "Hangover" feel to start the weekend. To assuage the worries of our spouses, however, let us be clear that there were no illicit drugs, tigers, lost teeth or ladies of the evening involved in our trip.
The room was spacious (745 square feet) and had a modern feel, working in a bit of the requisite red coloring (muted as more of a burgundy) with light shades of wood and dark accents.
Other features included:
Two queen beds
A couch area
A flat screen TV
Access to a Wi-Fi connection within the room is included within the $25 daily resort fee (we truly hate "resort fees" on top of room rates)
A very futuristic master touchscreen that controlled the lighting, curtains, and privacy/housekeeping indicator
A bathroom with a small flat-screen TV, shower, tub and double sink, and a toilet in a separate room
Toiletries made by Lather, Inc., under the Encore's house brand
A selection of drinks and snacks in the minibar – just remember not to remove any items you won't be indulging in for more than 60 seconds or you'll find a charge on your bill.
---
94 / A
FITNESS CENTER
The Fitness Center in the Encore is located on the same floor as the Spa. It's an extraordinary facility, on par with high-end health clubs/gyms, and far superior to what you usually see in hotels. One negative note is that (much like all of Las Vegas) there is no natural light inside the fitness center, so while the lighting is generally pretty bright, there is no sunshine or view to perk you up.
Use of the Encore Fitness Center is included within the daily $25 resort fee charge. As noted below, there are separate spinning and pilates/yoga studios, but we didn't avail ourselves of any exercise classes (which require payment of a fee).
In addition, there is a juice/coffee bar located inside the fitness center, should you develop a craving for a high calorie smoothie or cappuccino during or after your workout. These drinks are priced at $7-8 apiece.
Features include:
A host of cardio machines – we counted 9 ellipticals, 15 treadmills, 5 upright stationary bikes, and 2 recumbent stationary bikes
Individual televisions on each cardio machine, and complimentary use of headsets
Your choice of complimentary bottles of refrigerated or room temperature water
Free apples (the fruit, not the consumer electronic devices)
Towels
Cold wet towels in the refrigerator
18 Cybex weightlifting machines
A rack of barbells
A rack of dumbbells
A Smith machine (a bar fixed into steel rails, which can be used for squats or, in conjunction with a bench, for chest or overhead presses)
A collection of BOSU balance balls
A spinning studio
A yoga/pilates studio
---
98 / A+
SPA
The Encore's Spa is truly over the top. We've been to some of the finest spas in the world, and when we say Encore is over the top, we mean absolutely RI-DONKULOUS. After checking in for your treatment (more on our specific choice of massages in a moment), you are escorted to gender-specific wings (there are no co-ed hot tubs or other facilities). You initially enter into a lounge area, complete with a fireplace, flat-panel televisions tuned to ESPN, complimentary fruit-infused ice water and more free apples. From there you can enter the traditional locker room, equipped with wood lockers, robes and slippers. The adjoining shower area is stocked with combs, brushes and other toiletries.
What truly sets the Encore Spa apart is the cavernous wet area comprised of the sauna, steam room, and hot and cold pools. Be sure to allocate plenty of time to spend in the facility before or after your treatment, because the variety of amenities is breathtaking.
The wet area features include:
Two huge hot tubs, each as long as some swimming pools. One nifty feature of the hot tubs is that the walls are designed as a series of little arcs, enabling you to nestle within an arc that shelters you from the awkwardness of accidentally making contact with someone else in the water.
Two cold plunge pools, maintained at different temperatures
A row of stone lounge chairs that are heated (and surprisingly comfortable)
A sauna
A steamroom (scented with eucalyptus) where you literally cannot see more than a foot in front of you because of the density of the steam
Two "waterfall" showers – these literally gush gallons of water out of wide spouts that simulate a waterfall. In a token (and we do mean token) attempt at water conservation, they will only be activated for up to two minutes at a time, but in those two minutes, there must be hundreds of gallons of water cascading over you. It's extremely soothing, and a pretty unique experience
Three other sophisticated showers, each with nine nozzles positioned in various places and controls for the type of spray, the temperature of the water, the music, and even the lighting. To be honest, the number of options seemed to be a bit of overkill
Complimentary bottles of ice water.
Note that whether you wear a swimsuit or not in the wet area is at your own discretion.
You must make your own way to a waiting area in time for your treatment, which is attached to the main locker room/changing area. The massage therapist will retrieve you and lead you to the treatment rooms down a walkway that feels like a combination of a Buddhist temple and an eastern palace, complete with water features, lamps and a giant Buddha at the end of the corridor. It's both grandiose and tasteful at the same time, and you really have to see it to believe it. Of course one of our reviewers didn't wear his contact lenses, so all of the opulence went unnoticed by him.
A 50 minute massage is priced at $160/$170/$180, depending on the amount of pressure you prefer. If you're one of those people who tries to game the system by asking for the lowest priced massage and then requesting deeper pressure, you'll be out of luck, as they will make an adjustment to the price (which is certainly not unfair on their part). The quality of the massage was solid – not anything that was unforgettable, but certainly on par with our expectations.
We highly recommend that you make time for the Encore Spa during your stay – the very spectacle of it is worth the price of admission. Oh, and the combination of the hot tub, steam room, sauna and massage might actually loosen up your back muscles enough to play 36 holes the next day…
---
84 / B-
PRO SHOP
The Wynn Golf Course Pro Shop is surprisingly small. The staff is friendly and helpful, but if you're looking for a sumptuous selection of logo gear, you won't find it here. Sure there are a few golf shirts and caps, but the facility is in such a cramped space that there isn't sufficient square footage to display a broad range of clothing or equipment. The store is divided into men's and women's sections, which exacerbates the problem by ensuring that they can't display enough products to properly service either gender.
---
89 / B+
FOOD
The strength of the Encore is that there are a number of diverse dining options – we sampled four different restaurants within the Wynn/Encore during our stay, as described below. The flip side of the coin is that the options are all on the expensive side.
---
88 / B+
INTEGRATION WITH GOLF COURSE
The resort does a fair job of integrating golf into your stay.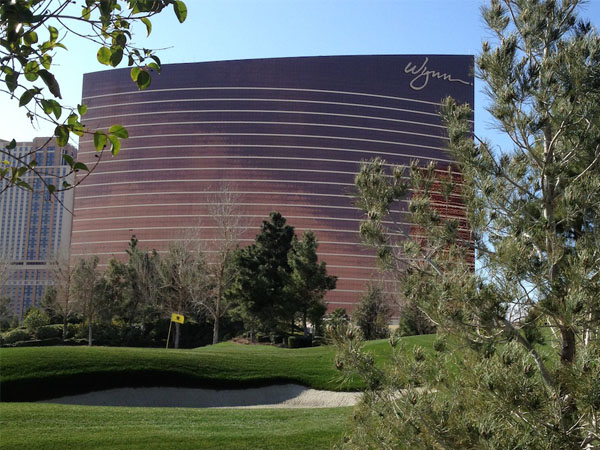 Click to enlarge
Golf Club Storage: When we were ready to send our golf bags to the course, we called the bell captain, and they arrived at the room in minutes to pick them up. Similarly, they were efficient in delivering the clubs back to our room when were ready to pack up and leave.
Getting to the Course: The walk to the Wynn Golf Course from the Encore is just a 5-10 minute stroll that winds its way through the casino and the shopping area. It's a little bizarre, since you don't see much natural light until you actually arrive at the course, but it's not that unexpected in Las Vegas. The overall proximity to the course is the real selling point to the resort for golfers. If you're looking to play one of the other highly top-rated courses, such as Shadow Creek or Cascata, you'll be in for a drive of around 25 minutes.
Practice Facilities: The Wynn Golf Course does not have a driving range – your full swing warm-up is limited to an astroturf hitting area with nets. There is a small area where you can take shots up to approximately 120 yards off of grass, and you can also work on your short game on their putting green and practice bunker
---
88 / B+
VALUE
We booked the Wynn's "Golf Getaway" package for $1,722 (two nights), which included:
Two nights in a Panoramic Queen Suite in the Encore – you can adjust the overall price of the package by customizing the lodging portion, choosing a room in the Encore, Encore Tower, Wynn, or Wynn Tower, as well as the type of room (in Vegas, the single King rooms are less expensive, but since our reviewers each wanted their own sleep space, we had to go with the pricier double Queens )
Golf for two at the Wynn Golf Course
Prix fixe lunch for two at The Country Club – as it turns out, you have the flexibility to choose the Sunday Jazz Brunch at The Country Club instead, although we were limited in that case to $75 credit.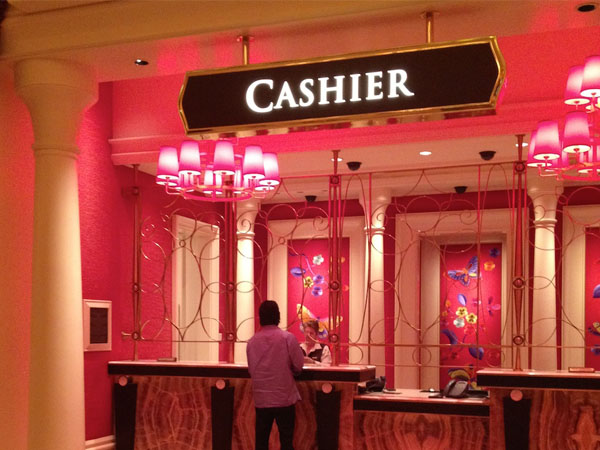 Click to enlarge
Given that the normal greens fees at the Wynn Golf Course are $500 per round, you could argue that you're getting the hotel for $360/night (which is reasonable for weekends in Las Vegas), with a free $150 lunch thrown in. Of course the fundamental premise of $500 greens fees pretty much obviates any claim that it's actually a BARGAIN. Make no mistake about it – staying at the Encore and playing the Wynn is a high-end experience, with a high-end price tag. The golf course, the hotel, and the service and amenities are all excellent, but we couldn't quite shake the feeling that the entire marketing strategy is in part based upon having a price tag that far exceeds that of other golf courses, which left us a bit cold.
---