Pronghorn Golf Resort blends top-notch golf with a family-friendly environment within the natural beauty of Central Oregon. The resort includes the public Nicklaus Course and the private Fazio Course (play on the Fazio Course is available to guests at the resort). The Nicklaus Course was ranked #28 on Golf Digest's 2013 list of "America's 100 Greatest Public Courses" and #38 in Golf Magazine's 2012 "Top 100 Courses You Can Play."
Pronghorn is located in Bend, Oregon (which, somewhat confusingly, is nowhere near North Bend, the home of Bandon Dunes). Bend claims that it has 300 days of sunshine per year, and the clear blue skies we experienced did nothing to lead us to believe otherwise (the 1-hour frost delays each October morning, on the other hand, were a bummer). Our trip started with a one-hour direct flight from San Francisco to Redmond/Bend airport, followed by a 30 minute drive to the resort. Don't forget to have your smartphone on and Waze up and running to make sure you don't miss any turns.
Auberge Resorts took over management of the resort and its 48 guest units in May of 2012. Our sense as of our visit in October 2012 is that Auberge has not yet fully imbued the resort with their vision of luxury – Pronghorn still struck us as somewhere between a 4 and a 5-star experience. If you're looking for something more permanent, there are also Pronghorn fractional ownership options and homes for sale.
As befits its location in central Oregon, the design of the resort has a lodge-like feel, with recurring notes of timber and stone, and numerous fireplaces and outdoor firepits. The Junior Suites we booked were spacious and comfortable – the full-blown 2-to-4 bedroom Villas (aimed no doubt at families) take things to another level, with full kitchens equipped with Viking appliances. The staff is friendly and eager-to-please, but not quite operating at the efficiency level of the top resorts.
Our resort reviews don't rate the courses themselves, but the on-site Nicklaus Course is challenging and interesting – though the inclusion of an obligatory waterfall felt a bit forced. In terms of course layout and design, we preferred nearby Tetherow (ranked #66 on Golf Digest's 2013 list of America's 100 Greatest Public Courses), which we felt was better integrated with the surroundings.
One thing that took our breath away at Pronghorn was the view of the night sky. Pronghorn is set within a 20,000 acre juniper forest, and the lack of ambient light enables you to take in a spectacular panorama of constellations. The resulting perspective on your place in the universe produces a lasting sense of calm and well-being…at least until you push a 3-footer that lips out for a four-putt.
Pronghorn doesn't provide the single minded dedication of the greatest golf resorts, and doesn't have the service level of ultra-luxury hotels, but it is a fine establishment that would be a great place to bring an entire family to experience outdoor activities such as golf, swimming in the pool, tennis and fly fishing.
SCORE
88
GRADE
B+
Service
87
Accommodations
87
Fitness Center
88
Spa
N/A
Pro Shop
88
Food
85
Integration
92
Value
91
Pronghorn: View Accommodations and Packages
Pros:
Beautiful setting
Tremendous value
Cons:
Paper-thin walls between rooms
Ho-hum culinary choices
No dedicated spa staff – be sure to book ahead!
---
87 / B+
SERVICE
The staff at Pronghorn is friendly and well-intentioned. There was not the same level of crispness that one experiences at a 5-star resort, but this could just be in keeping with the culture of the surrounding area, or perhaps Auberge hasn't been able to impose its training on the staff yet.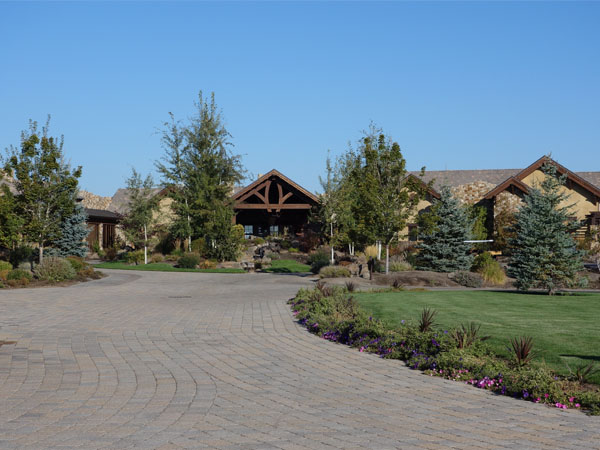 Click to enlarge
Checking In. We arrived in the evening, having rented a car for the 30 minute drive from the local airport (the hotel offers complimentary shuttle service from the airport, but we needed a car to get to Tetherow on our own). There is a surprising lack of lighting within the grounds of the resort, which makes for fabulous stargazing, but didn't help much as we were trying to navigate our way to the Clubhouse building. Signage also left a bit to be desired – we ultimately found ourselves driving the wrong way on a one-way street. The Clubhouse is the centerpiece of the resort, and houses two restaurants, the pro shop, the spa, the fitness center, and the front desk. It wasn't that late when we pulled up, and not at all busy, so we were surprised that we weren't immediately met by a bellman (it turns out he was in the lobby chatting with the lone desk clerk). Hey, no worries, I can open the door for myself.

Click to enlarge

We were the only ones checking in, and the friendly desk clerk processed us through all of the appropriate paperwork quickly. The guest units are in clusters surrounding the Clubhouse. Because our units were about a block away, we hopped back into the car (there is ample parking near each unit). We didn't inquire about club storage right away because we were playing a course that wasn't part of the resort the next morning. The best part of the check-in process was the chocolate chip cookies that greeted us when we walked into the rooms.

Housekeeping. The housekeeping staff kept the rooms clean and stocked with towels and toiletries. Note that there is no evening turn-down service, so the rooms are only tidied once a day. Our only complaint was that on our first night there, they left the bedside alarm clock set for 3:30 A.M…and activated. That was not cool at all.
Concierge. There is no independent concierge desk – standard concierge services are instead available at the front desk. We utilized them to try to make a spa appointment for the next day. As described below, there are no resident massage therapists on staff, so Pronghorn calls external contractors that they regularly use. Ultimately they were not able to secure anyone for our desired time. This in and of itself wasn't troubling, but we only found out about it by following up with a call to the front desk. They said that they had called the room, but that no one answered. We forgot to confirm whether the phones had voice mail services, but even if they didn't, a note slipped under the door would have been appreciated. Given that there isn't a dedicated staff at the spa, we highly recommend making appointments prior to your arrival.
---
87 / B+
ACCOMMODATIONS
Pronghorn is currently poised somewhere between a four and five star hotel. We booked a pair of Junior Suites for our two-night stay. Pronghorn is composed primarily of two-story residence villas ranging between two-to-four bedrooms. The Junior Suites are appended to a villa and take up only a portion of the ground floor – thus each Junior Suite shares a common wall with the villa and part of the villa is directly above the Junior Suite.
The room was spacious and featured high ceilings, and the design matched the thematic timber and stone found throughout the entire resort. The room was clean and up-to-date, with the only noticeable wear found in the towels.
Features included:
A king bed (rooms are not available with two queen beds)
A walk-in closet
A coat closet in the hallway
A gas fireplace
A small semi-private outdoor patio
A 32″ flat screen TV with a Bose surround-sound audio system integrated into the ceiling
Access to a free Wi-Fi connection within the room (a good thing, since cell coverage can be spotty)
A large bathroom with a freestanding shower, tub and double sink, and a toilet. If you are a hotel toiletries collector, you'll be disappointed, as shampoo, conditioner and body wash are all in large dispensers mounted on the wall of the shower.
A kitchenette with a mini refrigerator (no minibar, but tea, coffee and bottles of water are provided free of charge), microwave and coffee maker
The biggest problem with the rooms (and what drove the rating down in this section) is the lack of insulation between the Junior Suite and the adjoining villa. Conversations could be clearly heard through the wall, and the thumping noise as people pace back and forth upstairs was enough to raise the dead (or at least someone who had just finally been able to fall asleep after the 3:30 A.M. alarm incident). Thankfully, the adjoining villa was unoccupied on the second night, providing for much more blissful slumber.
---
88 / B+
FITNESS CENTER
The Fitness Center at Pronghorn is located in the Clubhouse, so it was a short walk (about a block) from the room. It was of a respectable size and featured a good deal of natural light. There is no additional charge for use of the Fitness Center.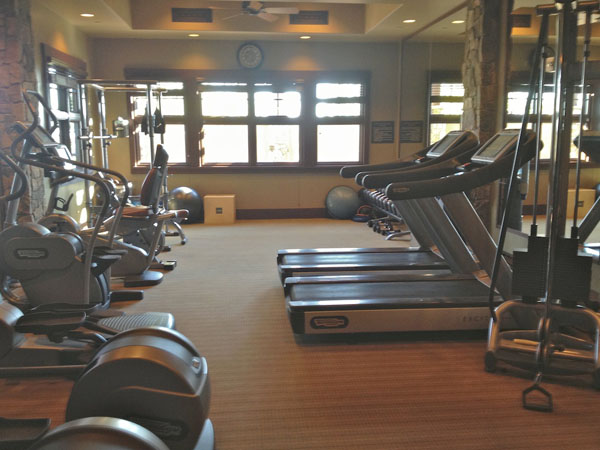 Click to enlarge
Features include:
Seven different cardio machines – 2 ellipticals, 2 treadmills, 2 steppers and 1 recumbent stationary bike
Individual televisions on each cardio machine – but no headsets were provided, so be sure to bring your own
Complimentary bottles of refrigerated water, as well as a water cooler with paper cups
Towels
A squat rack with a bench and a collection of plates
A rack of dumbbells
A pulley machine with a variety of handles
A collection of BOSU balance balls
Yoga mats for stretching or ab work.
---
N/A
SPA
Like the Fitness Center, the Spa is located in the Clubhouse, a short walk from our rooms. As we mentioned above, there is no permanent spa staff on site, and we were unsuccessful in our attempts to make massage appointments 24 hours in advance. As a result, we didn't visit the spa and can't comment on the facilities. We did visit the outdoor hot tub, which was also a short walk from our rooms. Pronghorn's pool area features two hot tubs, one of which is set slightly apart and reserved for adults only.
---
88 / B+
PRO SHOP
The Pronghorn Pro Shop is good-sized, with a variety of logo gear available for men and women. They had a particularly strong selection of high-end clothing. The staff seemed a bit too preoccupied with helping someone spend untold riches from a store credit, but when they finally turned their attention toward us, they were helpful and pleasant…plus we happened to be there on a day when seemingly everything was twenty percent off. Score!
---
85 / B
FOOD
We sampled each of the three restaurants at Pronghorn. It's a bit of a drive to anyplace off of the resort, so you're pretty much stuck with what they have on site. Based upon our sampling, Auberge has yet to have upgraded the culinary options, so perhaps there will be improvement in the coming months. The prices were overall reasonable, even with the mandatory 20% service charge.
Chanterelle – a fine dining restaurant located in the Clubhouse. We visited Chanterelle on our first night at Pronghorn. Our stay in early October was just at the end of their season, and we arrived at about 8:00 P.M. with no staff to be seen in the restaurant. After searching for a bit, we found someone and then were seated next to the only other occupied table in the dining room. The service was attentive and professional. We sampled the Spinach salad (which came in an enormous portion) and Braised Warm Beet salad to start, with the Crab Cakes and Halibut Cheeks (a special for the evening) as our entrees. Nothing struck us as being particularly flawed, but neither did anything stand out. Without any drinks, the total bill came to $100 without alcohol.
Cascada – the bar area with outdoor patio within the Clubhouse, offering a variety of small plates. As befits a bar, there are multiple flat-screen TVs along the wall that are tuned to sporting events. In two different meals at Cascada we tried nearly three-quarters of the menu. The Kobe Sliders, Deviled Eggs and Pot Stickers were all tasty – but skip the Spicy Chicken Wings, which came heavily battered and dry. Dinner there ran about $90 (no alcohol).
Trailhead Grill – a free-standing breakfast and lunch restaurant located across the parking lot from the Clubhouse. Trailhead Grill has a casual ski lodge feel to it, with wood everywhere. The Cinnamon French Toast was excellent, but the scrambled eggs were too dry. The Buttermilk Pancakes were slightly underdone, and the eggs over-easy overcooked. We think they might need a food-timer… The fresh-baked croissant was resplendent with butter – too much so for one of our diners, but just perfect for the other. Breakfast for two was $46.
---
92 / A-
INTEGRATION WITH GOLF COURSE
The resort does a fair job of integrating golf into your stay.
Golf Club Storage: Because our first tee time was at Tetherow, we didn't drop off our clubs at Pronghorn until later in our stay. Since the resort is very auto-friendly, we just drove over to the Clubhouse and left them at the bag drop. The clubs were stored overnight and ready for us when we arrived at the course the next morning. When we were ready to leave, we just drove the car over to pick up the clubs, and thus didn't test the efficiency of their bellboys in delivering them to the room.
Getting to the Course: The Pro Shop is located in the Clubhouse, which was about a 5 minute walk from our units. Both the Nicklaus and Fazio courses originate from and end at the Clubhouse.
Practice Facilities: Pronghorn has a full grass driving range, and there are multiple putting greens and a practice bunker.
---
91 / A-
VALUE
We booked the Nicklaus Stay and Play package for $514 (two nights), which included:
Two nights in a Junior Suite
Golf for one person at the Nicklaus Course
Forecaddie during the round (but gratuity for the forecaddie is not included)
A package can also be designed around the Fazio Course (which is only accessible to those staying at the resort – the Nicklaus Course is open to the general public). The typical greens fees on the Nicklaus Course are $175 per round, so the cost of the hotel works out to about $170/night. The pricing struck us as a pretty fair deal – it isn't a five-star experience yet, but it was extremely pleasant.
---