Just for you, loyal readers, we sacrifice another of our weekends just to bring you more Critical Golf resort reviews. This time we trek down to the Inn at Spanish Bay, owned by the Pebble Beach Company and located within the famous 17-Mile Drive. The reasons to stay at the Inn at Spanish Bay are clear: exceptional views, its location on the gorgeous California coastline, and a golf course next to the Inn amidst dunes overlooking the Pacific. The staff is extremely friendly, capable and attentive though not overbearing, and the environment is warm and welcoming with California informality…no stuffy awkwardness you might find at some old school resorts.
Within the Inn at Spanish Bay you will find rooms well-kept and of moderate size, though they lack the latest and greatest features such as power-curtains, massive televisions with HD, or the like. Well, there is a wall-mounted phone right next to the toilet (remember when that defined luxury?). There are approximately 270 rooms in total, so the resort is still small enough to maintain a sense of intimacy, even with a dedicated conference room wing of the Inn (sounds like a prime location for a future Critical Golf company retreat!).
Adjacent to the Inn and overlooking the 1st tee of the Links at Spanish Bay is the Clubhouse, which houses the Pro Shop, a dining room/bar and the Spanish Bay Club. The Links at Spanish Bay isn't our favorite course in the area (I'll save the complaints about the greens and the relative unforgiving nature of the course for later), but no matter how many balls you lose, you can't help but enjoy the ocean views. Make sure to get in rounds at Spyglass and Poppy Hills as well. If you're flush with cash you won't want to miss Pebble Beach, and if your wallet is feeling light, Pacific Grove Golf Links is a fun low-cost alternative with some dramatic ocean scenery.
While the primary draw for the Inn at Spanish Bay is the golf course, there isn't an overbearing feel of a golf-specific resort, which means that visitors who don't play golf won't feel like outsiders. There is lots to enjoy, including the fire pits outside the Lobby with glimpses of the Links and magnificent ocean views and the walking trail that winds through the dunes and course down to coastal trails and beaches. There is also the Spanish Bay Club fitness center, which has a wide selection of equipment and weights along with a pool, and a tennis center next door. Though guests can have massages in-room or at the Club, one of the downsides is the lack of a full spa on-site. For those that need the full experience, it is a 4.5 mile trip over to the Spa at Pebble Beach – bummer (although they do offer shuttle service if you don't have a car). For shoppers, there are a handful of retail stores at the entry to the Inn, with an assortment of items including resort wear (lounge it up!), jewelry, spa products, and even bedding. If that isn't enough, you are only 6 miles from the town of Carmel-By-The-Sea with lots of shopping, art galleries and restaurants. There are a handful of dining options at the Inn, from bar menus to fine dining. We didn't find a standout, with views exceeding the food.
If you are looking for a resort that is brightest/shiniest with the highest level of accommodations and dining across the board, the Inn at Spanish Bay may leave you wanting more. What you will get, however, is very good service from an attentive staff, exceptional views, and proximity to the California coastline. And every night, a bagpiper closes the course in Scottish tradition, winding his way from the Links to the fire pits at the Inn. Not a bad a way to end a day indeed.
SCORE
89
GRADE
B+
Service
91
Accommodations
90
Fitness Center
91
Spa
N/A
Pro Shop
92
Food
87
Integration
88
Value
88
Inn at Spanish Bay: View accommodations
Pros:
Unobstructed views of the Pacific Ocean
Attentive and helpful staff
Who doesn't like bagpipes?
Cons:
No spa facility on-site
The level of accommodations are not commensurate with the $800/night price tag
---
91 / A-
SERVICE
Throughout our stay the service level was extremely strong, from contact prior to arrival, check-in, on the golf course and when dining. The staff was friendly, unfailingly polite, and never left us waiting.
Click to enlarge
Checking In. Upon arriving at the Inn we were greeted by a bellman who valeted our car (noting it was complimentary), and whisked our bags away. Walking into the Inn we were welcomed at the reception area, and the polite woman behind the front desk quickly assembled resort information for us and directed us to our room.
We weren't thrilled with the first room with which we were presented (take note that if your room is by the elevator bank you will be able to hear the dinging of the elevators, and the rooms can both be slightly smaller in size and lack a walk-out deck), and headed back down to Reception. There they quickly and apologetically helped get us another room (they noted the Inn had actually been at 100% capacity for the week…no recession here…) at the far (we do mean far) end of the hotel, which was much quieter and slightly bigger, with higher ceilings and a small deck looking out at the forest trees.
Housekeeping. The room was well kept, and housekeeping provided a daily room refresh, ice delivery, and evening turndown service. Though our room was the farthest from the front desk, they quickly delivered both drinks and our requested change to foam pillows.
Concierge/Guest Services. Even before our arrival, a "Special Services Concierge" emailed us to provide information (we won't kid ourselves, we know it wasn't tailor-written for our visit) on a variety of activities and offering to assist with helping arrange dining, spa or golf reservations. They also confirmed our time of arrival and asked if we were spending a special occasion at the Inn (why yes…the special occasion is kicking off reviews for the Resorts section of Critical Golf!). In an interesting marketing relationship, the Concierge also mentioned the "Lexus Driving Experience." While we didn't take them up on the offer, 2-hours of a complimentary Lexus may be just what you need if you didn't already rent a car for your trip – enjoy top-down cruising through the 17-Mile drive and head to Carmel for a quick picnic lunch at Ocean Avenue Beach!
We did ask for assistance with dining reservations and for additional information on bicycle rentals at the Inn, for which we quickly received responses.
---
90 / A-
ACCOMMODATIONS
We were booked in the Inn's "Forest View" room, which is one of the more, ahem, fiscally responsible of the options. Others include the Garden Room (with a view of some trees, some grass, and some parking lot, but just fine for those looking to save some dollars), Scenic View (which might more accurately be called "Not Really An Ocean View') and Ocean View. All rooms are approximately 460-470 square feet. Most rooms, but not all, have a small balcony or patio, and a gas fireplace.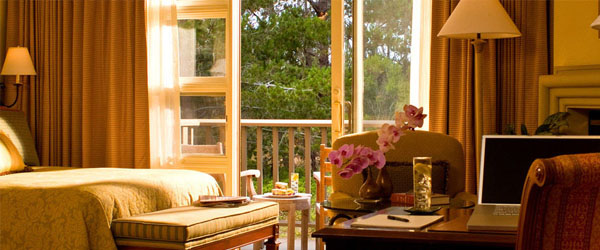 Click to enlarge
Our room was clean and well kept, more cozy than glitzy, but certainly comfortable. As advertised, we looked out into the pines of the Del Monte Forest, with a view of a sliver of the 11th hole tee box. Rooms also featured complimentary Wi-Fi.
Other features included:
One king bed
Two chairs and a small table surrounding the gas fireplace (which will turn off in 20 minutes automatically, for all those visitors who would fall asleep with it on)
A 32″ flat screen TV, with alas, no HD
Small desk
A bathroom with a single sink, tub (deep but on the short side), and a toilet facing the separate shower
A make-up area with another single sink.
Toiletries made by June Jacbobs for the Spa at Pebble Beach
A selection of drinks and snacks, a number of which are…hold on to your hats…complimentary! This includes tea and coffee, water and small soda bottles, and snacks such as pretzels, chips and granola bars. Who says there is no such thing as a free lunch! (ok, for the $800/night cost of the room)
---
91 / A-
FITNESS CENTER
The Spanish Bay Club, a two-floor fitness center, is just a short stroll away, located in the Clubhouse building next to the Inn. The use of the Club is included in the daily $25 resort fee, with no additional fees for the exercise classes.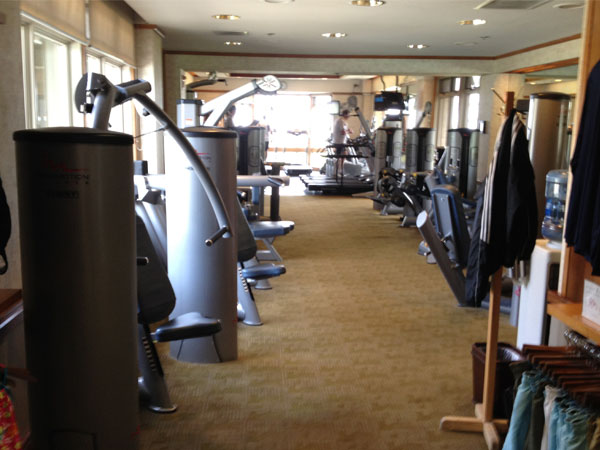 Click to enlarge
The Club is just off the main entrance to the Clubhouse. You'll walk past the pool area, which includes seating around a 25 meter heated pool and whirlpool, to the welcome area. Off the entry lounge is a complimentary juice/water bar area, an exercise room just behind the front desk, and a small assortment of workout gear available for purchase lining the walls leading to the workout room. Downstairs are men's and women's locker rooms, which were quite nice even though this wasn't a full-service spa, as well as 2 massage rooms. The locker room features a steam room and sauna, and ample space to get ready for your workout.
The fitness center was clean and up-to-date with a very helpful staff. The area with machines and free weights is not overly large, with a confined area off the main workout area for free weights and stretching. If you're lucky, you'll be able to enjoy views toward the coast from one of the three window-facing treadmills, which may ease the pain somewhat.
Features include:
A number of cardio machines: we counted 3 ellipticals, 7 treadmills, 5 upright stationary bikes, and 1 recumbent stationary bike
14 FreeMotion fitness equipment machines
Barbells and dumbbells
An exercise studio, for classes including pilates mat, yoga, step, cardio and more. Most classes are available during the week, with far fewer on the weekend.
Complimentary water and juice bar just off the entry lounge.
In addition to the Spanish Bay Club, just across the street is the Tennis Pavilion, featuring eight courts, two of which are lit for night play if you still have enough energy after golf and drinks. There is an additional fee for use of the courts ($15 per person per day). There is a full Tennis Pro Shop here as well, and a number of options for lessons – both private and group clinics. Also available at the Tennis Pavilion are bicycle rentals for an additional fee ($20 for a half day, $30 for a full day).
---
N/A
SPA
One of the negatives of the Inn is the lack of an on-site spa. Massages are available in-room (50 minutes for $210) or at the fitness center (50 minutes for $145) but other than this, you'll need to travel 4.5 miles over to the Spa at Pebble Beach (located at Casa Palmero, adjacent to the Lodge at Pebble Beach). You should allocate between 15 and 30 minutes depending on whether you are driving or taking the complimentary shuttle. When we are looking for some R&R at a spa, particularly this high-end, we much prefer it to be on-site.
If you do venture over to Pebble Beach, know that you will in the blink of an eye do as much damage to your wallet there as you would paying for the course's greens fees. If your wife or girlfriend is going to be spending time there while you are on the links, make sure your credit card limits have been adjusted appropriately. There are a tremendous number of massage options, body and facial treatments, flotation wraps (I don't even know what those are), a full salon for hair and nail care, and "Shave Services" for the fellas. There is even "chakra balancing" with gemstones, if your game is really on the rocks (bada-bum-bum). Hey, whatever it takes to shave a few more strokes…
---
92 / A-
PRO SHOP
The Spanish Bay Pro Shop, located steps away from the first tee of the Links, has a very good selection of both men's and women's golf clothing and a variety of accessories – and in case you are worried about missing the televised tournament that day you can keep on top of the action with one of the four televisions in the store.
Carnoustie was the brand most prominently displayed in the shop during our visit, though there are also selections from Nike, Fairway & Greene, Ashworth, and (since you very well might need it, depending on the day) Zero Restriction. They have a good-looking selection covering all types of apparel, from jackets and shirts to shorts, pants, and a number of shoe options (we are partial to spikeless golf shoes).
Outside of clothing, there is a limited range of clubs (primarily putters), and an assortment of accessories from logoed Spanish Bay golf bags, hats, flags, balls, flasks, shot glasses (seriously?), and coasters. If you are looking for a bagpiper logo, you've come to the right place.
---
87 / B+
FOOD
Within the Inn at Spanish Bay are two primary restaurants, Roy's and Peppoli, with more limited bar menus available in the Lounge and bar. At the neighboring Clubhouse is another informal restaurant with attached bar. Though not required, we do highly recommend reservations at either Roy's or Peppoli. Virtually all restaurants offer exceptional views over the dunes and course to the Pacific Ocean.
The pricing at the restaurants wasn't exorbitant, and though we continued to be impressed by the service, we found the food to be below our expectations. We were happiest with the appetizers by the fire pits and live music in the Lobby Lounge than anywhere else.
Lobby Lounge – the lounge is a casual environment with a selection of drinks and a limited food menu. Chairs and couches are scatted throughout, as well as a few tables with views towards the course and ocean, and a welcoming fireplace. On Thursday, Friday and Saturday nights there is live music in the lounge. We took advantage of the nice evening and enjoyed an appetizer of Ahi Poke with Wonton Honey Chips and two glasses of wine ($47) by one of the outdoor fire pits. Even on a relatively busy night, the staff was quick to take our order, and drinks and food soon arrived. If you time things right, you can enjoy the end of the bagpiper's walk (which is every evening of the week) from the first tee to the fire pits, where he had attracted quite the crowd of groupies on the night of our visit.

Fleece blankets are also available if the fire pits aren't kicking off enough heat for your liking. If it's a nice night, a cocktail and snack by the fire pits is an absolute must – and be sure to get out there early enough to secure yourself a spot.

Click to enlarge

Roy's – a small chain that features a wide selection of Hawaiian-fusion food. The large open dining room precludes any intimate experience, but with the restaurant facing the ocean, virtually every seat has a view. Our meal included a Nori Wrapped Blue Shrimp Salad, Dynamite Crab Crusted Halibut with tea and Rainbow Mud Pie for dessert ($65). The salad was decadent though quite tasty (combining fried onion rings with a salad still allows you to claim you are getting your greens). The halibut was a combination of flavors that seemed confused (the flavor of the rice seemed too dominant, and the richness of the crab overpowered the fish). If you are eating here, you are coming for the convenience and the view. Roy's is also open for breakfast and lunch.

Click to enlarge

STICKS – located in the Clubhouse, STICKS serves casual American fare in an environment of 16 flat-screen televisions (just in case you get tired of the incredible view). We had breakfast of Huevos Rancheros, a recommendation from our waitress, who said that "people drive long distances for it," french toast, berries, and a side of bacon and juice ($58). The Huevos Rancheros didn't live up to the billing, and the French toast also disappointed due to its sheer density. STICKS is also open for lunch and dinner, and is a convenient and easy spot to grab a quick bite.
Following our round at the Links at Spanish Bay, we had drinks and appetizers at the bar adjacent to STICKS overlooking the first tee. There are televisions throughout the bar and a fireplace in the corner. We found the service and food fair at best, consistent with past visits.
The other dining option at the Inn at Spanish Bay is Peppoli, a quieter and more fine-dining atmosphere with a main dining area about half the size of Roy's serving dinner, also with views to the Pacific. Next to Peppoli is Traps, a bar with televised sports that serves drinks and dinner or late-night suppers, and on the weekend of our visit, featured live music as well.
We weren't enthralled by the dining, and would recommend that visitors who have the time consider other alternatives in the area.
---
88 / B+
INTEGRATION WITH GOLF COURSE
Given the number of guests that come to play golf, it isn't surprising that the Inn and course are closely connected.
Golf Club Storage: The bell team can deliver your clubs to the course upon arrival, or if you are playing prior to check in, can take your clubs at the drop-off area and have them waiting for you at the 1st tee. Curiously the bag drop-off area at the Clubhouse is not always staffed –you may need to go into the building to ask the Pro Shop to have your clubs brought around to start your round, and the same upon leaving (they do not recommend leaving clubs unattended in the drop-off area for long periods of time).
Getting to the Course: The Pro Shop is located in the Clubhouse, which is just a few minutes walk from the Inn, with the first tee located right outside the door. As far as proximity and ease of getting from your room to the course, it doesn't get much more convenient than this.
Practice Facilities: Unfortunately the course doesn't have a practice range on-site (or even hitting nets), so those looking to warm-up will have to make the drive over to either the Pebble Beach or Spyglass Hill ranges. There is a complimentary shuttle that runs between the Inn and the practice areas, both of which are available at no charge to those staying at the Inn. At the Links there is a small chipping area and a large green next to the first tee to get your short game ready before your round. Just don't blade any practice flop-shots into the neighboring Spanish Bay Residences.
---
88 / B+
VALUE
Our Forest View room ran $815/night, taxes and resort fee included. The resort fee covers parking, access to the Spanish Bay Club, Wi-Fi, and gratuities for all staff with the exception of the dining rooms and golf course. The $9.75 entrance fee to 17-Mile Drive is also waived – you'll get a placard for you car that allows for quick access through the 17-Mile Drive gates during your stay…take that to the bank!
Unlike some golf resorts that have reduced greens fees for guests, at Spanish Bay you'll pay the full fare for a round on the Links, though a cart is included at no cost to resort guests. We deferred as the course is quite walkable. For those staying multiple nights and playing two or more rounds, packages are available, but you won't necessarily see a price break. As an example, a package consisting of 2 nights at the Inn, plus one round at Pebble Beach (value $495) and a round at Spanish Bay ($260) or Spyglass ($360) runs for $2,000, excluding tax and resort fees. Like In-n-Out, just because you are buying a bundle doesn't make it any cheaper.
For those wondering, there aren't many advantages to staying at one of the Pebble Beach Companies when visiting the other Pebble Beach hotels or golf courses – you can consider them entirely separate properties. The few benefits you receive are the ability to charge back items to your room, the shuttle service running between locations, and perhaps the most important, the ability to make tee times further in advance than non-resort guests (up to 18 months in advance).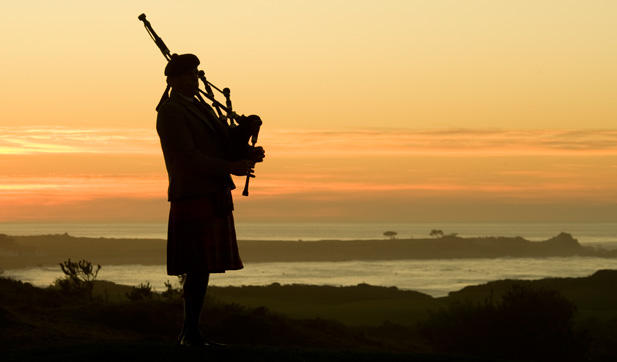 Click to enlarge
At more than $700/night all-in for the least expensive room, the Inn at Spanish Bay certainly isn't an inexpensive option. Your dollars get you a friendly and attentive staff, an Inn that features exceptional views to the Pacific, and a course on-site and in close proximity to other courses that should be on your list to play. With all non-suite rooms roughly the same size, we would recommend either saving your dollars and selecting a Garden View room, or, if this is a particularly special trip, considering the Ocean View rooms. Whichever type of room you select, keep in mind you are saving money…compared to The Lodge at Pebble Beach and the intimate Casa Palmero, that is.
For those looking either for a special vacation away, or a guys' trip for golf during the day and cards in the bar at night, it's an incredibly relaxing setting and one we recommend.
---