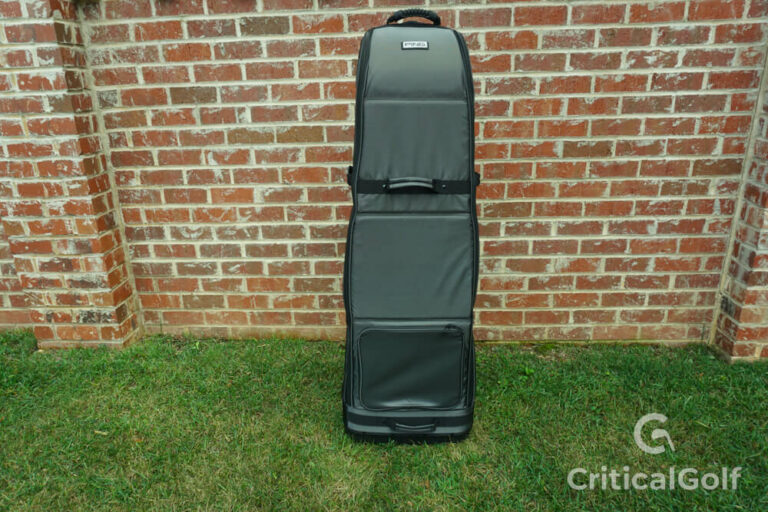 Yes, we actually test these items so we can recommend the best products—learn more about our process. This article may contain affiliate links. Read full disclosure statement.
When it comes to blade style putters and pure feeling irons, we know that Ping is where to go. However, for a rolling travel cover, we weren't too sure. Not to spoil any surprises, but after testing out a ton of golf travel bags this year, I can tell you the Ping Rolling Travel Bag was my absolute favorite. There are some benefits here when it comes to accessibility, maneuverability, and even just the way it looks that set this bag apart from others on the market. We know Ping products can sometimes be an investment, but take a look at why this one may be worth making.
Large external and internal dimensions

Will fold up compact and comes with a cover

6 handles for easy maneuverability and lifting

Can stand upright on its own

Plenty of extra room for golf balls, tees, and shoes

Interlocking skid rails help it roll smoothly over curbs

400D Nylon material with contrasting thread for a nice look
Not the cheapest option on the market

Two of the four wheels are stationary, making it a little harder to maneuver when upright.

Plenty of handles, but no single full carry handle
Ping Rolling Travel Bag Features and Benefits
When you think of premium golf clubs manufacturers, names like Titleist, Ping, Mizuno, Callaway, Cleveland, Cobra, and TaylorMade come to mind. We do not doubt that Ping makes some of the best golf equipment in the game, so it makes sense they would also know how to protect it during travel. Here are some of the features and benefits you can expect from a Ping Rolling Travel Bag.
Features
The Ping rolling travel cover is a soft sided travel cover similar to the Sun Mountain ClubGlider Meridian. There are no hard cover tops or full plastic sides, simply plastic support on the bottom that helps with abrasion resistance.
The travel case has plenty of room for both the cart bag and stand bags. If you are a player that likes to try and stuff most of your gear into the travel bag, you will be surprised by how much you can fit inside.
In addition, there is a customizable front pocket, a strong polypropylene base, six handles, and contrasting thread for a nice smooth look. Although it may not seem like the biggest deal, including the bag to store this in when not in use is a really nice touch.
Maneuverability
Maneuverability is good, as you can have this bag both upright or tilted. In addition, you can secure your gear and golf accessories inside the bag to ensure they don't move around too much if you switch to upright.
When pulling the bag in the tilted position, I did not notice nearly as much drag as I did with some other golf bags from Ogio and Bag Boy. Of course, this depends on the size of the bag and how many iron sets you are trying to sneak on the plane!
Protection
The protection of the Ping bag is quite good. As all golfers should remember, these Ping golf bags are not hard-covered travel bags, so there is still always a risk. However, there seems to be plenty of padding, and the material and fabric are quite challenging, making it seem considerably less likely to experience a real tragedy with your clubs inside.
I liked how much room there was inside the bag for things like golf shoes and even golf towels. One of my favorite ways to pack my golf clubs is to put a few extra towels in and around the irons. It makes me feel better about how they will fare on the flight, and it's held up well so far.
Storage
Storage with the Ping Rolling Travel bag is quite good. If you have something like the Ping Hoofer, there is tons of room around the bag to include your extra gear. For those that have staff bags, it's going to be a tight fit. I would say you are safe with a larger cart-style bag, but once you move to staff bags, you may need a different solution.
In addition to the storage being quite good, the bag is long enough for fairway woods and drivers to fit without feeling as though they have pressure on the top of the club head.
Material
Ping made the rolling travel bag with an abrasion-resistant material that will help ensure that it does not deteriorate over time. A certain amount of drag is expected with a rolling travel bag like this, but you should have no issues with this bag holding up over time because of problems with the material.
Packing
The Ping Rolling Travel bag is easy to pack. Although there is plenty of padding around the entire top part of the golf travel bag, there is still plenty of room to pack your gear. I liked the way my driver fit in this bag, and it would work well with both a stand bag or a cart bag.
Ping makes products that work for golfers, and this travel bag is no exception. Keep that in mind to ensure you are happy with the travel bag you choose. Not all luggage retailers know exactly what golfers need.
Weight
The Ping Rolling Travel Cover weighs in at just under 9lbs. We found that for the majority of soft-sided golf bags that offer good protection for both men's and women's golf clubs, you were going to be in that 8-9 pound range.
With the bag's weight, I still had no trouble getting all of my gear in here and staying under 50 pounds. Again, if you like to travel with a bunch of gear, carry bags are your best bet for this particular model.
Construction
The bag is made from 400D Nylon with white contrast polyester thread. The base is made of polypropylene material, and then there are four wheels on the bottom of the bag. Only two of the four wheels are maneuverable so expect a bit of a hard time with upright turns, but when you have it rolling behind you, there is no trouble staying on the path.
Size/Compact
The size of this bag is 53" L x 17" W x 14.5" D. This is one of the largest golf travel bags we reviewed. If you are one of those players with six rangefinders, two shoe bags, and four training aids that MUST travel with you, Ping has you covered.
Perhaps one of my favorite features of the Ping rolling travel bag is the fact that it folds down to almost nothing and then fits inside the included storage bag. I like some hard cover travel bags, but it just comes down to space. With this particular model, you won't have to worry about yet another piece of golf equipment taking over your garage.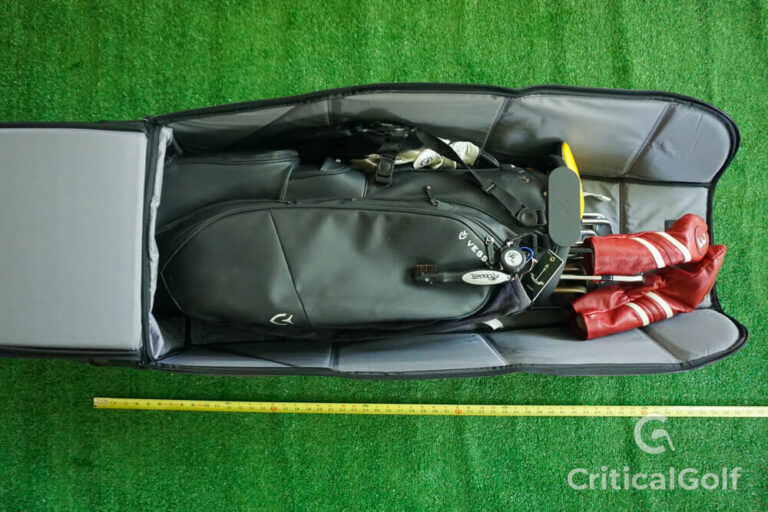 Additional Ping Golf Travel Cover Options
If the Ping Rolling Travel cover was not precisely what you were looking for, you might have to try another brand. This is the only travel bag that Ping is currently making. We don't blame them as this bag has everything you could need as a golfer. However, there are some great accessories that Ping has like a rolling luggage, a backpack, and even a shoe bag.
If you want to try a different golf bag with some of the same features as the Ping Rolling Travel cover, look at our reviews on the SunMountain ClubGlider Meridian or the Ogio Alpha Travel Bag.
Frequently Asked Questions
Here are a few of the most commonly asked questions about the Ping Rolling Travel Bag and whether or not it could be a good fit for your next golf trip.
Does the Ping Rolling Travel Bag have a warranty?
Ping states that it protects all of its products from defects and will evaluate the situation individually. The company has been around for a long time and has a tremendous reputation. If you find that this golf bag turns out to be a dud and one of the wheels falls off, Ping is going to replace it for you. The sooner you notice an issue, the better it is to let Ping know.
Can you return the Ping Rolling Travel Bag?
The Ping Rolling Travel Bag can be returned depending on where you purchase it. One great thing about this bag is that it is much easier to send back than something like a Samsonite Hard Cover Travel bag. If you think you might not keep it, this is something to have in the back of your mind.
Are Ping Rolling Travel Bags good?
The Ping Rolling Travel Bag is really good. In fact, Ping should probably make more of these in other colors and increase its market share. However, something tells me that the sales they are doing on the G425 Max Driver keep them from focusing too much attention on the rolling travel bags.
What is the weight of this bag?
The total weight of the Ping Rolling Travel bag is 8.9 pounds. This leaves players plenty of room to pack the rest of their golf gear.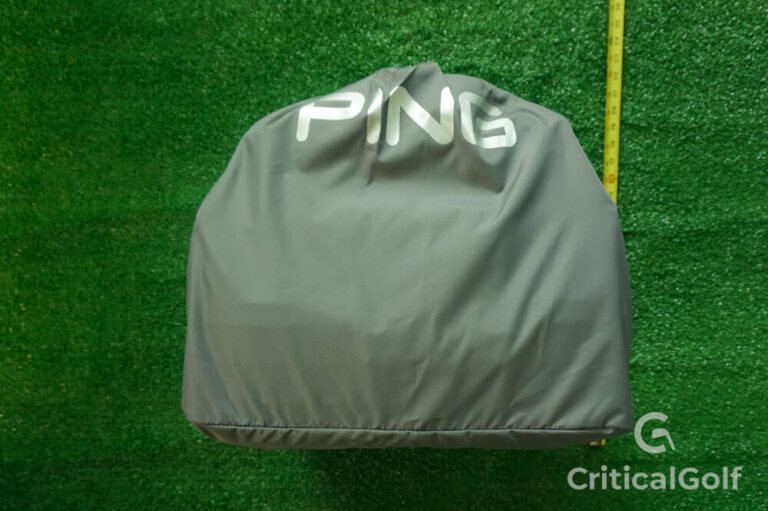 Who Is The Ping Rolling Travel Bag For?
The Ping Rolling Travel Bag is truly the best golf travel bag we found this year, and we feel many golfers could benefit from switching to it. However, with the slightly higher price tag and extra durability and features, this is one that probably makes sense for a more frequent traveler.
Whether you spend some business days traveling or playing golf all over the world for fun, the Ping Rolling Travel Bag will help you protect your clubs and ensure that you are not wrestling with them through the airport.
Final Thoughts: Is The Ping Rolling Travel Bag Worth It?
If it were up to me, I would tell you that the Ping Rolling Travel Bag is the one to buy. Of course, it's worth checking all of our other reviews, as there are some less expensive options on the market. However, if you're serious about travel and serious about club protection, this is an excellent golf travel bag that will pay for itself in no time.
About Critical Golf
Launched in the spring of 2009 to shed light on the confusing world of golf equipment.

Our testing staff includes players ranging from low to high handicappers to provide perspectives relevant to all golfers, regardless of ability level. Each product is tested by all staff members to give you the best insight possible.