Enhancements in the Leupold GX-1i2 from the prior version is slight (so if you have the highly rated Leupold GX-1i it probably isn't worthwhile to run out and upgrade), and includes a slightly different size, 50% more actuations (up to >6K before a new battery is needed), and an improved pin-seeking capability ("Pinhunter 2") which Leupold markets as even better at picking up flagsticks and filtering out background objects.
The Leupold GX-1i2 has an plastic shell and an LCD display, all in a solid form factor. Curiously, while lacking slope readings, it is still the largest Leupold rangefinder, though at 4.2″ x 3.0″ x 1.6″, only by a slight margin. The plastic shell keeps the weight down to 6.8 ounces.
Distance readings are up to 800 yards, and flagstick range to 400 yards at +/- six inches. The Leupold GX-ai2 can provides distances while panning, and also lock on to flagsticks equipped with prisms via its "Prism Lock" technology (it will emit an audible beep if you like). There are a wacky 7 (!) aiming reticles to select from as well. Other features consistent with the prior version include Fog Mode, distances in yards/meters, and 6x magnification.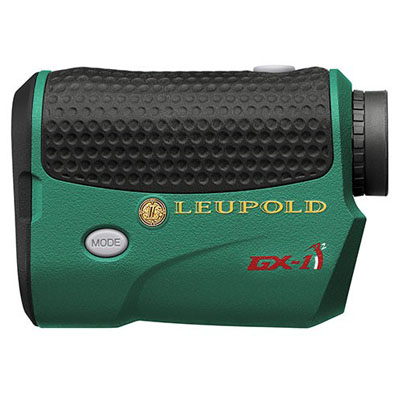 Click to enlarge
We found the original PinCaddie performance didn't match that of the rest of the line or the competition, and we don't expect that to change with the PinCaddie 2. It still has a lower maximum targeting range as well, an indicator that is worthwhile to compare across devices.
At just under $400 the Leupold GX-1i2 isn't inexpensive, but we have found that Leupold laser rangefinders (excluding the PinCaddie line) so be of consistently high quality.
Retail price: $374.99
Amazon.com: Check price now

---