Leupold continues to get more aggressive with their entry golf laser rangefinder, with the Leupold PinCaddie 2 now at under $250 is one of the lower priced laser rangefinders in our tests. The PinCaddie 2 has an LCD display and features Leupold's always-on PinHunter technology (targets nearest object), 6x magnification, and scanning mode.
The PinCaddie 2 doesn't have all the bells and whistles that other Leupolds do, lacking Fog Mode, a slightly different menu, no aiming crosshair style option and no Prism Lock. It has a red and black sheet, and is the smallest and lightest Leupold, at 3.6″ x 2.9″ x 1.4″ and 6.3 ounces. The device, unlike the original PinCaddie, has a warranty that matches the rest of the lineup of Leupold laser rangefinders.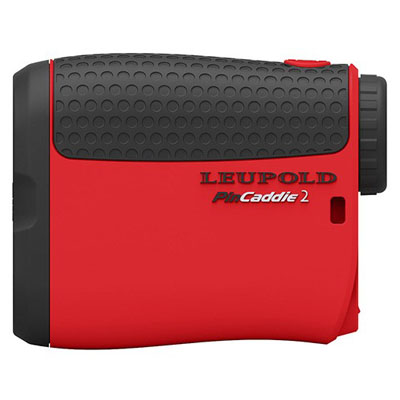 Click to enlarge
We found the original PinCaddie performance didn't match that of the rest of the line or the competition, and we don't expect that to change with the PinCaddie 2. It still has a lower maximum targeting range as well, an indicator that is worthwhile to compare across devices.
Retail price: $249.99
Amazon.com: Check price now
---