Founded in Scottsdale, Arizona in 2000, Hot Stix is one of the few brand-agnostic fitting companies with locations available nationwide. The company independently tests all of their equipment, and shares their experiences across locations to ensure that visitors benefit from the collective knowledge of its fitting staff around the country. Their client list includes over 250 Tour players (including major winners) and 35,000 amateurs, and the company is the official Golf Magazine equipment research partner. Hot Stix also boasts a new 7,500 square foot facility in Arizona that includes a center to build custom sets of clubs for clients.
My appointment at Hot Stix Golf was on a crisp morning at my local range – lucky for me I live within a short drive of a Hot Stix performance center. One of ten in the country, my local Hot Stix center is located at the Stanford University natural grass range and is supported by a Hot Stix mobile trailer that contains a wide variety of club heads and shafts for players to test, as well as equipment to analyze player swings and club specifications.
Hot Stix offers a variety of different "Tour Fitting" programs, from individual fitting packages for putters, irons or woods ($75 to $200 each), to more full-featured Outdoor Fitting ($795) and Platinum Game Fitting ($4,995, and is comprised of a game fitting plus a new set of clubs and personalized golf bag) options at their private 10-acre club-fitting facility at Legend Golf Trail in Arizona. There are significant differences in facilities (including some that are entirely indoors, such as their new second Scottsdale location, and those like the one at Stanford that are supported by mobile trailers), so be sure to confirm that the facility offers the experience you are seeking. I selected the Iron Fitting Package, which takes approximately 60-90 minutes and covers irons, wedges, loft and lie adjustments, and shaft frequency analysis.
Getting Started
The Hot Stix location at the Stanford range welcomes visitors with a portable tent equipped with a desk, laptop and their launch monitor of choice, a TrackMan, with the previously mentioned support trailer just a few steps away. My fitter for the day, Steve, got me started right away. He provided an overview of the process, and my set of irons were whisked away to be measured. Hot Stix measured all irons for loft, lie and length, as well as swing weight for the 6 iron and wedges (if equipment is available, they will also check club frequency). Keep in mind that even if your set was correctly fit and built when purchased, specs can change over time through use, so its always good to double check your current set to know whether any adjustments are required. If so, Hot Stix is able to make some adjustments right on the spot.
Steve took knuckle to ground measurements to help set a base for what would be the length of clubs to begin the testing, and then dove into a discussion of my game while I warmed up on the range. This sets the tone for the experience – unlike some fittings, at Hot Stix the fitter is the key component from start to finish. Their process combines the expertise of the fitter with TrackMan launch data, including launch angles and spin rates, to achieve an optimal fit.
The local Hot Stix team has a developed a wealth of information available at their fingertips through their own experience and that of fitters at the other Hot Stix locations. Through focusing their efforts entirely on fitting (as opposed to giving lessons), the team has honed its knowledge of how clubs pair with players – what works well for players with a steeper attack angle, the combination of club head and shaft that is more suited to a player with a slower swing that used to be a scratch player, and so forth. There isn't a computer generating club recommendations as there are at some fitting centers, but rather each selection is based on what the team has learned over time through their hands-on work.
Checking out the Options
Since they are brand agnostic, the clubs that you test aren't limited to just one manufacturer. Indeed, those who come for a full fitting will find it unlikely that all 14 clubs for their recommended set would be the same brand. Being on the early side, my body took a bit of time to warm up and get loose enough so I felt comfortable, and the team then started up the TrackMan as I brought my shots (relatively) under control. A big advantage to this location is being able to both warm-up and have the session on a well manicured grass range – a rare treat in our area.
After Steve spent time watching my full swings, he selected clubs that he felt would be most appropriate to my swing and that have worked well for players of similar style and those who historically have played clubs similar to my current set (Mizuno). Irons selected weren't just the latest version of my current irons to test, but others that would fit my eye (an indicated preference) and those he felt would suit my swing. My testing was focused on models from Mizuno, Titleist and Miura, with a handful of shots with each to assess my thoughts on look and feel, and so Steve could analyze whether I was achieving the correct ball flight characteristics. And though they may be sorely tempted to do so, Hot Stix fitters stay away from providing any sort of swing advice on the range (though they will provide some assistance on the putting green if things are out of whack…and hey, I'll take all the tips I can get). Of the three iron models, the Mizuno MP-52 which Steve paired with a FST KBS Tour from the start (noting the KBS Tour has proven to be an exceptionally well-performing shaft in their sessions and he expected to match well with my tempo) provided the best flight. Distance between irons tested varied little, and his greatest focus was on finding the right launch angle and spin rates for my game.
As an independent fitter, Hot Stix relies on the manufacturers to allow them to fit and sell their equipment. Not all brands will be represented at each location, as the selection can be dependent on the different manufacturers initiatives in place, though all the majors certainly are. Hot Stix also pares down the manufacturers and models they carry based on what they find to be the best performing, along with those that are most commonly requested. There weren't any clubs on my "must test" list that weren't available in their mobile trailer, and the breadth of custom shafts were more than I would ever try to process on my own. If you are interested in a particular brand or model, however, it wouldn't hurt to confirm what is available at the Hot Stix location prior to your visit.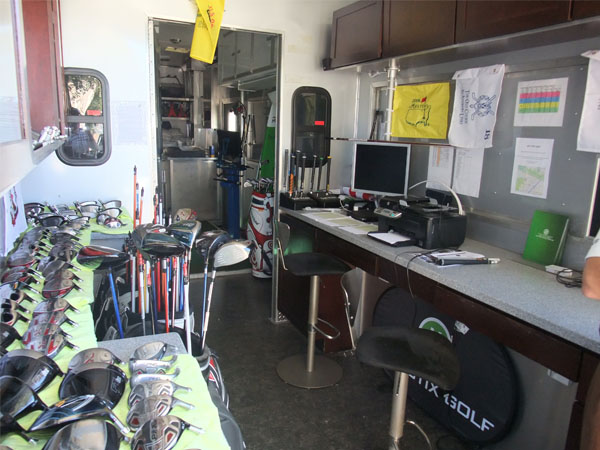 Hot Stix Mobile Trailer
If you decide to walk through an entire bag, I would highly recommend dividing your time across appointments on multiple days. It isn't an overly long process for each component fitting, but it is intense. Breaking it into multiple fittings may very well result in more crisp ball striking throughout the sessions, and you'll be more focused for each component fitting.
Putting
Though I didn't take part in a putter fitting, the Hot Stix location at Stanford offers both an outdoor putting green and a small putting area in their trailer that is equipped with 5 high-speed cameras to assist with the fitting process (to capture both ball movement and shaft lean/angles along with putting stroke). The team focuses on finding the right length while ensuring your eye is in the correct position relative to the ball, lie, the appropriate amount of toe hang, and the putter that provides the right feel. I spent time with Steve on the putting green, and he quickly make initial assessments on how well-suited my current putter is for my stroke, and made a slight adjustment to decrease the loft of my putter.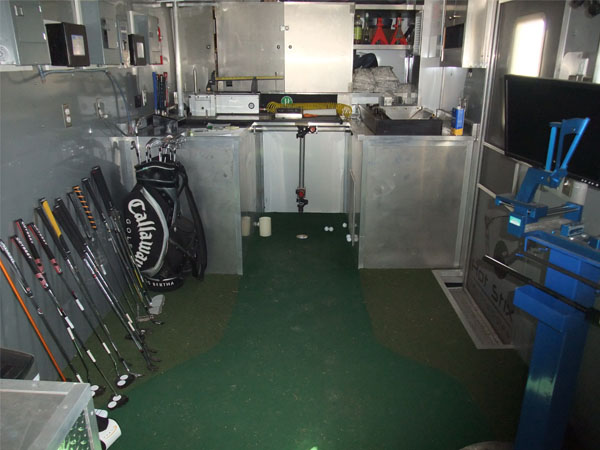 Hot Stix Mobile Trailer Putting Area
Takeaways
Based on the fitting, Hot Six provides a comprehensive packet of information for both your current clubs and the set that they recommend for you.
The Hot Stix package includes:
1. Iron recommendation. Includes the length, lie, frequency and swing weight for a 6-iron. Also included is the recommended shaft and preferred grip model. Prices are also provided for the club head, shaft (if non-standard) and grip (again, if non-standard).
Hot Stix provides detailed specifications for the recommended set of irons, which include the loft, lie, length of each club, along with spacing of loft and lie between clubs. In my case, the recommended irons were the Mizuno MP-52s with a FST KBS Tour shaft.
2. Wedge recommendation. Steve recommended I keep my current 58 degree Cleveland wedge, and replace my gap wedge with a Cleveland CG15 Black Pearl, again pairing it with a FST KBS tour shaft. Detailed specifications are also listed, and detail the loft, lie, length and spacing of loft between clubs, along with the pricing for the clubs.
3. Driver recommendation. In my case, a 10.5 degree Adams 9064 LS, paired with a Mitsubishi Kai'Li 60 shaft (though an iron fitting, we took a moment to hit a few drivers as well). Length, frequency and swing weight are outlined along with the price.
4. Club Fitting Summary. Hot Stix provides a summary with high-level comments on the importance of the different factors that go into a club fitting: length, loft and lie, shaft flex, grip and swing weight. The majority of the player information included on this page is detailed on the prior Recommendation pages, although head speed and tempo for the 6-iron and driver are also included here, along with knuckle-to-ground measurements that assisted in determining appropriate club length.
5. Loft/Lie Comparison Chart. This includes current club specifications, as well as detail on the loft on your clubs when you arrived, the loft after any modifications Hot Stix makes to your clubs during the session, the loft gaps between clubs, the old and new lie, and the lie gaps between clubs. This is a nice bonus of the fitting – even if you don't purchase a new set of irons, Hot Stix can still help make slight modifications to your current clubs during the session. In my case, lofts remained essentially unchanged, though they increased the lie for the nearly all irons by between 0.5 and 1.5 degrees (and as I learned for the first time (!), Mizuno lie angles are generally ~0.5 to 1.5 degrees less than other brands).
6. Club Frequency Chart. This chart covers the 6-iron and wedges, and includes length, swing weight, and frequency. The frequency analysis was not available for my fitting, thus no data was provided in this column in the Hot Stix summary packet.
7. Ball recommendation. Steve suggested the Titleist Pro V1, though he also included other ball options that I may wish to try, and then determine what I most like based on feel and spin around the green.
8. Fitting Summary. Lastly, Hot Stix provides a 2-page overview of the club recommendation pages.
Data junkies should know that while Hot Stix captures data on your shot results during your swings, it does not provide this information in the package. Hot Stix does retain all client information, so if you return for another fitting, they will already be able to provide recommendations to get you started in the right direction.
Where Do I Place My Order?
If you decide to purchase new clubs based on their recommendations, you can do so directly through Hot Stix. And unlike with other companies, even manufacturers, you will have a set that is built just for you, down to the frequency matching of the clubs, at a price that is based on what you would pay at a local retailer. So if you were thinking of taking the summary information elsewhere, you certainly could, but since there is no need to worry about paying a premium to Hot Stix for custom building the clubs for you, we see no reason why you wouldn't just make the purchase through Hot Stix. All clubs are built at their headquarters in Scottsdale, and even for "standard" clubs, the company will check the lie, loft and length of each club you purchase to confirm that your clubs were built to the correct specifications.
Summary
Hot Stix offers an extremely thorough fitting process for players, and is one of only two fitting companies with multiple locations throughout the United States that have employees focused entirely on fittings (no time split between lessons or pressures for them to act as salespeople). The combination of a brand-agnostic process to find the best clubs for the player, the availability of a natural grass range (location-dependent), reasonable prices, and the latest technology can benefit players of any skill level. And if you choose order clubs, they are built to tour specifications, at prices competitive with your local retailer.
Contact Information:
Hot Stix Golf
https://www.hotstixgolf.com
877-513-1333
Hot Stix continues to expand its locations and offerings, with fitting centers recently opening in La Quinta, California and at The Golf Academy in Los Angeles. In addition, they have added new 3D body analysis (from Innovative Sport Ventures SwingAMP) at their Scottsdale headquarters. The experience will depend on location, with mobile trailer locations providing all the basics, and the headquarter location having all the equipment and technology the company has at their disposal.
Hot Stix also offers "Performance Fitting" packages. This set of offerings is limited to club heads and shafts that are offered by a select group of manufacturers, and clubs that are purchased through these fittings are entirely fulfilled by the manufacturer. Beyond what is included in the Performance Fitting packages, the Tour Fitting package includes evaluation of your current clubs, access to all club heads and shafts carried by Hot Stix, and purchased clubs built directly by Hot Stix.