Continuing our series on golf fitting and performance centers, we sent two of our editors to Carlsbad, California to soak up a day at The Kingdom, TaylorMade's top-of-the-line clubfitting experience that was, until 2005, reserved for their Tour Professionals only. With a name like The Kingdom, the expectations are lofty – and as you will see from the review by our editors below, TaylorMade truly delivers a remarkable experience.
Prior to Our Visit
There are two ways for mere mortals to visit The Kingdom. One is by working with your local TaylorMade golf professional, who can arrange for access to the facility. Sessions made through TaylorMade teaching professionals cost $500, with the proviso that if you purchase 10 or more clubs following the visit, you will receive a $250 credit back toward that purchase. If you aren't able to track down a TaylorMade professional, you can contact The Kingdom directly, but in that case, the price of admission is $5,500, which is cost-prohibitive to all but a select few. The experience when working directly with The Kingdom is the same as for those who gain access through a teaching professional, but the premium covers the purchase of a full set of custom-built clubs with all the trimmings, and a lesson with Jim Flick, a well-known teacher of the game and TaylorMade's in-house Tour Professional. This sizable difference in cost also indicates TaylorMade's commitment to their Green Grass Initiative, which supports their local teaching professionals.
TaylorMade recommends that visitors have a handicap index of 15 or better in order to get the most out of the experience. Prior to the trip TaylorMade asked us to fill out a brief form outlining our level of play, details of our current equipment, and shot patterns. They recommend bringing your current clubs to the session in order to compare the difference in performance to the custom-fit set. Oh, due to the technology involved in their MATT Fitting process (see below), don't forget to wear a shirt that is any color other than white.
Arriving at Headquarters
Entering the lobby at TaylorMade's corporate headquarters in Carlsbad, we were surrounded by staff bags, clubs, and other golf gear, arranged almost like museum pieces. The receptionists greeted us by name as we arrived (was it that obvious that we were the Kingdom's clients? Perhaps wearing golf shoes into an office lobby is a bit of a tip-off) and provided us with name badges, and then we were met by Jamie, TaylorMade's Player Relations Specialist, who transported us and our clubs in a stylish golf cart (translation: leather seats with Kingdom logos) just across the road to the Kingdom's facility.
Inside the Center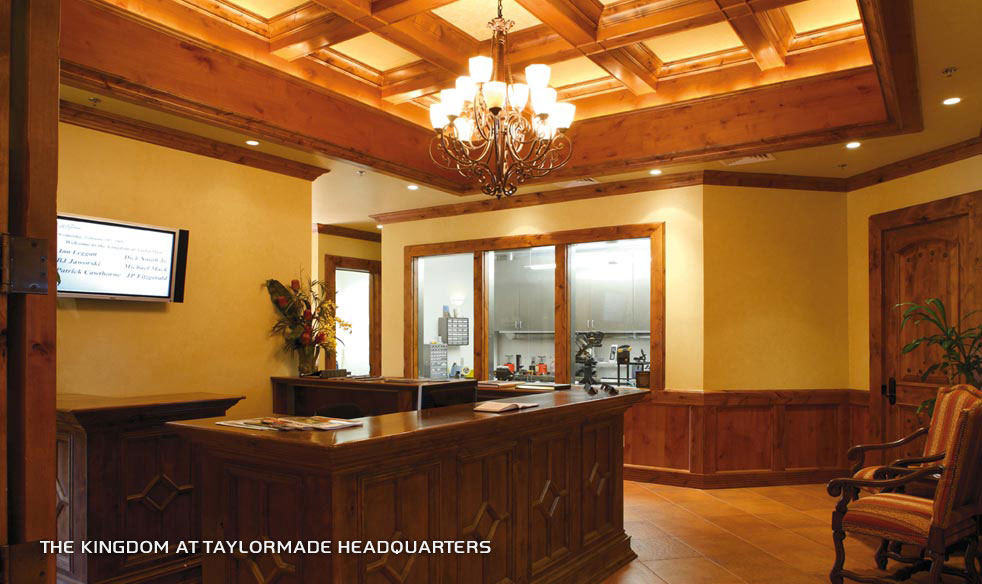 Upon arrival at The Kingdom, our clubs were quickly whisked away and we were met by Greg Cesario, the Manager of The Kingdom. Our names were displayed on the flat-screen TV above the front desk to welcome us, and Greg showed us into a luxurious conference room to get us situated. The room is designed with a high-end locker room feel: wood paneling, TVs, leather seats, snacks, and a conference table to chat. Hey, even some bottles of wine. It feels much like the clubhouse at a high-end course…I'll have a Bloody Mary and a steak sandwich…and a steak sandwich.
Greg took us on a tour through the facility, beginning in a dedicated room for building clubs. This small room has all the equipment the team needs to build clubs and make adjustments on-site, and is separated from the front desk area by a wall of windows so visitors can get a look at the process. We then passed through one of their three indoor fitting bays out to the outdoor range, where our clubs were lined up with name placards beside them (hey, its just like when the pros hit before a tourney…except that they strategically draped towels over our (ahem) non-TaylorMade clubs). The outdoor range is a fantastic advantage for The Kingdom – very few manufacturers make fittings with grass ranges available to the public. In retrospect, it seems almost bizarre to us that most people will purchase clubs without ever having the opportunity to test them on actual grass.
Walking along their range we passed an assortment of clubheads, shafts and equipment, a second fitting bay, and lastly a third fitting bay with an Iron Byron used by the TaylorMade Research and Development (R&D) team. Each fitting bay has a large door that can be opened so clients can hit from their mats directly into the outdoor range. The outdoor setup included a TrackMan for measuring spin rate, club speed, carry, launch angle and more (now that's cool – we've seen that on TV!). It's an impressive introduction to the site, and something that few manufacturers can match.
We walked back to the first bay and closed the door to the range as we began the initial indoor portion of the fitting. Mounted within the room are 6 cameras, a ball-launch monitor, and two plasma screen monitors that displayed computer-generated video of our swings and a variety of swing data. We took seats next to Perry, our fitter for the day, who sat behind a desk at a computer to monitor and control the fitting software.
Time to Get Hooked Up
We decided that it would be cruel and unusual punishment to subject Perry to analyzing two swings that are "works-in-progress," so Norm was chosen as the lucky victim. Perry walked through a series of questions on Norm's wood, iron and wedge games, any club preferences, his usual flight patterns (um, if there is one on a given day), and what he was looking for…workability? forgiveness? both! This information was then combined with the data that he had provided to TaylorMade in advance.
Perry then gave an overview of the Motion Analysis Technology (MATT) System, a system licensed exclusively to TaylorMade, which gathers swing information to build a three-dimensional computer-animated version of your swing (viewable from any angle) and a personal club recommendation. The club-fitters have a wealth of data at their disposal, and determine the most appropriate clubs for you by combining the system's recommendation, their own expertise, and your feedback.
In order to capture swing information, Norm was fitted with a vest, cap, elbow, wrist, knee and shoe "sleeves". Each of these sleeves is outfitted with one or more reflective balls that the cameras use to build a 3-D image. If there had been a green-screen behind Norm, you might have thought that he was preparing to perform in the next "Matrix" sequel. Thankfully there is no waist sleeve, so Norm's computer generated image wasn't exactly drawn to scale around the midsection…much appreciated!
Norm warmed up with his own 6-iron (most fittings involve at least a 6-iron and driver), and then moved on to a TaylorMade 6-iron with reflective markers on the clubhead and shaft for capturing additional information. He worked out the kinks as best as he could (yes, Perry needed to "delete" a few shots along the way) to generate repeatable swing data that Perry could use as the basis for club recommendations.
With each swing, the MATT system generated a 3D model of Norm's swing on one plasma monitor and a variety of data on the other, including impact location, swing speed, swing path (in/out and up/down) and face angle (target and path). The fitter can then rotate the 3D image to display the swing from different angles (including from below your feet), overlay graphics to illustrate how the actual swing plane and swing path deviate from the ideal, show how your center of gravity shifts during the swing, and even overlay your image on to a graphic of a tour professional to highlight how the swings differ.
The process is repeated with both a driver and a wedge. The only difference in process among the three clubs is that a flight monitor is also used for basic ball launch information for the driver (more in-depth information would be collected at the outdoor range using the TrackMan, see below) but not for the 6-iron or wedge. All of this swing information is then used to pare down the selection of clubs and shafts to a recommended club(s). The next step was to open up the bay door and step out on to the driving range, where the club-fitting team worked more qualitatively with Norm to refine the club recommendations.
Out to the Range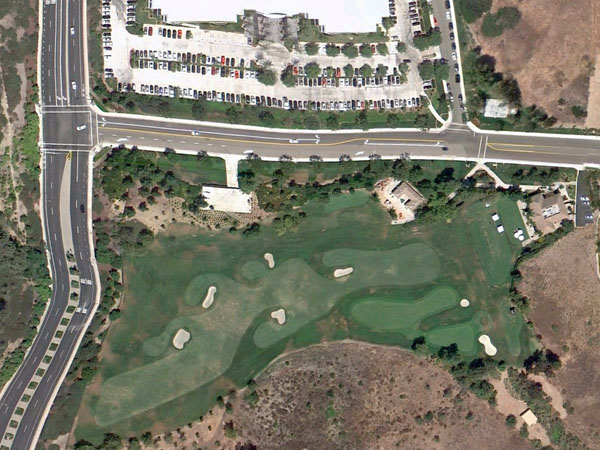 As Norm took some practice swings on the grass, Perry began preparing a number of irons for him to test. They moved over to use some of the top of the line launch monitor system, such as TrackMan and swung with both Norm's own club and the MATT-recommended TP irons. Perry supplied irons with a 2-degree up lie (confirming what Norm has heard at other club fittings) that allowed for much cleaner ball-striking closer to the center of the clubface. While Norm thought that this club had a very nice feel, Perry also recommended (and here is where you have to remember that a computer doesn't have all the answers, but can provide a starting point) trying out the Burner 2.0, which provided nearly a club of additional distance with a more forgiving feel. The MATT's initial recommendation of the TP irons was driven in part by Norm's initial discussion with Perry, where Norm expressed a strong preference for clubs with a "thinner" profile to match his current irons. In retrospect, we would recommend not constraining the MATT system and your fitter with a desired "look" in a club, but rather let them provide the initial recommendation driven by your swing. If you find that you absolutely can't stand the way the club looks, your fitter can help refine the suggestion out on the range.
With the significant amount of time that The Kingdom allocates for its fittings, you can test not only a driver and 6-iron, but also a full range of clubs – fairway woods, rescue clubs, and wedges. This can be an advantage over many other fittings, which base their overall club recommendations solely on fitting the driver and 6-iron.
In the end, Norm's final custom fitting recommendations changed little from what the MATT system prescribed, with the only change being a slightly less lofted driver (9.5 degrees versus 10.5 degrees) after swinging on the range with the benefit of TrackMan analysis.
Rolling Some Putts
There is no dedicated area at The Kingdom's facility for putting analysis, though this is something that they hope to add in the near future. So Perry took us on a short cart ride back to the main TaylorMade building across the street, where their old 8-camera full-swing fitting room has been repurposed for putting analysis. We rolled a number of putts with our current putters as well as some of the new TaylorMade designs. As the system picked up the ball images and processed the data, most striking thing was seeing the change in spin with the switch from our own putters to the Rossa Ghost (with grooved insert) allowing one of our editors (let's just call him "Shnorm") to move from his customary backspin (and associated skid and bounce…for shame!) to forward spin, and increasing forward spin rates for our other editor. We'll leave it to others to discuss whether these grooves are all hype or not. Either way, the data was abundantly clear.
Time to Go Home – It's Closing Time
In the relaxed setting of The Kingdom and with such individualized attention, time passes far too quickly. With a range and clubhouse to ourselves, along with a veritable cornucopia of TaylorMade product to test, we were in equipment testing heaven. For these fittings, however, it's just a half-day that you get to enjoy, and our time was soon at an end.
As we changed back into street shoes, Perry put together a packet of information to summarize the morning. This included:
A MATT Custom Fit profile, which provided details of the custom-fit clubs (driver, fairway wood and hybrids, irons, wedges and ball),
An order form 😉
A Player Performance Profile for each club analyzed (driver, 6-iron and 56-degree wedge) that provides a summary on paper with both graphic and data for each, and
A CD with 10 swings captured by the Motion Reality Viewer. Players can rotate the video to view their swing from any angle, and review data on each swing for club speed, hand speed, in/out path, face angle, up path, loft, lie and swing time (no ball data – that was only captured via the TrackMan). Mac users will be bummed to know that the CD is only PC-compatible.
We also left with a sleeve of the latest Titleist Penta golf balls and a Kingdom logo golf cap (we can virtually guarantee that you'll be the only one on the block with one of these).
Unlike some manufacturers, The Kingdom retains player information in case you decide to return for additional fittings (given the low cost of hard drive space, why don't all manufacturers do this?). Critical Golf readers have inquired whether visitors to TaylorMade (or other centers) could simply take the club specifications to a different manufacturer or knock-off club producer. Of course this can be done, but it seems to us that if you are visiting The Kingdom, getting clubs anywhere else completely defeats the purpose of your visit. You would be hard pressed to find an exact match for the feel of the recommended clubs and shaft, and given the cost you've already incurred, you would have to be a bit off your rocker to do such a thing. Most Kingdom visitors already play TaylorMade clubs, but by no means is that a reason for players of other brands not to consider making the trip. You'll certainly find the expertise to help fit you correctly, and based on the results you may just find yourself changing brands.
To cap off the morning, the good folks at The Kingdom were kind enough to drop us off at the new TaylorMade-adidas building on campus that houses conference rooms for different company brands, a hallway full of golf memorabilia from the company (hey, the original Ashworth logo sketch!), and the company store, which stocks a number of items that we wouldn't find in our local retail stores. And yes, of course we purchased a souvenir. How could we not?
Overview
The Kingdom at TaylorMade provides an expert team at your disposal in a very comfortable setting that includes all of the latest technology and a private range. (As we were the only clients at The Kingdom that morning, it couldn't have been any more personalized.) With its dedicated facility, the latest 3-D technology, TrackMan, a grass range, and the ability to quickly test and build any TaylorMade clubs desired, The Kingdom is, to be sure, an "experience" as well as a fitting, and one that we thoroughly enjoyed. If you can get there, no doubt you will too.
Contact information (tell 'em you saw them on Critical Golf):
TaylorMade Golf- The Kingdom (Carlsbad, CA)
Please contact Trisa Mills
1-760-918-6358
1-800-785-8942
trisa.mills@tmag.com
TaylorMade also offers The Kingdom at Reynolds Plantation in Greensboro, Georgia, an experience that is even more extensive than at TaylorMade Headquarters in Carlsbad. Base packages start at $395 for a putter fitting (and that does include a putter) and run all the way to $4,000, which includes a night at the Ritz-Carlton, a full set of clubs built on-site within 24 hours, a round at Reynolds Plantation and more. For those with money to burn (or as we prefer to say, simply have their priorities straight), there are multi-day options. These 2 and 3-day packages will (take a deep breath) set you back $6,500 and $8,500, respectively. Oh, and don't forget to bring your friends – these packages require 3 or 4 guests at a minimum. With nights at the Ritz-Carlton, a full set of custom-built clubs, and even dinner with a TaylorMade Tour Professional, how can you go wrong?use top
About Critical Golf
Launched in the spring of 2009 to shed light on the confusing world of golf equipment.

Our testing staff includes players ranging from low to high handicappers to provide perspectives relevant to all golfers, regardless of ability level. Each product is tested by all staff members to give you the best insight possible.