The SkyCaddie WATCH is one of the newest entrants into a golf GPS market that only two years ago didn't exist. Our impression, however, is that SkyCaddie hasn't made the most of its opportunity to watch others blaze a trail. The WATCH works fine, but it doesn't really advance on what other manufacturers are already doing, and our repeated problems with getting SkyCaddie devices to sync for the first time were sadly experienced once again.
The SkyCaddie WATCH has very strong course coverage, but we would expect this given that the device only provides distances only to 3 fixed points on each hole: the front, center and back of green. What puzzles us is why SkyCaddie didn't leverage all of the extensive course mapping it has done to provide additional distances, such as yardages to near and far points on the green relative to player position, hazards, doglegs and layup points. Bummer. We do like both the look, available in either black or white trim, as well as the comfortable and functional wristband. We are always big fans of the easy-to-use watch form factor (just rotate your wrist!), and the SkyCaddie interface is easy to navigate.
As mentioned above, poor experiences in syncing SkyCaddie products continued to plague us with the WATCH – we had to call technical support and spend nearly 2 hours to get the device to successfully sync to our computer. If you are successful getting the WATCH to sync with your computer, the device will be updated with the latest course information, but unlike other SkyCaddie devices the WATCH won't sync scores to the online ClubSG community portal.
Our final analysis is that the annual fee to access course updates, lack of ability to upload scoring to the SkyCaddie online portal, and poor syncing software make it tough to make any strong recommendation for the SkyCaddie WATCH over other golf GPS watches in this increasingly crowded market.
SCORE
87
GRADE
B+
Setup/Syncing
75
Course Availability
98
Ease of Use
96
Course Details
70
Features
86
Accuracy
95
Cost/Value
89
Pros:
A breeze to use
Strong course coverage
Cons:
Only fixed front/center/back green points
No ability to sync scores to ClubSG
Annual fees
Syncing woes
Editor's note: For a limited time (until December 31, 2013), SkyCaddie is offering a free annual "Go Play" membership for new, unregistered WATCH (and AIRE and GIMME) devices. Note that with this free membership does not allow players to upload scores or data to an online account – that functionality is only available with the paid annual "Par membership", or a membership to ClubSG for $9.95/year (we will refrain on commenting that ClubSG is in "Beta" and they still charge for this).
Retail price: $199.95
Three year total cost: $249.90
Availability: Discontinued (though still available from some resellers); replaced by the SkyCaddie LINX watch
Amazon.com: Check price now
Golfsmith: Check price now
---
75 / C+
SETUP/SYNCING
The Good: Charging clip is easy to attach (which is not the case with most other golf GPS watches).
The Bad: We continue to have issues with syncing SkyCaddie devices, which make for a terrible user experience. No wall charger is provided, so the only way to charge the WATCH is by plugging the USB cable into your computer.
Details:
Required Steps. Courses are preloaded on the WATCH, so just ensure the battery is charged and then off you go. You may, however, want to keep up with the latest course updates, and in order to do so you must activate your WATCH and register online (for free). Once you've activated the WATCH, you can select a membership plan (choose either a 1-year or 3-year plan), download and install the CaddieSync Express software to your computer, and then sync for updates.
Time Required for Setup. Registration, download and install of the CaddieSync Express (syncing) software takes just a few minutes. Charging the battery takes approximately 3 hours, with the watch face indicating level of charge. Read on, however, for the total time required to complete the sync…
Syncing. In what has now become a recurring theme with recent SkyCaddie devices we've tested, we had problems out of the gate with the WATCH. The syncing software wouldn't "find" our WATCH, and after repeated efforts, we had to lob in a call to SkyGolf support (23 minutes on hold, 12 minutes with one rep who was unable to help, then 39 minutes with another rep). In the end it took nearly 2 hours to get the WATCH to sync the first time, with the solution a set of drivers that can only be provided through their Advanced Tech Support team. Grrr! We later tried syncing to another Mac with no luck (we simply gave up on trying to sync it on that machine, which can successfully sync with our SkyCaddie Breeze). We've heard the excuses before…"the WATCH was just released…having some issues on Macs…" Hey, here's our suggestion – test the devices and syncing software thoroughly and make sure they work before launching the product! To be fair, this problem isn't unique to SkyCaddie, so consider this to be a plea to golf GPS device manufacturers everywhere.
What's in the Box: The SkyCaddie golf GPS watch comes with:
Cable (USB-to-clip)
Quick Start Guide
Downloads:
CaddieSync Express (for course updates).
---
98 / A+
COURSE AVAILABILITY
Critical Golf Test: The SkyCaddie WATCH provides extremely thorough coverage, with availability of 98% in our course coverage test. At this point in the maturation of the golf GPS market, this level of coverage is the norm for devices that only offer fixed front-center-back of green distance information.
Manufacturer's Claims: The SkyCaddie watch comes with nearly 30,000 worldwide courses pre-loaded, which places it near the top of our course coverage comparison test.
---
96 / A
EASE OF USE
The Good: Easy to use form factor and navigation.
The Bad: Lower battery life than we would like to see. No prompt to enter scores when using auto-advance, so players will need to step back a hole each time to record that sweet chip-in birdie or snowman.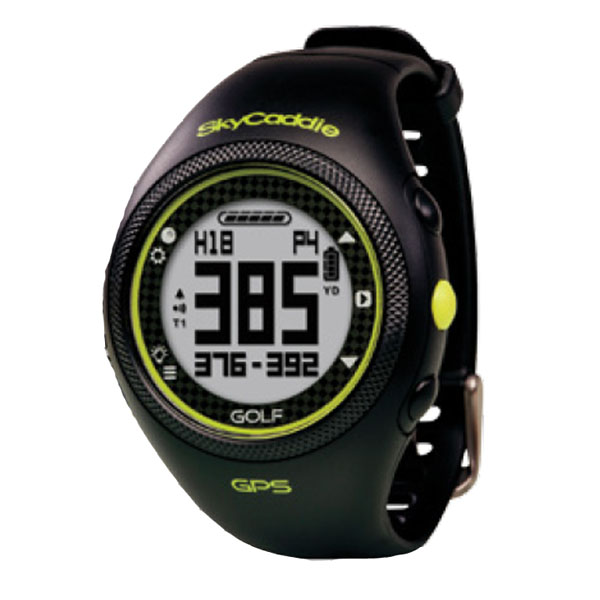 Click for larger image
Details:
Buttons. The SkyCaddie WATCH has five buttons: OK/reset, back/set, light/menu, up, and down. There is no power button – the WATCH is always on. Users access menu and select options by either tapping on a button, or tapping and briefly holding.
Screen. Despite the fact that the WATCH's 0.8 square inch black and white screen is one of the smallest golf GPS screens we've tested, it's still easy to read. The backlight on the watch can be adjusted to remain on for either 10 or 20 seconds.
Form Factor. The SkyCaddie WATCH has a rubber and plastic exterior, and weighs 1.9 ounces. The watch is available in either black or white, and has a nice updated look to it. As with other golf watches, the watch form factor makes the device a breeze to access and use. We liked the easily adjustable watch band.
Starting a Round. Simply select "GOLF" from the main menu, wait for the satellite signal to be acquired, and then select from a list of nearby courses. The WATCH won't always find your starting hole if it isn't the 1st (auto-advance gets triggered when you are on the green), but advancing between holes using the up/down arrow buttons is easy enough.
Battery Life. While SkyCaddie markets up to 10 hours of battery life while using GPS, we only averaged around 7.5 hours using the standard level of screen contrast. The company claims it will last up to one year in clock mode, but really, if you have this watch and aren't on the course more than once a year, you need to re-evaluate your priorities!
For more details, check out the Critical Golf comparison of golf GPS device features.
---
70 / C-
COURSE DETAIL AND MAPPING
The Good: Not much to tout here, as the SkyCaddie WATCH only provides mapping to 3 fixed points on the green
The Bad: Given that SkyCaddie has access in their course database to full green mapping detail, as well as hazards and layup targets, it is disappointing that the WATCH only offers distances to fixed front, center and back green points. Seems like it would be so easy to show distances to green near, center and far points, as well as some number of hazards.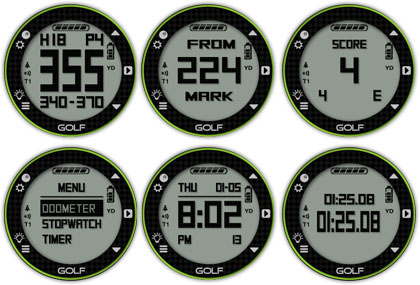 Click for larger image
Details:
Views. The SkyCaddie WATCH provides a main "Green View," which displays distance information for each hole, and secondary screens for scoring and time. Users can toggle between views using the "OK" button. If users are in secondary screens and don't press a button for 20 seconds, the WATCH will revert to the Green View.

Green View – This screen displays the hole number, par, and distances to the center (in large text in the center of the screen), front and back of the green (in smaller text at the bottom of the screen) points. Satellite strength is displayed at the top of the screen, and battery level and unit of measurement on the right.
Scoring View – Defaults to the par for the hole until the user enters their score, and also shows the total score for the round as well as total score relative to par.
Time View – Displays the time as well as the elapsed time for the round, which begins once a course is selected.
Measurement View – Activated when the user presses the "Mark Ball" button, this view displays the distance of a particular shot. Users can switch to other views, and even change settings, while continuing to measure their shot. Shot distances cannot be saved to the WATCH.

Hole Information. The hole number and par are always shown on the main Green View screen. Hole handicap is not available.
Custom Mapping. Users cannot add custom points to the course data, nor can they modify any existing map information.
---
86 / B
FEATURES
The Good: One of the few golf GPS watches that enables you to keep score. Settings can be adjusted during a round without losing track of the score (surprisingly, this is not the case with a number of devices).
The Bad: No ability to track putts or other statistics. Scores can't be synced to ClubSG online portal.
Details:
Shot Tracking. The WATCH can measure shot distances, and will continue to do so even if you toggle to different screens or even change menu settings. There is no ability to save the shot distance information or link the distances to clubs in order to calculate average shot distances.
Auto-advance. The SkyCaddie WATCH can be set to automatically advance to the next hole during play, with the hole advancing once you are on the green for approximately 20 seconds. Manually changing holes is easily done through the up/down buttons.
Scoring. Players can track their score throughout the round. There is no ability to turn on/off scoring, so players will always need to manually enter the scoring view. If auto-advance is enabled the WATCH will move to the next hole while you are finishing your current hole. The result is that you will need to step back to the previous hole, enter your score, and then advance to the next hole, thus generally eliminating any benefit to the auto-advance feature.

The WATCH can only hold scoring for one round at a time – as soon as a new round is started the old scores will be erased. While SkyCaddie customers have access to ClubSG, the WATCH doesn't sync scores with ClubSG accounts, so if you want to track the progress of your scores, you'll have to manually enter them on ClubSG after the round. Seriously?!

Miscellaneous. The WATCH includes an odometer (which, of course, is completely irrelevant if you're taking a cart).
Preferences. The SkyCaddie WATCH offers a reasonable set of adjustable settings, including unit of measurement (yards or meters), screen contrast, backlight time, and chime.
For more details, check out the Critical Golf comparison of golf GPS device features.
---
96 / A
ACCURACY
The WATCH, as well as the rest of the SkyCaddie Sport Series (which includes the AIRE, GIMME and VOICE), uses a "more economical" GPS technology than the Tour Series (SkyCaddie Breeze, SGXw, and SGX). So while it seems that the company is using the same ground mapping information for the WATCH as the Tour Series, the company professes that it has less accuracy. We found, however, that the WATCH returned distances within our standard expected range, varying generally up to 4 yards from actual distances (based on marked sprinkler heads). In case you're wondering why the WATCH receives a higher score in accuracy than the Tour Series (Breeze, SGXw and SGX) as it only provides 3 fixed points. The other devices have the same accuracy to those points, but had some errors in additional course detail, such as hazard locations.
The SkyCaddie WATCH will continue to display distances to the 3 fixed points on each green regardless of how close you are (some devices will stop showing distances once you are within a certain range), which can provide increased confidence in readings.
---
89 / B+
COST/VALUE
Retail Price: The SkyCaddie golf GPS WATCH retails for $199.95, which is about average among golf watches.
Fees for Access to Course Database: As with other SkyCaddie devices, yearly fees are required to access course updates. There is only one "level" of membership, which provides distance and par information, and it is available both as an annual plan ($19.95) or a discounted 3-year plan ($49.95).
Three-Year Total Cost of Ownership: With yearly fees for updates to the course database, the three-year total cost for the SkyCaddie WATCH rises to $249.90 (based on purchase of the 3-year plan). This places the SkyCaddie WATCH pretty much in the middle among both golf GPS watches and golf GPS devices generally in our analysis of cost over three years. It is, however, one of the more expensive golf GPS devices that doesn't provide hazard distances.
Value: Those who know the SkyCaddie name and trust their ground mapping will be quite comfortable with the WATCH, which is a good-looking device that is easy-to-use. However, we were left disappointed by not only the syncing issues we experienced, but also the limited distance information provided by the WATCH. Given that SkyCaddie already has extensive distance information available in their course mapping database, we have to believe that this additional information will likely be available on a future version of the WATCH (best guess: Spring 2014). We just wish it was available now.
---