The Swami 4000+ adds distances to hazards and doglegs to the original Swami 4000, which offered only front, center and back of green information. There is an associated $20 price bump from the Swami 4000, but with no annual fees, the IZZO still remains one of the most inexpensive golf GPS devices on the market.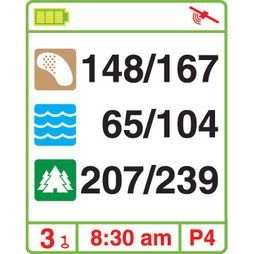 Click to enlarge
The Swami 4000+ comes preloaded with over 30,000 courses worldwide, with no additional downloads required, though players do have the ability to edit course maps (something that we liked early on, but as we test more devices we find that we rarely use this feature – perhaps we would more if we were dedicated to one device). The device comes with the basics of hole advance, shot measurements, and distances in yards or meters. An included rechargeable lithium-ion battery that is claimed to up to two rounds. The device also carries a 1-year limited warranty.
Curiously, the IZZO Swami 4000+, though it has been available for some time, trails in distribution versus the original IZZO Swami 4000. So if you are headed to your local store to look for this device, just make sure to check what version they are stocking.
Retail price: $139.95
Amazon: Check price now
---