Set in the high Sonoran desert against the Wild Burro Canyon, the Ritz-Carlton Dove Mountain requires that you expend a little effort to get there – it is a 45-minute drive from downtown Tucson, or in our case, a scenic 2-hour drive south from the Phoenix airport on I-10 that passed more dust devils, speed traps, and "adult boutiques" than we would have expected.
The Ritz-Carlton is comprised of a main hotel, spa, pools, and a group of more private villas set a short walk from the main buildings. The resort caters both to those on vacation as well as corporate events alike, with 209 guest rooms (plus 44 additional individual and casita suites), two main pools, a separate spa area (with yet another pool, adults-only), and four dining areas plus a "to-go" coffee and snack bar at the main resort. The golf course, featuring 27 Jack Nicklaus-designed holes, is located just a short shuttle ride away. The resort has more of a corporate feel than a cozy one, though it is certainly comfortable.
Our room was up-to-date and in good condition, with some minor quibbles, and of a good size. Rooms are available with different desert views, though be warned that what you select might not be quite what you expect ("Canyon View" = resort/pool view with canyon surrounding). Also take note of the restaurant areas when selecting your room as you might find, as we did, that having the Ignite restaurant and bar just below your room can mean noise later into the evening than you might want if you have an early tee time.
The adjoining spa is a well-maintained 17,000 square foot facility that features 10 treatment rooms, a full salon, fitness center, private pool and cabanas. Visitors who aren't receiving a treatment can also pay a daily fee for use of the facilities (which we recommend). The spa pool isn't to be missed, and is particularly enjoyable at sunset when you may have the run of the place prior to closing. The treatment rooms were, disappointingly, far from being as quiet as desired (see details under 'SPA').
The Ritz Carlton at Dove Mountain is somewhat remote, and as a result will have greater appeal to certain people and less to others. With the Ritz-Carlton at Dove Mountain you get an exceptionally attentive and obliging staff, with very good accommodations. Some may prefer a resort that is within striking distance of more activities and dining options, but for a long weekend of golf and spa treatments, the Ritz Carlton at Dove Mountain could be all that you need.
SCORE
92
GRADE
A-
Service
94
Accommodations
95
Fitness Center
88
Spa
92
Pro Shop
90
Food
91
Integration
87
Value
92
Expedia: View Ritz-Carlton Dove Mountain offers
Pros:
Exceptional service
Great sunsets
High quality rooms
Water slide and a flautist
Cons:
Room views might not be what you expect, check the hotel map before booking
Can be a wait for the shuttle to and from the course
Rooms above the restaurant/bar can be loud
---
94/ A
SERVICE
The service at the Ritz Carlton Dove Mountain is what makes the resort stand out. The staff was exceptional throughout our trip, and all of our requests were met with a smile and willingness to help.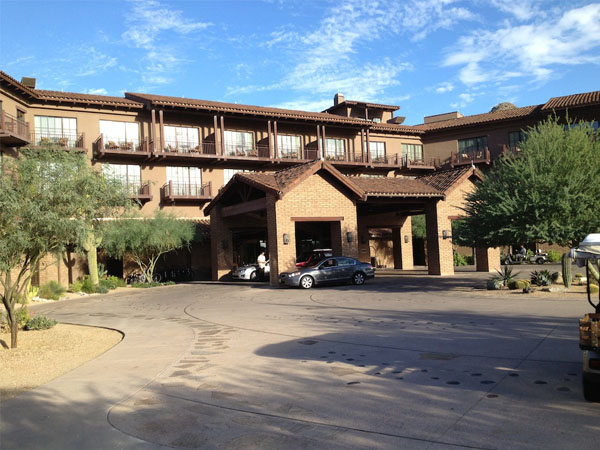 Click to enlarge
Checking In. We first gave our names to the friendly gate monitor as we entered the Ritz Carlton property, and when we pulled in to the hotel a few minutes later we were welcomed by name, setting the tone for the rest of our stay. As our car was valeted and golf clubs bustled away to the golf course, we were escorted to the reception desk and introduced to the desk staff and bellman who would assist us. There was no waiting to check-in, we were warmly welcomed and provided with our room keys, hotel information and shown to our room. Er, shown to multiple rooms (one of our traveling party is somewhat particular…which includes an insistence upon the quietest room available). The bellman carted out luggage around all the while with the smile, and the front desk staff was happy to help us find the right room. Soon after we settled in another member of the Ritz staff arrived with a snack of Prickly Pear Tonic and Mesquite Macaroons.
Housekeeping. The room itself was well maintained, though we were disappointed to find oil on the top of our bed sheets, and a large stain on one of the robe elbows. While this fell below what we expected at the premium price point that the Ritz commands, the housekeeping staff quickly and politely responded to our call to replace the sheets and bring another robe.
Concierge/Guest Services. Before our arrival the Ritz sent an email that provided information on the hotel and available activities, and provided a link to their "online concierge" service. Through this service you can request times for a variety of activities, in effect distributing your requests to the different Ritz teams, which will then contact you to confirm availability for your preferred time(s). Separate from this, we were also emailed by the Guest Recognition Coordinator, who offered personal assistance in arranging activities. If you have a number of requests (transportation, dinner reservations, golf tee times, spa, etc.) you may find it simpler to contact this coordinator for help. The email also pitched amenities for our arrival, including bottles of champagne ($197 for Veuve Clicquot), or a rose petal turn down service ($75). Not for us, but if you need it, these types of services are available. At the resort we used the Front Desk for all of our questions and assistance, from preferred hiking trails to mailing envelopes. There was never any waiting, and they always were able to help.
---
95 / A
ACCOMMODATIONS
The rooms we will describe as "Contemporary Southwestern", and featured dark woods, rich fabrics and light stones. The guest rooms are all 450-511 square feet in size, and all include the same set of amenities. Suites are available with approximately double the space. And if you would like something a bit more exclusive, consider the Casitas (from one to multiple bedrooms), which are short walk from the main hotel and are a nice option for those looking for a bit more privacy. The balcony (included with all guest rooms), is more than large enough for a table and two chairs, and we found a wonderful place to start the morning with breakfast, as well as relax at the end of the day as the sun set and the flautist played in the distance. Oh, and watch the bats fly around.
If you are thinking "Canyon View" means a view of wilderness, you may be surprised to find yourself having to first look past the pool area and villas before reaching the view of the surrounding canyon. Don't get us wrong, it's still a nice view…but it might be more reasonably be called a "Canyon and Resort View". The Canyon View rooms cost a bit more than the other views, which are of the mountains, partial resort, and the resort entry. Though we requested a quieter room at the timing of booking (which they can never guarantee), our room was above the Ignite restaurant and bar, which made it louder than we would have liked in the evening (hey, you have to get drunk and tell your golf stories somewhere I guess…). If you are looking for something more tranquil, be sure to request a room at the end of one of the wings of the hotel (learn the Ritz-Carlton Dove Mountain hotel map), or consider a room with a different view (though we did pass on a Mountain View room that overlooked the men's hot tub area in the spa (not kidding)).
Other features included:
One king bed
Two chairs and a small table
A 42″ flat screen HD TV
Small walk-in closet
A good sized bathroom with small television, large tub, double sinks, and separate rooms with opaque glass for a shower and toilet
iPod docking station/clock AM/FM/alarm
Ritz-Carlton branded soap, lotion and shampoo
---
88 / B+
POOL AND FITNESS CENTER
The pools are the main hub of the hotel during the day, and are open 24 hours a day if you are looking to cool off in the evening as well. The main pool is occupied mostly by adults, complete with chairs that sit in a shallow end, which is just the ticket for a relaxing afternoon. The second pool, located in a lower level of the resort adjacent to the main pool, is more family-friendly, featuring a water slide (fun for adults too) and multiple pool areas for kids and adults, along with surrounding cabanas. We found the staff slightly less attentive by the main pools, though we did appreciate the complimentary crushed ice treats they would offer. Both pool areas can get reasonably full during the days, and though we always found chairs available, the adults-only pool at the spa (see 'SPA', below) is worth considering if you want something quieter.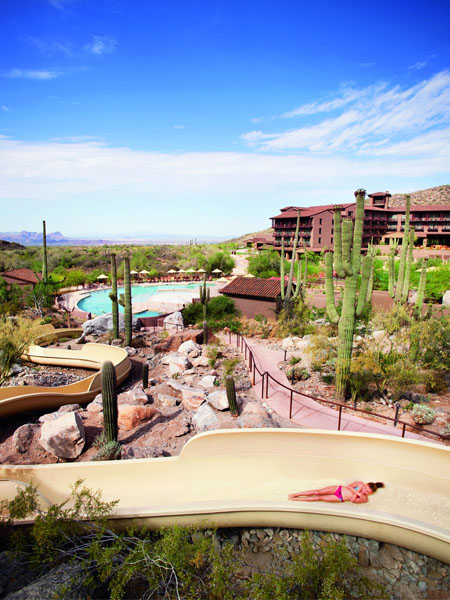 Click to enlarge
The hotel has a basic fitness center, consisting of an equipment room with cardio machines and weights, and an exercise room next door, both located just off the main lobby of the hotel and open 24/7 (not staffed). The equipment room is quite simple in look and feel, and is made up of 6 elliptical machines, 6 treadmills, 3 stationary bikes, 8 Precor machines, and dumbbells. Private personal training and yoga sessions are available (reservations required). Classes in the fitness room includes pilates and yoga, with water aerobics classes available in the pool. Neither the equipment room or exercise room offers much in the way of views. No locker room is attached, but the spa (and its locker room) is just a few steps away.
In addition to the fitness center and pool, there are also four tennis courts located next to the golf course just a short drive from the main building. Both the fitness center and tennis courts are part of the required daily "Resort Activity Package" fee (see details in 'Value', below).
---
92 / A-
SPA
The Ritz-Carlton Dove Mountain spa, while adjoining the hotel, has an independent entrance accessed by first exiting the hotel. The full use of spa facilities is available to guests who are having a spa treatment on that day or can also be purchased for $25/day. The staff kindly waived our fee for day use of the spa facilities the day following our treatment as we had booked the last massage time before close.
The spa features an entryway with a reception desk for checking in for appointments – a small assortment of retail goods are also available for purchase. The locker room includes both wet and dry saunas, an outdoor hot tub (with fireplace), and a quiet area with lounge chairs where patrons can relax and wait to be called for their massages. The hotel is curiously designed such that parts of it overlook the hot tub and spa areas. As a result, bathing suits are required in this area, even though it is not coed.
Outside of the locker room are the coed waiting area, treatment rooms, and a beautiful pool and hot tub set against the mountain. If you are looking to get away from the busier main pools, this is a wonderfully relaxing place to spend the day and we highly recommend it even if you aren't having a spa treatment. It was also phenomenal at sunset, when we had the place to ourselves just prior to closing. The spa has a limited food menu available, which allows guests to build their own lunch of a salad, sandwich/entrée and dessert, from a selection of light and healthy options.
Our largest complaint was the amount of sound that could be heard during the massage. All of the treatment rooms are unfortunately directly accessed directly from a small courtyard that guests pass through when leaving the locker room and walking to the spa pool. We could hear people talking right outside the room throughout our massage as they either stood in the courtyard or walked past. Though our massage was above average in quality (50 minutes for $150 or 90 minutes for $210), the noise was distracting throughout. The design seems very poorly thought out and is unlike any other spa we have visited, where treatment rooms are generally accessed through dedicated quiet hallways to minimize ambient noise. Compare this to our experience at the Encore spa in Las Vegas for example, which is significantly larger and has far more guests, but at which we could hear not a peep from adjoining rooms or hallway during our spa treatment.
---
90 / A-
PRO SHOP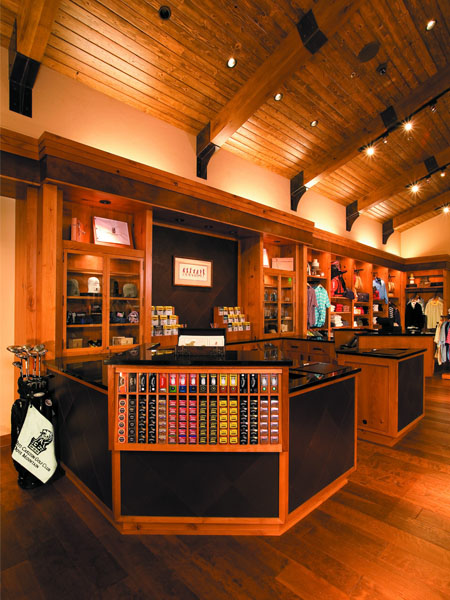 Click to enlarge
The Pro Shop, located within the Clubhouse is a good-sized facility with flat-screen televisions, a fireplace, and a good selection of hats, balls and clothing with the Dove Mountain logos. The Pro Shop seemed relatively lightly staffed during our stay, so there can be a bit of a wait to check-in for your tee time if other guests are loading up on Dove Mountain gear.
---
91 / A-
FOOD
Within the resort there are four main dining areas. This includes two restaurants within the hotel, (as well as a "To Go" bar), one just off the main pool, and another restaurant at the golf course. The environment, food quality and service among the restaurants varied widely, from the exceptional to the mediocre.
We didn't have an opportunity to try the sushi bar, available on Thursday, Friday and Saturdays, located off the main lobby next to Ignite, or TO/GO bar, which offers coffee, smoothies and other beverages and treats (everyone needs some gelato to cool off on a hot Arizona day), and regularly had a line of guests who were starting their day.

---

87 / B+

INTEGRATION WITH GOLF COURSE

A short drive down the road from the main hotel is the 27-hole Golf Club at Dove Mountain, home of the Accenture Match Play Championship.

Golf Club Storage: The bell team can transfer your clubs from the hotel for storage at the course. For our first day of golf, our clubs were waiting on carts as we arrived for our tee. The second day the clubs were still in storage, though the staff was quick to retrieve them.
Getting to the Course: The Golf Course and Clubhouse are just a few minute shuttle ride from the hotel. Shuttles run fairly regularly, though we found it always best to mention to the nearest staff that you are waiting for a shuttle. We had one occasion when we were left waiting for about 15-20 minutes at the Clubhouse (after multiple check-ins with the woman at the front desk of Cayton's restaurant at the Clubhouse). You can also drive to the course, but given the proximity, it is easier to simply take the shuttle.
Practice Facilities: The course offers a full practice range and multiple putting areas.

Oh, and if you are taken with the course but the hotel just isn't enough for you, there are numerous (and we do mean numerous – it was clear that the planned community around the golf course took a beating with the market) opportunities to purchase a lot right on the course at The Residences at The Ritz-Carlton, Dove Mountain. Just remember to send us a housewarming invitation.

---

92 / A-

VALUE

Our Canyon View room runs approximately $300-$525/night depending on the day of the week and the season. A required "Resort Activity Package" will add another $40 a night. This fee covers valet parking, shuttle service to the golf course and tennis courts, Wi-Fi access, and business center (again, someone needs to explain to us (and the FTC) why hotels think that we haven't caught on to their pricing smoke and mirrors). Room price generally varies depending on the available view. Room prices are certainly on the high end, and there are Suites offered that can break the bank, but in the world of Ritz resorts, this is about average. Resort fee taxes will bring your total for most guest rooms to a range of $400-$650 per night. If you're flush with Marriott points, don't forget Marriott and Ritz-Carlton are part of the same family, so points are interchangeable!

Click to enlarge

There are, of course, a number of packages available as well. We selected a breakfast package (which you can use at the CORE restaurant or for in-room dining). Take the time to do the math, as we have found that some hotel packages (and golf packages in particular) fail to provide any significant savings versus a-la-carte purchases. A tip to save a few dollars versus the packages or booking golf upon arrival: book your tee times in advance via the Ritz website and you'll be able to see the available times along with pricing (which can vary higher and lower even within a particular hour; for example, the 10:20AM tee time may have a higher price than the 10:10 or 10:30 time).

At an all-in price of $400/night for the least expensive room, the Ritz Dove Mountain stacks up reasonably in terms of value versus other high-end resorts. Given the location, odds are that most visitors to Ritz Dove Mountain won't leave the resort for the duration of their stay (Phoenix is a 45 minute drive away), so don't forget to factor in the other expenses that you will incur for food and extras. And toss in $25 or so a day for a more peaceful experience at the spa pool if you would like some quiet child-free time, which we felt was certainly worth the additional fee.

The service and well-maintained resort are what you are paying for when at the Ritz. Some may prefer a resort that is within striking distance of more activities and dining options, but for a long weekend of golf and spa treatments, the Ritz Carlton at Dove Mountain could be all that you need.

---