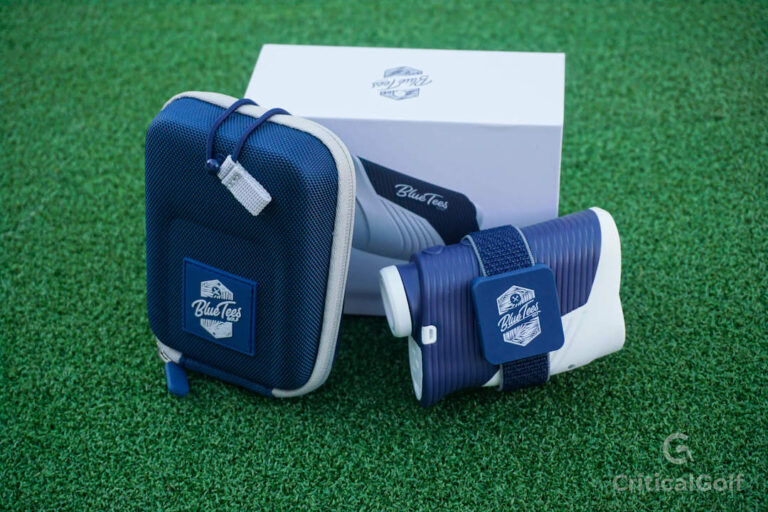 Yes, we actually test these items so we can recommend the best products—learn more about our process. This article may contain affiliate links. Read full disclosure statement.
If you have been searching for a rangefinder, chances are you have seen an ad for a Blue Tees Series 2 Pro Rangefinder. The marketing from the Blue Tees brand is quite strong. They have created some relationships with professionals and celebrities to promote the Blue Tees brand. If you are wondering if the product can support all of this strong marketing, we have all the information you need.
Precise measurements, especially from 200 yards and in 

Slope measurement 

Can easily turn slope off 

Long range capability up to 800 yards 

Accuracy of +/- 1 yard 

Flag lock technology 

Water-resistant casing

Magnetic strap to help attach to the cart 

Fits well in the palm of your hand
No built-in magnetic strip in the Series 2 Pro 

Functionality is not that much different than other value brand rangefinders
Blue Tees Series 2 Pro Review Overview
When I received the Blue Tees Series 2 Pro, I was quite impressed with the unboxing experience and how impressive this overall product is presented. In fact, for the pricing, the unboxing experience feels more like a premium product. If a new golf gadget easily hypes you up, this one will do the trick. The performance of the product on the course is just as good. The rangefinder has a long range, vibration lock, and slope functionality.
Blue Tees Series 2 Pro: Features and Benefits
The Blue Tees Series 2 Pro features all of the basic functionality that you would expect from a rangefinder. In addition, the durability and speed of the Series 2 from Blue Tees are quite good. Overall, customers will be impressed with the value and technology the Series 2 has to offer.
Accuracy From 800 Yards
Personally, I have never hit an 800-yard shot truly I've never needed yardage outside of about 230 yards, but this is a nice functionality to have. When you are playing a golf course for the first time, the long range can make it easier to see what you have ahead of you. 
I wouldn't buy this rangefinder because of the long range capacity, but it is an excellent overall feature.
Slope Technology
I found the slope technology on the Blue Tees Series 2 Pro to be accurate. From 100 to 200 yards, it seemed to be accurate to within one yard. From less than 100 yards, I found it to be directly on. Something like a Bushnell or Nikon may give you a bit more accuracy, but the pricing will be double what the Blue Tees Series 2 is.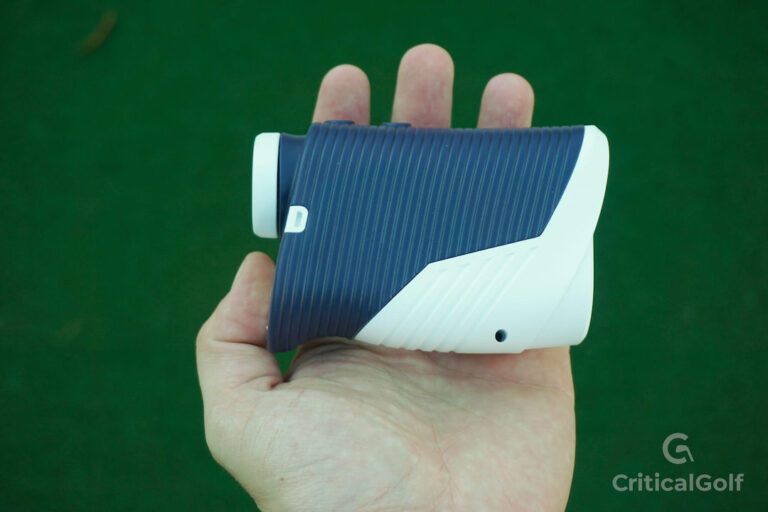 Vibration Lock
The vibration lock technology is helpful for those who struggle with locking in on a target. The Blue Tees Series 2 will offer vibrating pulses to let you know you have found your target. The technology is not visual jolt, so you can't see that you have hit the target; just pay attention to the feel of the rangefinder, and it is rather accurate. 
Durability 
Many of the features of the Blue Tees Series 2 are similar to value brand golf rangefinders; however the casing seems a bit more durable. With durability like this, you will have no trouble keeping this rangefinder in the bag for a few years. The cover is water resistant, we would not drop it in a bucket of water, but if you run into a rain shower, you should not lose functionality.
Magnetic Strip Included 
Unfortunately, the magnetic strip on the Blue Teese Series 2 Pro comes as an attachment, and it is not built in. Overall we found the functionality of the strip to be good, but the fact that it is not built feels like kind of an afterthought. If you are a stickler for good magnetic technology in a rangefinder, this is may be a hangup. 
Direct To Consumer 
The Blue Tees Series 2 is something that you're less likely won't find in a golf shop. This company's model is an eCommerce first approach that will sell directly to the consumer. While it can be annoying to not find it ina. store, by eliminating the middle man in the buying process, golfers can expect to save quite a bit of money. The Series 2 Pro seems to be fairly priced, all things considered.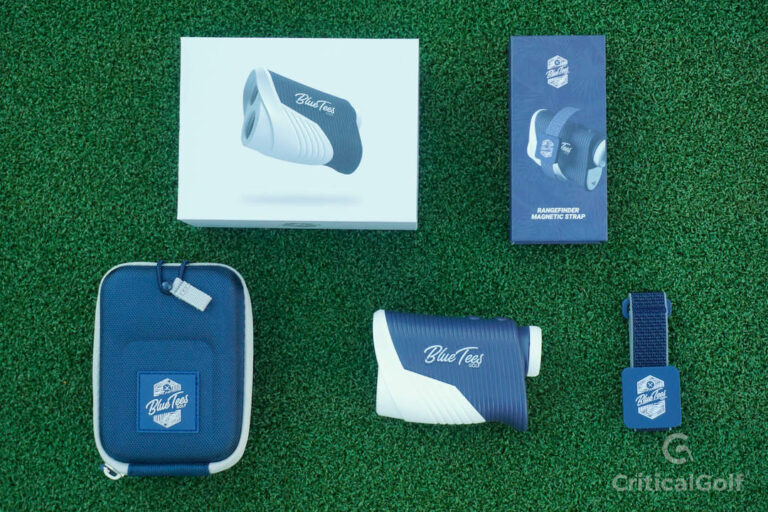 Who Should Buy The Blue Tees Series 2 Pro Rangefinder?
Now that you have an idea of what helps the Blue Tees Series 2 Pro stand out, it's time to figure out which golfers should be using this rangefinder. The pricing of the Blue Tees Series 2 Pro is fair, making it one of the best values on the market. 
The golfer with a tight budget:

The Blue Tees Series 2 Rangefinder is a great option for impressive technology on a budget. Blue Tees is a direct-to-consumer model, so you will pay a bit less money than some of the other brands that mark their product up to sell it in a golf shop. 

Golfers that have never had a rangefinder:

If you have never had a rangefinder before, the functionality, features, and even the slope technology can open your eyes to the benefits of a laser rangefinder. Those that are new to rangefinder technology may not need all the bells and whistles of a premium priced rangefinder. 

The mid-handicap golfers:

Many golfers get a bit carried away with the information they need before they can swing a club back and actually hit a shot. Mid handicap players especially struggle with overcomplicating things. The Blue Tees Series 2 Pro makes club selection simple. You can get a quick yardage, have confidence it is accurate, and then swing with authority. 
Is The Blue Tees Series 2 Worth It?
The Blue Tees Series 2 is worth the money. This is an affordable model with great accuracy, quick readings, and some durability built-in. Investing in a Blue Tees Series 2 is smart for the average golfer who wants to hit the ball closer to the hole. The fact that Blue Tees sells directly to the player helps ensure that the pricing for this unit stays fair. I would like to see a couple of improvements, namely a built-in magnet, but if you aren't quite ready for the high-end golf rangefinders on the market but want accuracy Blue Tees is a good option.
About Critical Golf
Launched in the spring of 2009 to shed light on the confusing world of golf equipment.

Our testing staff includes players ranging from low to high handicappers to provide perspectives relevant to all golfers, regardless of ability level. Each product is tested by all staff members to give you the best insight possible.