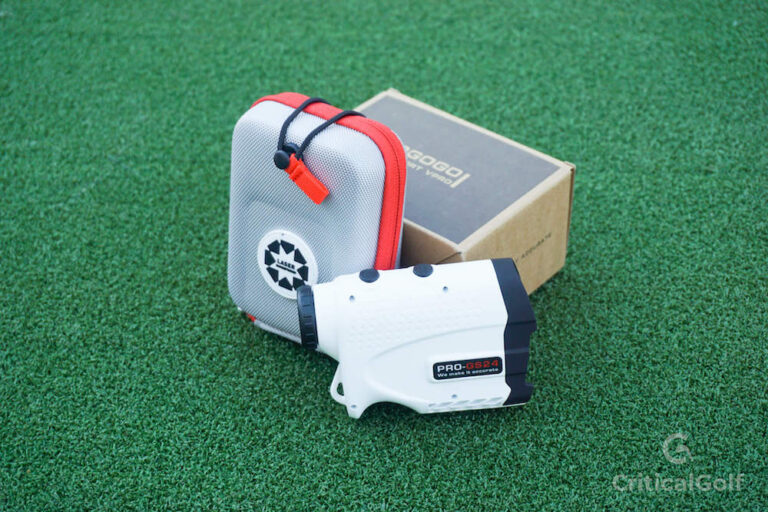 Yes, we actually test these items so we can recommend the best products—learn more about our process. This article may contain affiliate links. Read full disclosure statement.
The GoGoGo GS24 is one of the best value golf rangefinders on the market. The pricing on the GoGoGo helps it stand out, but many golfers worry that the price is too good to be true. The good news is we have tested the GoGoGo GS24, and it is a great rangefinder for the money. There are positives and negatives, just like you will find with any rangefinder, but overall the GoGoGo Pro-GS24 is a model that golfers serious about accurate yardage should consider
Slope technology for a low price

Flagpole locking function from 150 yards and in 

Bright and clear image

Powered by triple A batteries that are easy to replace 

Clean looking case that protects well 

Reads to the tenth decimal 

Magnet technology 

Adjustable scope 

One year warranty
Need to purchase the TL model for use in tournaments 

Large size is tough for those with small hands 

Slightly less durable than premium models 

It can be tough to fit in the case
GoGoGo GS24 Review Overview
The GoGoGo GS24 is a value priced rangefinder with a range of 650 yards and accuracy to within one yard. The GoGoGo GS24 even manages to include slope technology for this very fair price. The Tournament legal version comes with a slope on and off function, and that will cost you a few extra dollars. We love the overall functionality of the GoGoGo GS24 because of the accurate readings, durability, and clear images that it produces.
GoGoGo GS24

: Features and Benefits
Overall the technology that you get packed into a rangefinder in this price range makes the GoGoGo GS24 a very easy purchasing decision. Here are a few of the highlights that you should understand about the GS24 and what it has to offer.
Cost Effective Golf Rangefinder
Some laser golf rangefinders are more than $500, and others are less than $100. The difference in pricing is usually related to the accuracy and the overall functionality and features of a rangefinder. For some great players and those serious about technology, this will make a big difference. However, there are plenty of golfers that are more than satisfied with simple yardage to the pin and overall accuracy. 
The GoGoGo GS24 is the most cost-effective option that also has slope technology. WIth accuracy as far away as 650 yards and readings that even offer a decimal, the value you get here is one of the best around. 
Slope Mode
Slope mode on the GoGoGo GS24 works quite well; it is just a little slow. Getting readings to the nearest decimal is a great thing, but it takes the rangefinder a bit longer to calibrate these readings. 
If you play in golf tournaments, often make sure that you purchase the TL model that allows you to turn slope on and off. 
Accurate Readings
The total range on the GoGoGo GS24 is 650 yards. However, from within 150 yards, you will find the most accuracy. This is where the flagpole locking function starts to kick in. With 6x magnification and the flagpole locking, players have no problem feeling confident about the yardages that they get.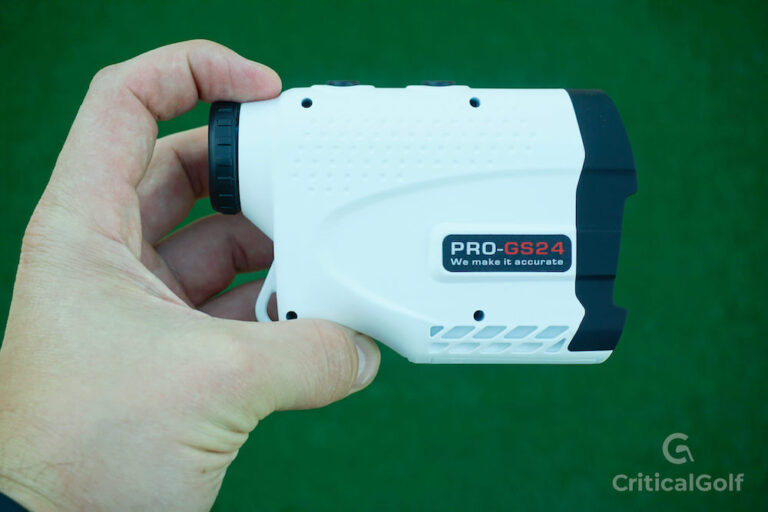 Adjustable Diopter 
Many golfers that are shopping for rangefinders in the budget category will realize that adjustability is not always an included feature. Pretty much what you see is what you get. An adjustable diopter ensures that you get a very clear image and something that looks good to your eye. One of the biggest complaints about rangefinder technology is the ability to see through the lens clearly, but with the GoGoGo GS24, you can customize this to your needs. 
Triple A Batteries
This may seem like a simple feature, but you will find it important over time. The Triple A Batteries are much easier to find, and it's easy to keep a pack of these in your golf bag should you need them. Most rangefinders have small, expensive lithium batteries that are not as easy to come across. The triple A batteries will save you time and money in the long run.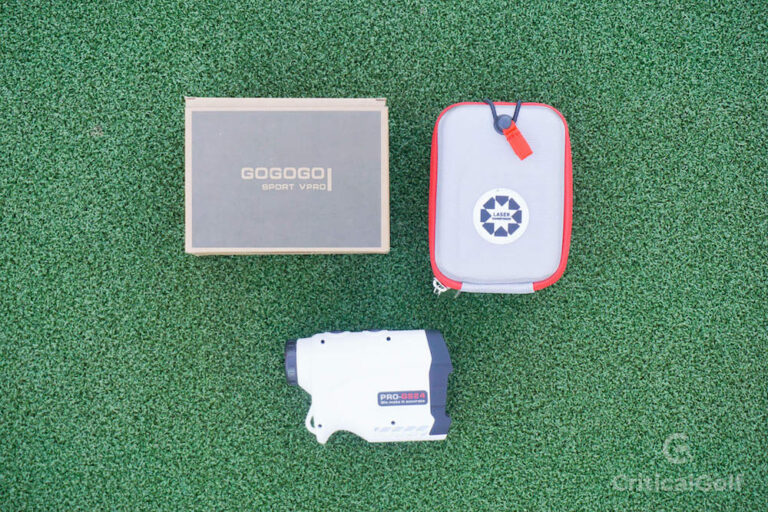 Who Should Buy The GoGoGo GS24 Rangefinder?

As you can probably tell, I was pretty impressed with my experience using the GoGoGo GS24. If you want the technology but don't want to pay for it, this is without a doubt a great option to consider. Here are the players that will benefit the most from the GS24. 
The golfer on a budget:

Some rangefinders will cost as much as a new driver. If you would rather get that new driver but still be able to see how far your approach shot is to the green, the GoGoGo GS24 is a great option to consider. This model helps you feel as though you are not restricted by your budget and instead can perform with complete confidence. 

Players that find slope technology beneficial but too expensive:

Slope technology is a great way to become a more accurate player. However, the slope technology comes with a price tag. If you like the slope functionality but don't want to pay for it, the GoGoGo GS24 is a great solution. Accurate slope readings in this price range can be hard to find. 

The avid golfer:

Golfers that play often will enjoy the fact that this model has triple A batteries. The batteries are cheaper to replace and easier to find when you need them. Overall the GoGoGo GS24 will last a long time before batteries need to be replaced.

 
New golfer:

If you are new to the game of golf, it is important to have a rangefinder. The information can help you obtain accurate yardages for all of your golf clubs. The GoGoGo GS24 is a perfectly priced option with all the technology a new player needs.
Is The GoGoGo GS24 Worth It?

The GoGoGo GS24 rangefinder is well worth the money. This is one of the best-priced options on the market, with great accuracy and a range that is long enough for any average golfer. Whether you are a low or high handicap player, you will benefit from what the GoGoGo GS24 has to offer.
About Critical Golf
Launched in the spring of 2009 to shed light on the confusing world of golf equipment.

Our testing staff includes players ranging from low to high handicappers to provide perspectives relevant to all golfers, regardless of ability level. Each product is tested by all staff members to give you the best insight possible.