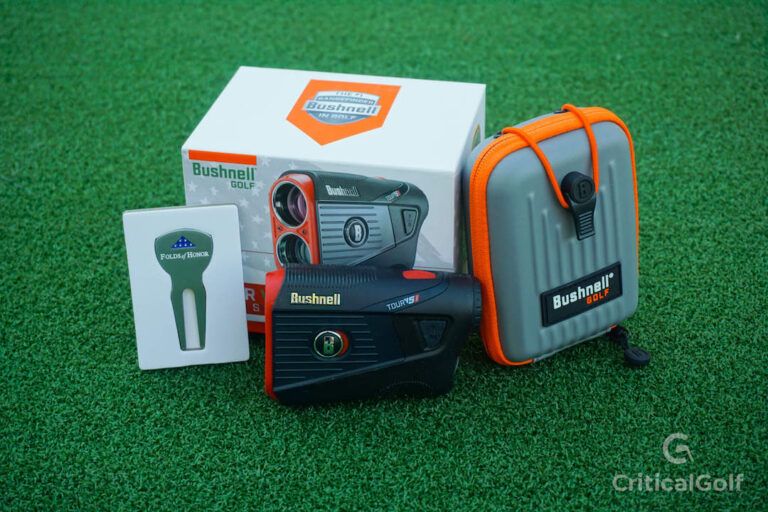 Yes, we actually test these items so we can recommend the best products—learn more about our process. This article may contain affiliate links. Read full disclosure statement.
The Bushnell Golf laser rangefinder is known among most golfers as being the best on the market. Although there are some great options from Garmin and Nikon, it's sort of an unwritten rule that Bushnell Golf is the best.  
After trying the new Bushnell Pro XE, I thought it made sense to give the new Bushnell Tour V5 Shift a shot as well. This model is considerably less money and seems to have many of the same features. While it's a little more than the Tour V4 was, as I expected, Bushnell did not disappoint.
Slope and non-slope mode

Advanced slope formula for more accuracy 

Built-in magnet

Fairly priced when compared to other Bushnell rangefinders

Slightly smaller fit in the hand 

Simple to use and setup 

Patriot Edition comes with a repair tool and impressive packaging 

Pinseeker with a visual jolt 

Measures in both meters or yards 

Fast and accurate measurements
Not waterproof

Does not have Slope with Elements technology (like XE)

Does not offer the red ring scope graphics
Bushnell Tour V5 Shift Review Overview
The Bushnell Tour V5 Shift is what you would consider more of an average rangefinder from Bushnell. This does not have all the features and functionality of a Bushnell Pro XE, but it certainly has better technology than a cheaper off-brand rangefinder. 
The Tour V5 Shift is for players that are looking for a good reading of slope compensation, the slope switch technology and top-notch slope algorithm will deliver. While it's going to offer a different experience than something like the Phantom 2 golf GPS, it's accurate readings, and quick information about the hole they are playing. This is a very straightforward model that you can learn to use in a matter of seconds. 
One of our favorite features of the Tour V5 Shift is the fact that the unit is magnetic and will easily attach to your golf cart. The body is durable, and you can tell that this product was made with very close attention to detail. Let's dive into the specs.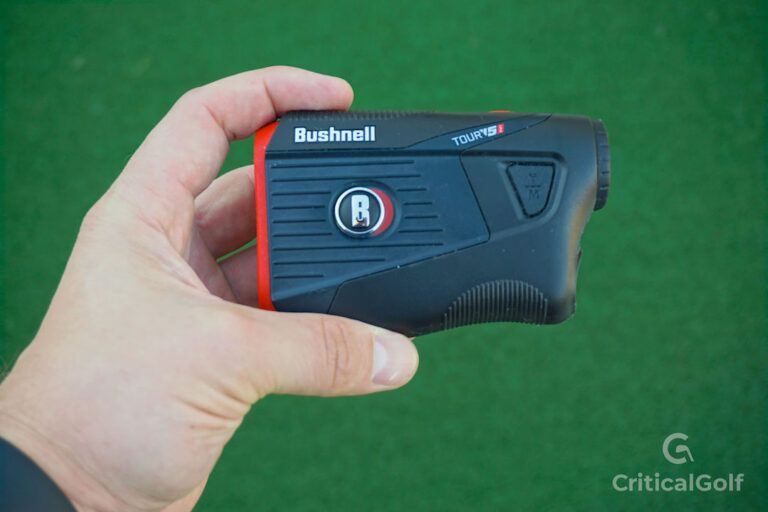 Bushnell Tour V5: Features and Benefits
For those that have been playing with a laser rangefinder for quite some time, the Bushnell Tour V5 Shift will easily check the boxes of what you are looking for with this type of technology. Our favorite features, however, are the quick reading times, magnetic cart mount, and overall ease of use.
Quick Yardage Readings
Getting the perfect yardage is essential; in fact, it is something that golfers have become very accustomed to. However, there is a major slow play issue involved in yardage readings. For years we were pacing off yardages, and that took some time. Then the simple point-and-shoot rangefinders came to the market, which made things a little faster. 
Today the technology has gotten so impressive that it can actually slow things down again. We love the fact that the Tour V5 gave us one of the fastest readings around. Picking this model up and getting yardage truly takes a matter of seconds. 
If you don't like too much digital technology or being bogged down by accessories and gear on the golf course, this is a great rangefinder.
Pinseeker With Visual Jolt
The Bushnell Tour V5 Shift gave me no trouble when trying to narrow down my target. I always felt as though I could trust my yardages. With accuracy under a yard, 6x magnification in the scope, and the Pinseeker with Visual Jolt technology makes it easy to see exactly what your yardages are and what you need to do to get your perfect number. The feedback is nice to have when you're trying to lock on a pin in with some background objects.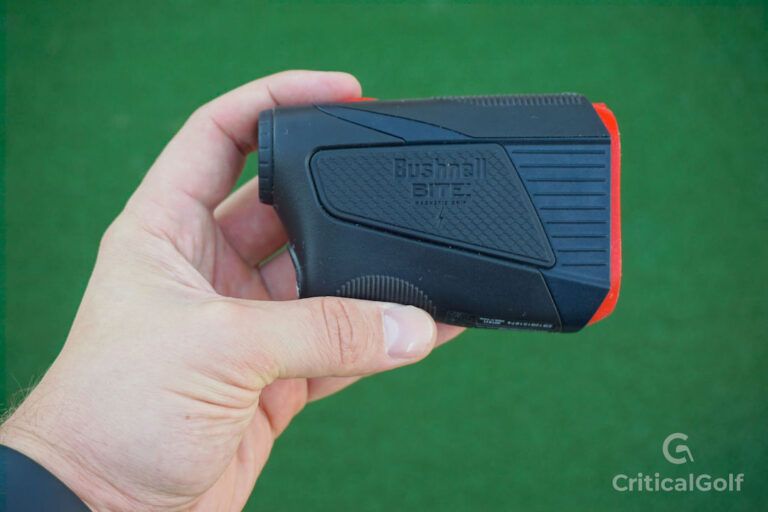 Magnetic Cart Mount
As far as I'm concerned, every rangefinder from here on out should be made with a magnetic cart mount. I'm a stickler for this, but the convenience of this technology makes it a must-have. It's one of my only complaints about Bushnell's competitor, the Nikon CoolShot.  But the Tour V5 checks this box with it's bite magnetic cart mount on a casing that is quite durable, and a magnet is strong enough that I was not worried about it shaking off the cart bar and ending up lost.
Simple Features
The Bushnell Tour V5 Shift does not have the most advanced features of all Bushnell models like the Pro XE has Slope With Elements and other advanced technologies, however, sometimes simple can be better.
When you take the Tour V5 Shift out of the box and it's premium carry case (see all items included in the Patriot Pack below), it will take you a matter of a minute or so to get it customized and up and running. There are really not too many options as far as functionality and features are concerned. 
This stood out to me as a positive. As a golfer who really likes to get a number I trust, I was impressed with Bushnell's technology in the Tour V5 Shift.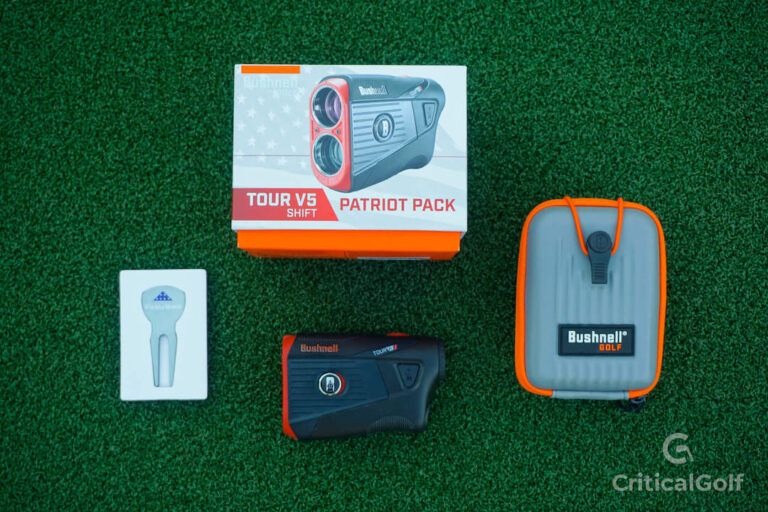 Who Should Buy The Bushnell Tour V5 Shift Laser Rangefinder?
Now that you have a better idea of what the Bushnell Tour V5 Shift is capable of let's look at the golfers that should be using this technology. After all, with the number of rangefinders on the market, you should play with something that is a specific fit for your needs.
The Tournament Play Golfer: switching in and out of slope and non slope mode with the Bushnell Tour V5 shift is quite simple. If you play in tournaments and want a tool that helps you prepare and complete the Tour, V5 Shift is a great option. You even see the PGA tour players pulling this one out in practice rounds.  

Golfers that want simplicity and speed: the Bushnell Tour V5 Shift is fast, and it gives you a yardage you can trust. If you are not interested in green flyovers or how the barometric pressure impacts your slope, reading the Tour V5 shift is a great option.

The avid golfer: Bushnell makes products that are built to last. In fact, this company simply assumes you play golf every day. If only they were right! If you play a lot of golf and need something with durability and functionality, this is a great choice.  

The smart shopper: the Bushnell Tour V5 shift is considerably less expensive than some other Bushnell models. With the Tour V5 shift, golfers can save money but not really sacrifice anything as far as technology is concerned. Couple that with Bushnell's two-year warranty and you can shop confidently.
Is The Bushnell Tour V5 Shift Worth It?
The Bushnell Tour V5 Shift is well worth the money you will pay. This company has been on the market for quite some time, and they are serious about the products and technology that they release to the market. Whether you are a high or low handicapper, a tool like the Bushnell Tour V5 Shift rangefinder can help you play your best golf. One of our favorite things about this model is the fact that you won't have to sacrifice much to save a considerable amount of money. This may be considered more of a value model from Bushnell Pro XE, but the technology and performance are there.
About Critical Golf
Launched in the spring of 2009 to shed light on the confusing world of golf equipment.

Our testing staff includes players ranging from low to high handicappers to provide perspectives relevant to all golfers, regardless of ability level. Each product is tested by all staff members to give you the best insight possible.