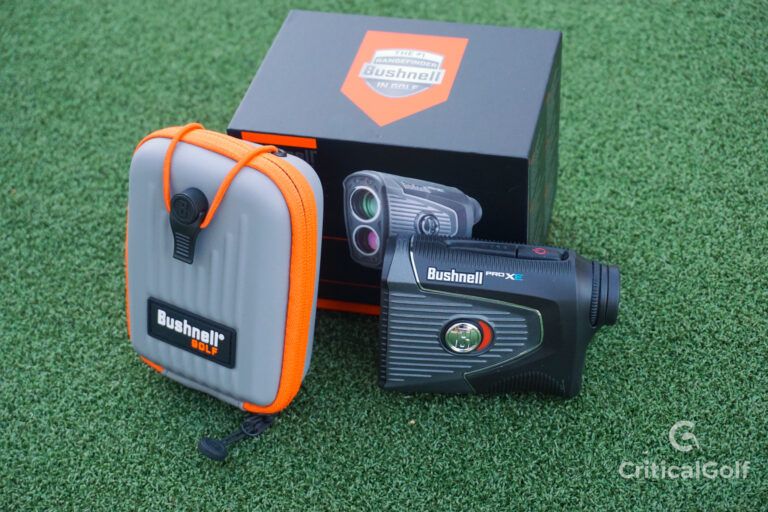 Yes, we actually test these items so we can recommend the best products—learn more about our process. This article may contain affiliate links. Read full disclosure statement.
If you are a serious golfer, you know the Bushnell name. Check out our Bushnell Pro XE review to learn why Bushnell is the strongest and most recognized brand name in the golf laser rangefinder market. Their latest rangefinder, the Pro XE is a newer release from the company, and it features some technology that we have not seen before.
If you are wondering whether you should upgrade your Bushnell or if it's time to finally invest in one of the best rangefinder brands on the market, we have you covered. Let's take a look at the Bushnell Pro XE.
Some of the most accurate distances on the market 

Pin locking feedback 

BITE Magnetic cart mount 

Slope with elements- advanced yardage detection

Tournament mode for non slope rounds

Very easy to use 

7X magnification 

Bushnell Golf is a leader in rangefinder technology

 
Premium golf rangefinder technology comes at a high cost 

One of the heavier rangefinders on the market
Bushnell Pro XE Review Overview
The new Bushnell Pro XE is the premium rangefinder from Bushnell. There are two very important features to look for when purchasing a rangefinder, and they are accuracy and visual clarity.
The Pro XE excels in both. 
Slope with Elements is a new technology released with the Pro XE that provides golfers a slope compensation that takes into account elevation, barometric pressure, and temperature. This is a technology that we have not yet seen in a rangefinder. 
The Bushnell Pro XE is a premium rangefinder priced at the top of the market. However, it has some great features and functionality to offer for the price.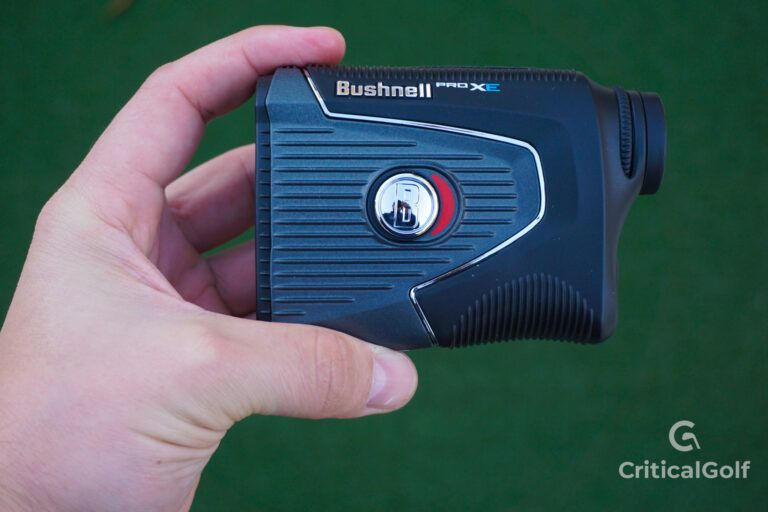 Bushnell Pro XE: Features and Benefits
The Bushnell Pro XE has advanced functionality, yet it is very easy to use. This is not a complicated technological device; instead, it has excellent features where golfers need it the most. In our Bushnell Pro XE review, we'll take an in-depth look at this top of the line rangefinder to help you determine if it could be the right one to work for your needs
Visual Jolt
Finding a pin with a laser rangefinder can be tough work. Many golfers with an unsteady hand or poor vision struggle to get accurate yardages. With the Bushnell Pro XE, you will always know when you are on your target. 
When the Bushnell Pro XE is in "play as" mode, simply scan over your target, point, and shoot. The Bushnell Pro XE will vibrate to let you know that you have indeed found the pin. With 7x magnification and the visual jolt, you will have no reason to question your yardages. 
Fully Waterproof
The Bushnell Pro XE is a fully waterproof design. In fact, in addition to being waterproof, the exterior housing of the Pro XE is also really durable. The rangefinder features the BITE Magnetic Cart Mount technology that allows you to simply place the rangefinder on the metal bar of your cart and drive from one hole to the next. 
We found the magnet to be incredibly strong. Even when going around corners or over bumps, you will have complete confidence that your rangefinder will not fall off. If it starts to drizzle while playing, there is no need to hide your Bushnell Pro XE. 
In fact, with the Slope with Elements technology, you are going to want to keep the Bushnell Pro XE within reach. As the barometric pressure changes, the Pro XE will adjust your "play as" yardages.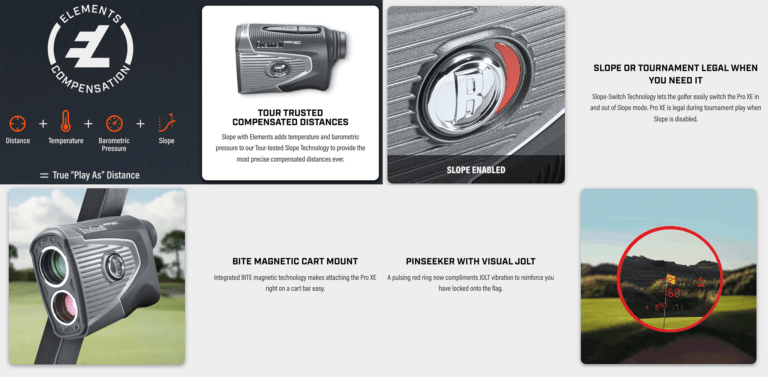 Elements Feature 
Slope With Elements takes rangefinder slope technology to an entirely new level. With the Elements functionality in play, Bushnell takes into account the barometric pressure as well as temperature when they are giving yardages. 
This is obviously only used in the slope mode, and it will simply display as another yardage within the scope. You will see this yardage displayed as a "play as" yardage, sometimes it can be hard to see when looking through the scope, but it's a number you will want to consider. 
Carrying Case 
When you get your new Bushnell Pro XE sent to you, the packaging is actually quite impressive. As you open it, you will notice that there is a nice carrying case with plenty of room to store a cleaning cloth and an extra battery. 
Although the Pro XE has excellent durability, we do recommend storing it properly when you are done for the day. With a rangefinder in this price range, you won't want to risk something happening to it. 
Slope Mode & Tournament Play 
If you play in many tournaments and events, you won't have to worry about the slope compensation technology on the Bushnell. Simply press a button to turn tournament mode on and off. 
Having this feature helps to ensure that the Bushnell Pro XE is a rangefinder solution for any round of golf. 
Visual Clarity and 7X Magnification
If you have a hard time seeing the target when using a rangefinder, the Bushnell Pro XE could be a good fit for you. The orange scope lines stand out really well and help you narrow down the target. In addition, the 7X magnification is one of the strongest on the market. 
Like any laser rangefinder, the closer you are to the target, the more accurate your yardage will be. However, overall the Bushnell Pro XE is highly accurate and easy to read.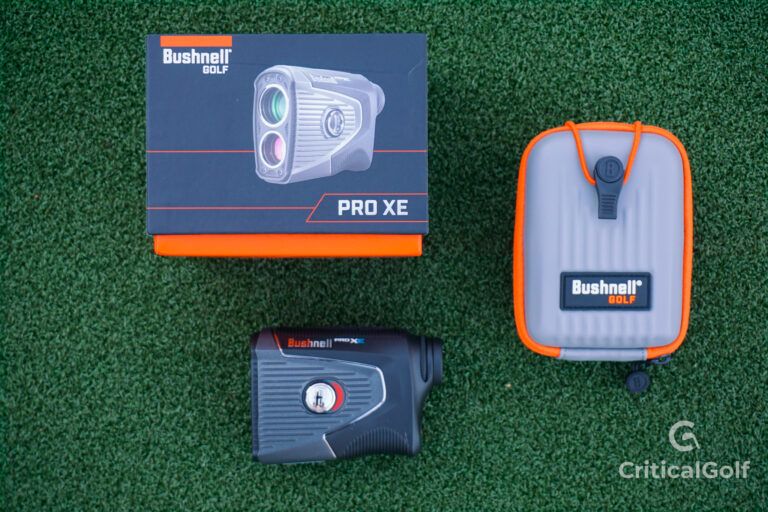 Who Should Buy The Bushnell Pro XE?
With the advanced features of the Bushnell Pro XE, there are a few players that will benefit from adding this rangefinder to their golf accessories. 
Serious Golfers

: low handicap players looking for the most accurate yardages and the durability to last year after year 

Golfers willing to pay a for quality equipment

: the Bushnell Pro XE is not cheap, but if you have the money to spend, this is probably the best overall rangefinder you can get 

New players trying to learn yardages

: when you are new to the game, it's hard to figure out how far you need to hit each of your clubs; the Bushnell Pro XE will teach you about how slope and weather impact your ability to play 

Shaky hands and blurry eyes

: if you have had trouble with other laser rangefinders and narrowing down the target, the Bushnell Pro XE gives you the Visual Jolt technology to ensure you can trust your number
Is The Bushnell Pro XE Worth It?
The Bushnell Pro XE rangefinder has everything you could ever want in a rangefinder and more. However, this comes at a price. We can't tell you that this is the most accurate rangefinder on the market, but it indeed sits among the top three. The key here is whether or not you will benefit from the BITE technology or the Slope With Elements. If you see those things as beneficial, the Bushnell Pro XE is worth it.
About Critical Golf
Launched in the spring of 2009 to shed light on the confusing world of golf equipment.

Our testing staff includes players ranging from low to high handicappers to provide perspectives relevant to all golfers, regardless of ability level. Each product is tested by all staff members to give you the best insight possible.