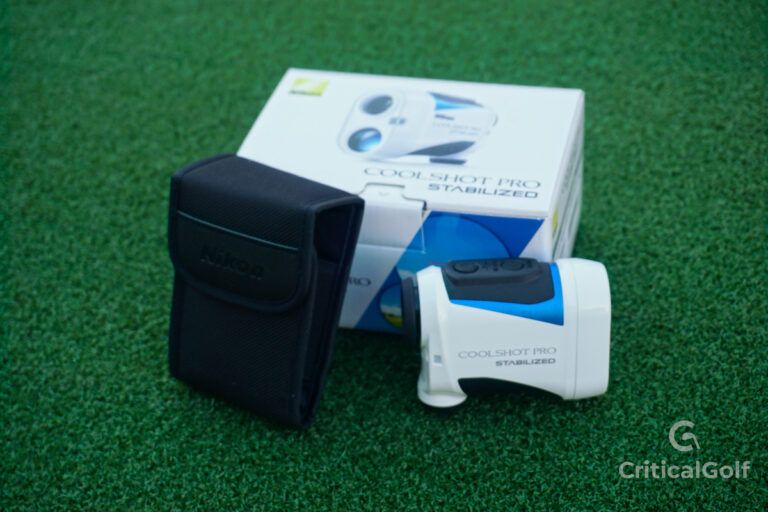 Yes, we actually test these items so we can recommend the best products—learn more about our process. This article may contain affiliate links. Read full disclosure statement.
When testing out rangefinders, it is important to look for stability in the hand and accuracy in the yardage. Nikon is known for having some impressive features in both categories. Although we always try to compare rangefinders with an open mind, we were specifically interested to see how the Nikon rangefinders compare to the Bushnell.  Overall, I liked the Nikon Coolshot a lot and it nearly made it's way into my bag full-time.  There are a few drawbacks that buyers should be aware of, but this is a rangefinder that will leave most golfers impressed.
Very clear display with advanced pin identification

Very accurate rangefinder  

Lightweight fits in the palm of your hand 

External LED Showing that Slope Mode is turned off

Pristine optics and clear crosshairs on the scope 

Stabilization technology to help golfers lock in on the pin

Waterproof casing 

Fogproof rangefinder

5-year warranty
Does not have built-in magnet 

Can be hard to program and set initially
Nikon Coolshot Pro Stabilized Review Overview
The Nikon Coolshot Pro Stabilized is the first rangefinder to really deal with the elephant in the room; the shaky hand. 
There are lots of reasons that golfers can get a shaky hand, and many are out of our control. If you have ever tried to shoot a pin and saw "87", "192", "215", "48" all show up within seconds of each other, you know exactly what I mean. 
With the stability of the Nikon Coolshot, I felt like I could narrow in on any target and get a number that I felt confident with. After all, what good is a rangefinder if you don't feel confident with the number you get? 
In addition to the stabilization, the Nikon Coolshot Pro Stabilized has very accurate readings, tournament and non-tournament mode, and excellent visuals, all packed in a nice little handheld (one of the smallest/lights on the market).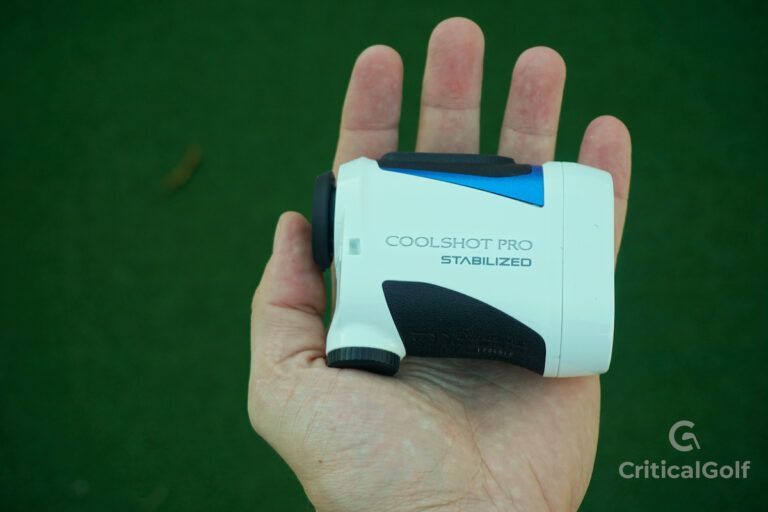 Nikon Coolshot Pro Stabilized: Features and Benefits
Let's take a look at the individual features that the Nikon Coolshot Pro Stabilized Rangefinder has to offer. The Nikon is one of the more premium rangefinders on the market, and the technology that it features undoubtedly stands out from the crowd.
Stabilization Technology
It is very easy to find and lock in on your target with the Nikon Coolshot. The stabilization technology is unique to Nikon. If you know anything about the Nikon brand, you know how good they are at capturing images, and the stabilization technology in the rangefinder comes from this same camera lens technology. 
When I look through the Nikon Coolshot, the picture is incredibly clear; I can easily find my target and feel confident about the number I get. Not once did I have a hard time getting a yardage I trusted.
Slope On and Off
The slope feature on a rangefinder is a must, however, for tournament play, the slope needs to be turned off, and that was relatively easy to do with the Nikon Coolshot. There is an external LED light letting competitors know that your rangefinder is in tournament mode. For those that play in a lot of events, this rangefinder will do the trick.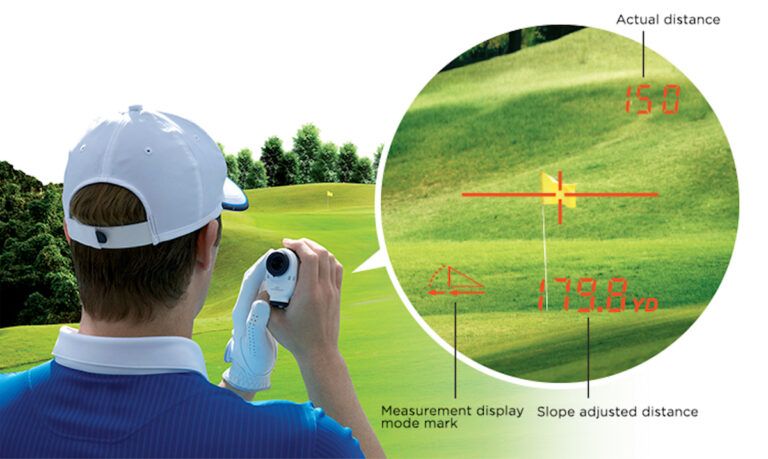 Accuracy
The accuracy of the Nikon Coolshot Pro Stabilized gets better the closer you get to your target. However, from less than 700 yards, it has an average accuracy of within .75 yards. This is incredible and one of the only rangefinders on the market to take the accuracy within the one yard range. Outside of 700 yards, you will find accuracy closer to about 1.25 yards. Tough news for all those players hitting over 700 yards off the tee! 🙂 
Although the Nikon Coolshot has a premium price tag associated with it, this is one of the situations where you get what you pay for.
Brightness and Visuals
Overall looking through the Nikon Coolshot is like looking through a high-end camera lens. There are settings for brightness and display that were a bit difficult to figure out initially. However, once I got the settings the way I wanted the information saved, I shouldn't have to set it again. 
Give yourself a few minutes to get this rangefinder set exactly to your specifications, and then you can benefit from it for years to come.
Waterproof Not Water Resistant
There is a big difference in the world of golf between waterproof and water-resistant. Water-resistant golf products do a decent job of repelling water, but they will not always protect the electronic device completely. 
The waterproof technology, however, means that you can get caught in a terrible rainstorm and not have to worry about the future of your Nikon Coolshot. To me, this is a big benefit as I don't want to replace a rangefinder in this price range or any rangefinder for that matter.
Warranty
The Nikon Coolshot Pro Stabilized comes with a 5-year manufacturer's warranty. Although we didn't think the case on the rangefinder was overly durable, it was plenty strong enough for the golfer that is conscientious with their gear. This warranty is long, and it says something about what Nikon thinks of this product.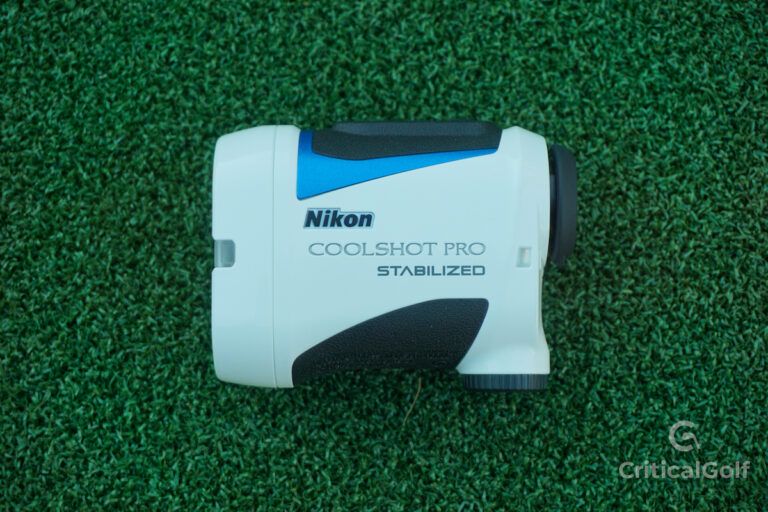 Who Should Buy The Nikon Coolshot Pro?
With the advanced features of the Nikon Coolshot, there are a few players that will benefit from adding this rangefinder to their golf accessories. 
Golfers that play a range of golf courses: if you are a player that enjoys a variety of golf courses, the Nikon will help give you a clear view and yardages you can trust, something any player could benefit from on an unfamiliar golf course.
Shaky hand golfers: having a shaky hand will make it challenging to get the exact yardage you need; with the Nikon Coolshot Pro, the stabilization technology counteracts your shake and gives you yardage to trust.
Poor Vision golfers: With Nikon using the technology from camera lenses to help ensure you have a clear view out of the rangefinder, even those with vision trouble can use this rangefinder.
Golfers that Play In Tournaments:

The Nikon Coolshot features slope technology that can turn on and off; the LED light on the unit's exterior will let others know that you are using the rangefinder legally.

Any golfer that wants a top-notch rangefinder

The Nikon Coolshot Is a great range and one of the favorites I tested, period
Is The Nikon Coolshot Pro Worth It?
Now that you have a better understanding of the Nikon Coolshot, you probably have figured out that this is an excellent rangefinder. In fact, if this rangefinder had magnetic technology to help attach it to the cart, it would be my favorite rangefinder. Although this model has a premium price point, the stabilization technology and clear images are worth it. For golfers that have struggled with using a rangefinder because of vision, stability, or even accuracy, the Nikon Coolshot Pro is a perfect option.
About Critical Golf
Launched in the spring of 2009 to shed light on the confusing world of golf equipment.

Our testing staff includes players ranging from low to high handicappers to provide perspectives relevant to all golfers, regardless of ability level. Each product is tested by all staff members to give you the best insight possible.