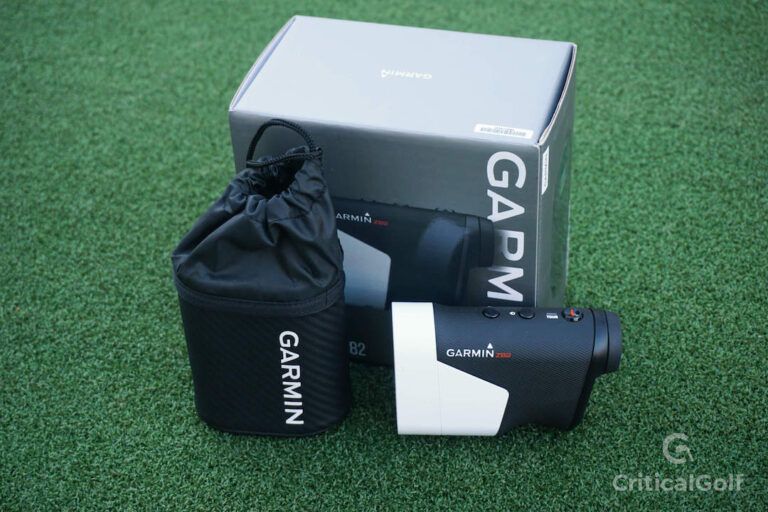 Yes, we actually test these items so we can recommend the best products—learn more about our process. This article may contain affiliate links. Read full disclosure statement.
Some rangefinders are known for accuracy, others for a clear view, and some for their speed. The Garmin Z82 Rangefinder is known for being a mini-computer! This combination rangefinder and GPS unit will give you more information than you may know what to do with. I can tell you that I was highly impressed with the Garmin Z82, but whether or not you need all of this technology on the course is going to be a personal question. Let's take a look at what I liked and disliked about the Garmin Z82 so that you can decide if this would be a good option for your game.
Accuracy to within 10 inches of the flag from over 400 yards away 

Vibration feedback when you lock in on the pin 

Full-color course mapping

Preloaded with 41,000 courses across the world 

Easily identify on-course hazards

It gives golfers a location to the pin, front, middle, and back 

Has Slope mode

Find my Garmin technology in case you lose the rangefinder 

An impressive brand with a strong warranty 
Needs be charged relatively often

Screen can be a little jumpy 

More expensive than a new driver! 

Advanced initial setup with the complexity of this technology
Garmin Z82 Review Overview
The Garmin Z82 is a very powerful and advanced rangefinder with impressive accuracy and information. The unit looks like a traditional laser rangefinder. However, when you look through the scope, you will also see the GPS information for the hole, similar to what you might see on an app like Arccos.
With the Garmin Z82, you can get really great information about hazards and a clear view of what you are aiming at and exactly where you want to hit your shot. The rangefinder comes loaded with 41,000 courses, and it will automatically pick up where you are on the course. 
From score tracking to the most accurate yardages on the market, the Garmin Z82 has everything you could want in a rangefinder or a GPS unit built into one impressive model.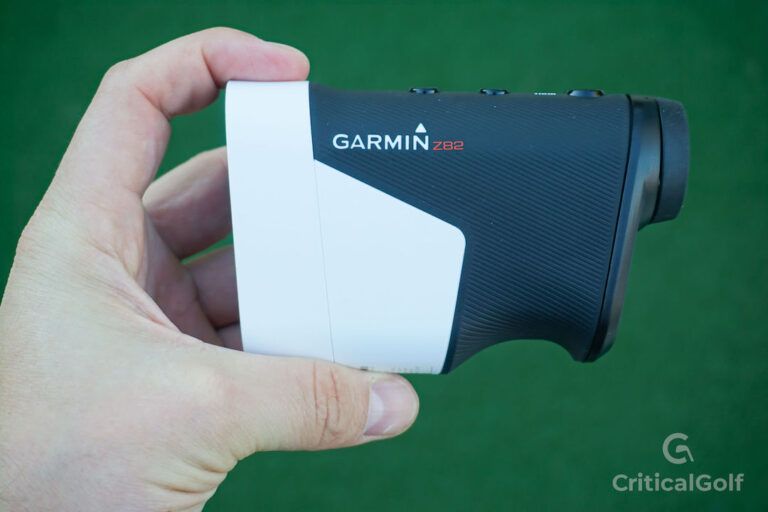 Garmin Z82: Features and Benefits
The Garmin Z82 has a ton of features and benefits. In fact, until you get this unit in your hands, you will have a hard time fully understanding all that it is capable of. I will give you the best account I can of my experience, but this is one of those rangefinders you may need to see to believe.
GPS and Laser Rangefinder Combination
The Garmin Z82 is two tools combined into one. 
If you think you have seen this in the past, you have. There are a few companies like Bushnell and Callaway that make a combined rangefinder and GPS unit, but they are not like this. 
Those units feature a display on the outside of the model that gives you the front, back, and middle yardages. 
With the Garmin Z82, you will look through the scope and get to see all of the information you need all at once. In addition, the display is full color and extremely easy to read. It helps to know that the pin is 150 yards away; however, it may be more beneficial to know that the front of the green is 145 and the back is 170 with water on the front. Clearly, in this situation, you have a little room behind the pin and with that water, you may want think about your shot differently. 
This is information that a traditional rangefinder can't give you all on its own.
Accuracy within 10"
For years a rangefinder that was accurate to within a yard or two was considered the best on the market. The Garmin Z82 claims to be accurate to within 10 inches from over 400 yards away. Through our distance measurement test, this is pretty darn accurate.  If any golfer claims they can be more accurate than ten inches with anything other than their putter then I can't wait to watch you complete an annual Grand Slam!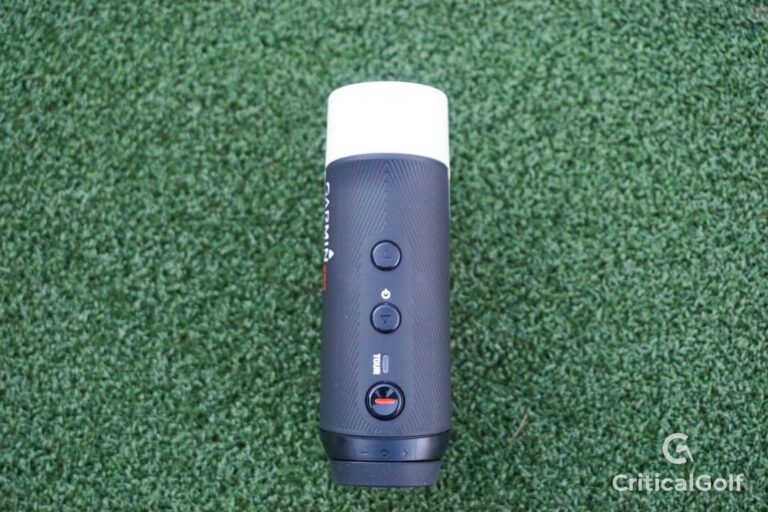 Full Color Course View Mapping
When I first looked through the Garmin Z82 display, I was really surprised at how clear and clean the full color display was. Although it is a lot of information to combine in a small scope, and I did get an occasional lag in the screen, I never had difficulty reading it. The full-color course view mapping also helps with visualization as opposed to seeing just a list of numbers.  
The only thing that became a little difficult in this regard was customizing the display to work for my needs. Some settings and adjustments take time to set up and work with, and I found that the Garmin Z82 did take more time than other units to get setup for a round.  It takes a few extra button clicks instead of a simple, "point and shoot" option like most units out there.
Hazard View
Many rangefinders give you the ability to get yardage on the bunker or the water hazard; however, it can be hard to lock in on your yardage and trust it. 
With the Garmin Z82, you can rest assured that you know exactly how far you have to a hazard, and you are able to plan your shot accordingly. I have never used a rangefinder to help as much with hazard location and shot planning as I did with the Z82.
Find My Garmin
If you misplace a rangefinder in this price range, you will be very disappointed. And I don't know about you, but there have been a time or two where I left my range on in the cart or at least misplaced it for a moment.  Having the find my Garmin technology ensures that you can easily find your rangefinder.  Nice touch!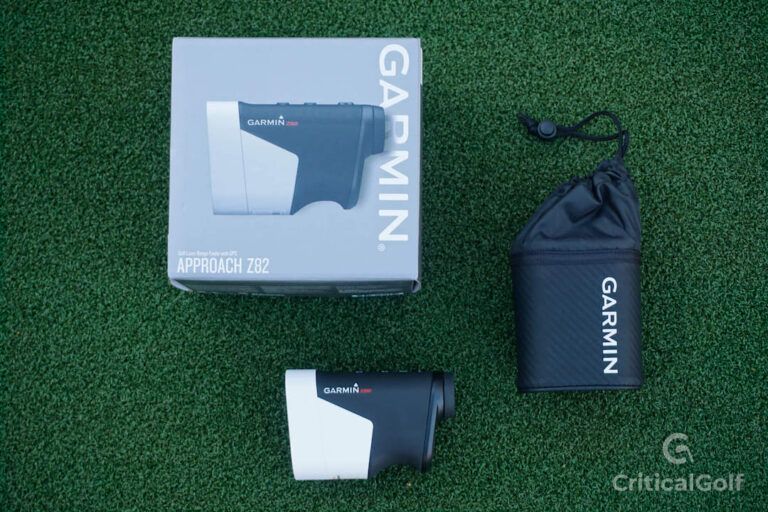 Who Should Buy The Garmin Z82 Rangefinder?
Now that you have a better idea as to what the Garmin Z82 rangefinder has to offer, you have to understand who this rangefinder is for. As I have mentioned, this is an expensive piece of golf equipment, and not every player will benefit from it. Here are a few of the golfers that I felt would really enjoy the technology offered in the Garmin Z82.
The Tech Savvy Golfer: if you are really into electronics and gadgets, the Garmin Z82 will be one of your favorite investments. With the Garmin Z82, you will have one of the most advanced and feature-rich rangefinders on the market.  
The Undecided Golfer:

for golfers that cannot decide if a rangefinder or a GPS unit is the best choice for their game, the Garmin Z82 gives you the best of both worlds.

Players Working On Lowering Their Handicaps: if you have made a serious commitment to lower your scoring and improve your game this yaer, the Garmin Z82 can give you the stats and specs you need to see it happen.  
Golfers That Play A Variety of Golf Courses:

 when you move around from one golf course to the next, you will often struggle with where to hit the ball. Golfers have a hard time adjusting from one course to the next without seeing or playing it first, but the Garmin Z82 helps fill in the gaps.
Is The Garmin Z82 Worth It?
The Garmin Z82 is worth the money if you are a tech-savvy golfer or you want some of the most impressive rangefinder technology on the market. There is no denying the fact that this is an interesting and unique piece of golf equipment. The problem is that the expense of the Garmin Z82 is not immaterial. Truthfully you could pair a GPS app with a traditional rangefinder and get very similar results, however, the cost of those two separate devices can add up to. If you have the money to spend, this is a useful golf gadget that can help you lower your scores.
About Critical Golf
Launched in the spring of 2009 to shed light on the confusing world of golf equipment.

Our testing staff includes players ranging from low to high handicappers to provide perspectives relevant to all golfers, regardless of ability level. Each product is tested by all staff members to give you the best insight possible.