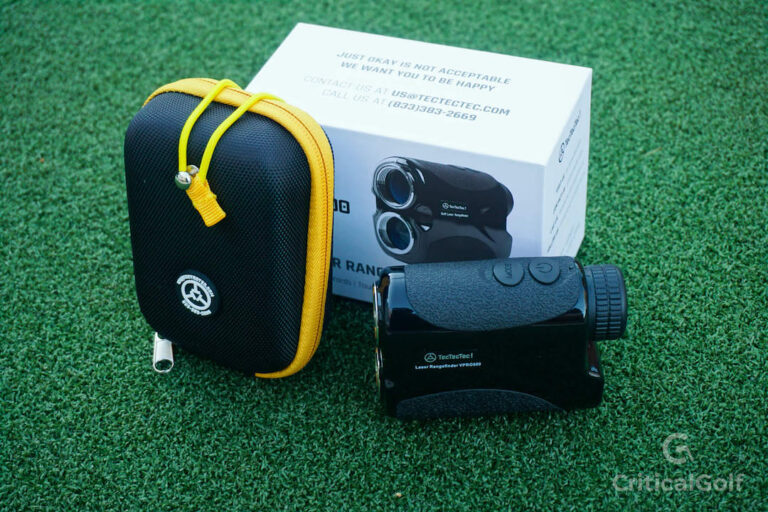 Yes, we actually test these items so we can recommend the best products—learn more about our process. This article may contain affiliate links. Read full disclosure statement.
When shopping for a new rangefinder, you will likely see some brands that you are not all that familiar with. A company does not need to be a golf club manufacturer to be able to develop a rangefinder for a golfer. In fact, TecTecTec created the VPO500 for both golfers and hunters.
If you are into both golf and hunting, this could be a great model. The TecTecTec VPRO500 has a very appealing price tag. However, if you are wondering if the technology is worth it, we have all the details you need.
It comes with a great carrying case

Very clear optics

Accuracy to within one yard 

Can measure more than just the pin 

540 yards range 

Can be used for golfing or hunting 

Lightweight smaller scale model 

Comes with 2-year warranty
No slope technology 

Shorter range than other laser rangefinders 

No magnetic technology for sticking to the cart 

Case is not overly durable
TecTecTec VPRO500 Review Overview
To be honest, I wasn't expecting much when I tested the TecTecTec. After having the latest Bushnell, Nikon, and Garmin models in my hands, I didn't know how a $150 rangefinder without slope technology could help a golfer. However, the accuracy, Pinsensor technology, and durability on this TecTecTec VPRO500 surprised me. This is a perfect rangefinder for a golfer on a budget looking for a long-term solution to their yardage dilemmas.
TecTecTec VPRO500

: Features and Benefits
One of the first things you will notice about the TecTec Tech is that it is a compact and easy to use golf rangefinder. This will fit in your hand easily and make it easy to fit the rangefinder in any pocket of your bag. There are very few features and settings, but if you want a simple number to the pin, the performance of the TecTecTec VPRO500 is quite good.
High Precision Golf Rangefinder
When I look at golf rangefinders and whether or not they are worth the money, the most important feature is accuracy. If I don't feel like the rangefinder can give me an accurate number, I won't stick with it. It's hard enough to be confident about a golf shot; when you doubt the yardage your rangefinder is giving you, the shot won't be a good one. 
Pinsensor Technology 
One of the main reasons golfers stay away from a laser rangefinder is the fact that they can't find the pin. Although you will have to hold your hand steady while using the TecTecTec, the enhanced Pinsensor technology will give you highly accurate measurements to within one yard. The Pinsensor technology essential allows the target to be at the forefront, so if there is a hill behind the pin, you won't be continually reading the hill. 
Clear Optics
Whether you struggle with vision or not, the scope on a rangefinder is small. Some players struggle to be able to see through the rangefinder scope, especially when the optics are unclear. The TecTecTec had one of the clearest displays that we found in this budget-priced rangefinder category. The optics are multi-layered, and they give very quick readings and information.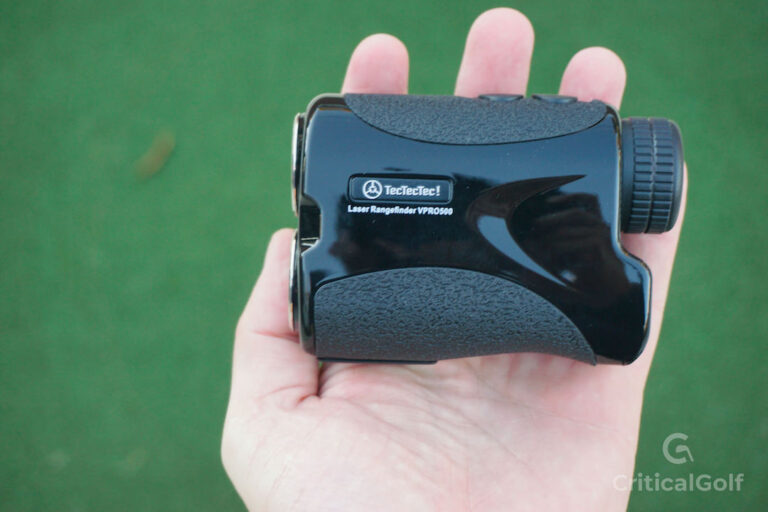 Multi-Functionality 
The multifunctionality of the TecTecTec VPRO500 can be looked at as a positive and a negative. This is not a golf-specific rangefinder, and it can be used for golfing, hunting, or other outdoor functionality. This helps keep the pricing down a bit as most golf products are priced quite a bit higher than multi-sport products. For those that have several hobbies, this is a good thing. For the demanding golfer that wants a product built just for golfers, the TecTecTec VPRO500 is not your best choice. 
Slope 
The TecTecTec VPRO500 is a non-slope rangefinder. As great as it can be to have slope, it is also illegal in golf tournaments. If you are a player that does not care about the help slope can give and likes just simple yardage to the pin, the TecTecTec is a great choice. This model is slightly lower in price because it does not have slope technology.
2-Year Warranty 
Even though you may not recognize the TecTec Tec brand the same way you recognize Bushnell, Nikon, or even Blue Tees, this company offers a 2 year happiness warranty on the product. This means that if you find some reason why the TecTecTec is not living up to its expectations, you can contact them for a solution.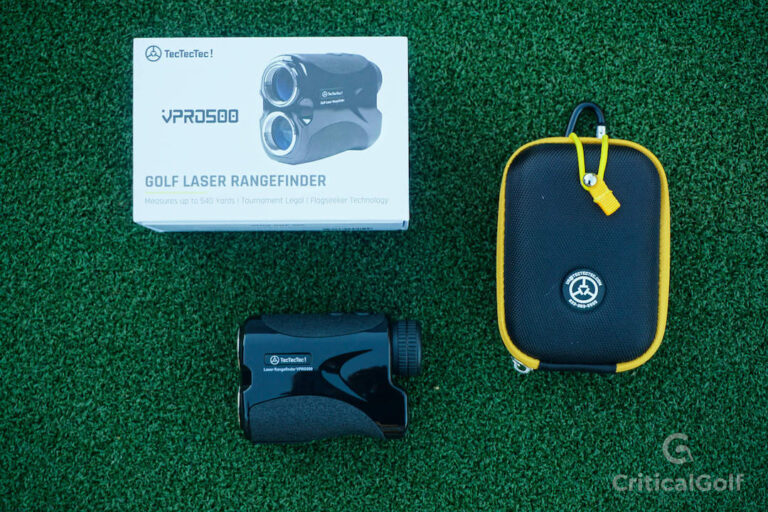 Who Should Buy The TecTecTec VPRO500 Rangefinder?

Now that you know what the TecTecTec has to offer, it's time to figure out which golfer is going to benefit the most from this technology. Overall this is a mid-level golf rangefinder that gives you accurate numbers for a fair price. 
The golfer on a budget:

The TecTecTec is one of the more affordable golf rangefinders on the market. Although you will get a great deal on this model, you won't have to worry about losing the accuracy. Durability isn't the best out there, but it comes with a carrying case that will help you protect the VPRO500 for a long time. 

Golfers that want clear optics:

The TecTecTec has very clear visuals. If you are a player who struggles with your vision or can't focus through a rangefinder's small scope, the TecTecTec can help. I found that the view through the TecTecTec VPRO500 was just as clear as the more premium rangefinders on the market. 

The Anti-technology golfer:

Some players want all the technology they can find in a rangefinder; others just want that simple yardage to the hole. If you are a player that has a hard time switching from pacing yardages to using a rangefinder, the TecTecTec is a great solution.
Is The TecTecTec VPRO500 Worth It?

The TecTecTec VPRO500 is worth the money. We found that the accuracy was very good for the low price, and the overall functionality was strong enough to justify the spending. Our favorite features were the clear optics and the continuous scan mode. Hopefully, in the future, TecTecTec will come out with a model that has magnetic technology and a slightly more durable outer casing; those are the only two complaints that we have about this non-slope rangefinder.
About Critical Golf
Launched in the spring of 2009 to shed light on the confusing world of golf equipment.

Our testing staff includes players ranging from low to high handicappers to provide perspectives relevant to all golfers, regardless of ability level. Each product is tested by all staff members to give you the best insight possible.