I'm feeling a little grumpy. So therefore, in no particular order, are some of my golf-related pet peeves for the day:
Fees for spouses/friends to walk along. Seriously? You are going to charge me a fee to have my spouse walk alongside while I play for a round ($30 just to have my wife join me while I play…not that I'm not worth it, of course)? Mahalo to you too, Poipu Bay!
Cart paths. We prefer to walk (with push carts), but realize there are some players who aren't able to walk a full round or simply like to ride, and lots of 'em. That doesn't mean, however, that cart paths need to extend from tee to green (and be visible and in play) on every hole. Someone needs to invent a substance for cart paths that doesn't result in our drives ricocheting an additional 30 yards OB. ASAP!
Blind shots. They just don't add excitement or anticipation to the game. It's silly. And it sure doesn't help those who will only be playing the course once, or infrequently enough to not get to know the course well.
Railroad ties. On a railroad, yes. On a golf course, no.
Reinstating former golf pros as amateurs. This one I just don't get. There has only been one player who has ever applied for reinstatement (out of an estimated 600-1,000 that apply each year) who was not approved (appeals included). How does the USGA justify a former PGA tour winner getting his amateur status back (with a total of 12 Top-10 finishes and $1.2M in career earnings!)? In the 2012 Mid-Am, 36% of the players were reinstated amateurs. Former pros regularly play in the Walker Cup. The USGA Senior Amateur has become a battlefield for former professionals, where 15 of the 32 players to win a first-round match play match in 2012 were former professionals. Doesn't quite seem quite right to me. Maybe it's time to create another set of amateur tournaments for players that have always been amateurs (an Amateur Mid-Am? USGA Senior Amateur-Am? Walker-Am?). Or just leave amateur tournaments for the real (lifelong) amateurs.
Required carts at walkable courses. Why require a cart, either for a portion of the day or just on weekends (or at the really nutty ones…all the time)? The golf shops always claim the reason is to speed up play, but this is rarely the case, with the exception of the first handful of times of the day. Even worse, these courses often don't allow carts off carts paths, nor do they have a 90-degree rule…the result is that this creates for even longer rounds, and is more of a PITA for players who have to trek across the fairway with a selection of clubs when going to find their ball.
Marshalls who don't do their job. Marshalls that drive by in their carts and wave, and couldn't care any less about getting slow groups to pick up the pace or skip a hole.
All-aerial golf. How boring. Zzzzzz. Architects and greens keepers, how about letting us play some bump and run shots for kicks, putt some balls from off the green, develop a ground game. Give us some lines to play, and cut back on the overwatering.
Over-manicured courses. We know The Donald demands this at his courses (which reminds me, Man-Made Waterfalls should also be on this list). Not good for the greens fees or the environment. Oh, and nothing in the rule book says we are entitled to a perfect lie every time.
Slow play (or Why I Will Never Play The Santa Clara Golf Course again). It's fantastic what clubs like Angel Park Golf Club in Las Vegas are doing…creating an "Express Lane" to let the fastest players tee off first. It only applies to the "first 5 to 10" tee times on Saturday mornings at one of the two courses at the facility (alternates each week) so far. Here's hoping they continue to expand the program, and that other courses nationwide take note.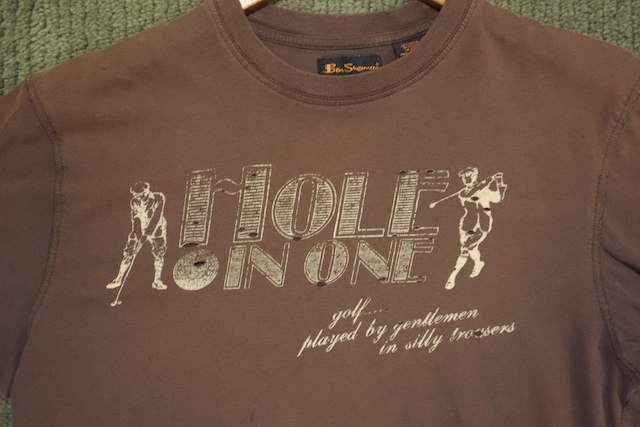 Click for holes
My Ben Sherman golf t-shirt (see image at right). After wearing just a few times, holes everywhere…just like on a golf course. How amusing. Well, not really. These t-shirt aren't cheap! Looks like a bad dye/fabric combination. Shame on you, Ben Sherman! I like most of your clothing, but not this shirt!
Now it's your turn – go ahead and vent…it's cathartic.
---