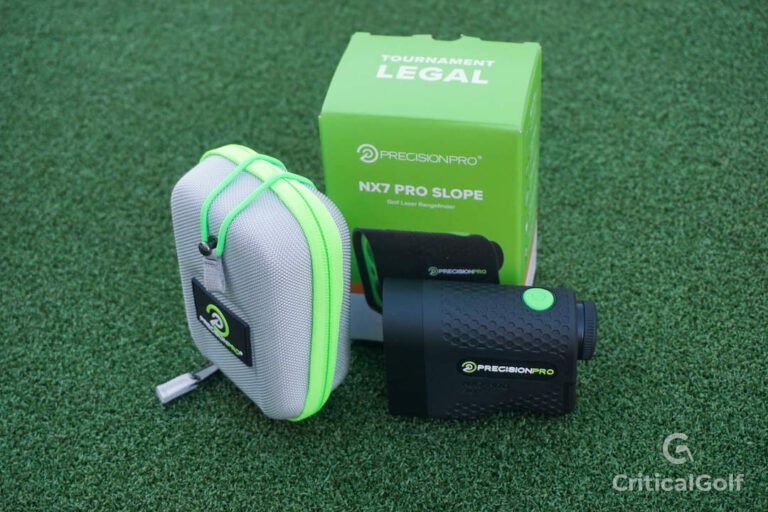 Yes, we actually test these items so we can recommend the best products—learn more about our process. This article may contain affiliate links. Read full disclosure statement.
Most golf rangefinders have a unique selling point that they use to set their product apart from others on the market. However, with the Precision Pro NX7, nothing stands out as overly unique or exciting, yet each feature of the Precision Pro NX7 is pretty good. Essentially, while there is no "wow" factor," this is an excellent value rangefinder that checks most of the boxes for features that a golfer would need on the course.
600 Yard range

Adaptive slope technology 

Very clear visuals

Quick read time 

Lifetime battery replacement

2-year warranty 

6X magnification 

Durable outdoor cover with ergonomic design 

Accurate slope readings
Lacks a magnetic outer cover 

Settings and personalization are very minimal
Precision Pro NX7 Review Overview
The Precision Pro NX7 is one of the most affordable golf rangefinders on the market. With this model, you will get slope technology for a very fair price. The Precision Pro NX7 has a 600 yard range, and it comes with a lifetime battery replacement.
The support and customers service with Precision Pro is quite good if you should have an issue with the functionality of your rangefinder(though I doubt you will). The overall setup and use of a Precision Pro NX7 is quite simple, and there are not too many features that will make the operation of the rangefinder confusing.
Precision Pro NX7: Features and Benefits
The Precision Pro NX7 has some great features and benefits that will appeal to almost any golfer. The thing that really stands out to us is the simplicity and the speed of the reading for the price that this rangefinder is offered. Some golfers don't want to be bogged down by technology and functionality, and as far as the NX7 goes, it's a straightforward operation.
Quick Yardage Readings
The Precision Pro NX7 gives golfers very quick yardage readings. I found that this model picked up the target rather quickly, and I was able to clearly see the pin. Within a second, I had my yardage. Even for those with a shaky hand, the Precision Pro NX7 should have enough stability to be an excellent option to consider.
Slope Technology
Slope technology from the Precision Pro NX7 gives golfers the ability to get a "play as" distance. We found the slope technology to be really accurate, but maybe not quite as precise as you will find from something like a Nikon or a Bushnell. Slope technology can have a real impact on club selection, but mostly when there is a significant change in elevation. 
For instance, if you have a 20-foot drop down to a green, the slope technology is super important. Other times when it is just a yard or two, the differences in slope vs. non-slope may not have as big of an impact.
Water Resistant
The cover on the Precision Pro NX7 is water resistant. If you get caught in the rain shower, your rangefinder will not be destroyed. However, there is a difference between water-resistant technology and waterproof technology. Essentially you still need to ensure you protect this model if you drain a long putt for eagle on 18 and decide to take a celebratory swim in the pond. 
The NX7 comes with a nice, protective case. I found that the case was really durable, and I didn't think twice about attaching the case to my bag or putting it in one of the pockets in my golf bag.
Ergonomic Design
With all of the different rangefinder models out there, it makes sense to find something that fits nicely in your hand as you play. The NX7 is a little larger than some other models, but the overall feel and shaping of the model help it fit in the hand relatively easily.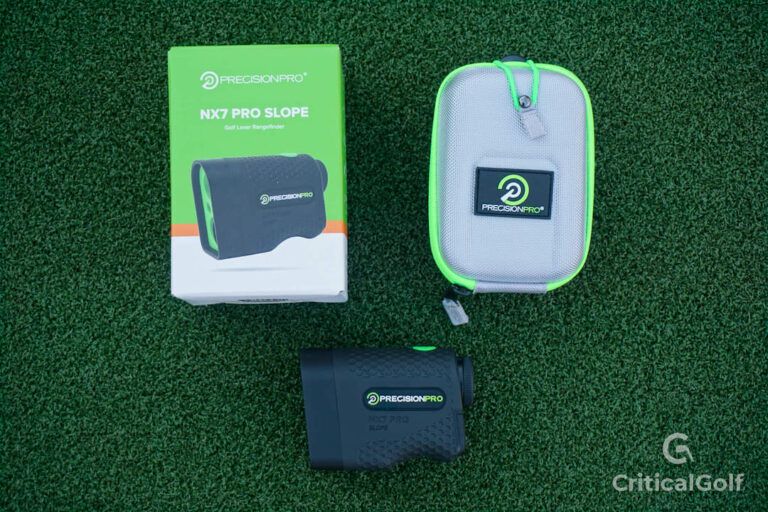 Who Should Buy The Precision Pro NX7 Slope Rangefinder?
As you can see from the features and benefits of the Precision Pro NX7, there are plenty of good features and performance attributes to the NX7. For the price, this is one of the best rangefinders out there, and we were impressed with the free batteries for life. Here are a few of the golfers that would benefit the most from the Precision Pro NX7.
The golfer on a budget:

For golfers on a budget, it can be hard to choose a rangefinder that is affordable but also has good technology. There are cheap models out there that give inaccurate readings but save you tons of money! The NX7 combines functionality with overall performance and feel to help golfers save money but get the accurate yardage they need.

Golfers that want simplicity and speed:

Fast and efficient golfers tend to like a rangefinder that gives a quick and accurate reading. If you don't want to stand around waiting for your rangefinder to register, the NX7 is the way to go.

The avid golfer:

If you play a lot of golf the fact that Precision Pro will send you new batteries for the lifetime of the rangefinder is a pretty great benefit. Dealing with trying to match the right lithium battery and find a replacement can be a hassle, quickly giving your information to Precision Pro is a nice benefit.

New golfer:

If you are new to the game of golf and need a simple point and shoot type rangefinder that is affordable and accurate, the Precision Pro NX7 is a great choice. Having that slope technology can also help new players learn what they need to do with their yardages and club selection in order to succeed.
Is The Precision Pro NX7 Worth It?
The Precision Pro NX7 is worth the money, mostly because it is offered at such a great value. So many golf rangefinders are getting more complicated in the features that they offer and the extra functionality that they put in place. Although these can be a great option for some golfers, there are other players that like that quick and accurate yardage for a fair price. The NX7 is a quality laser rangefinder that comes with a strong warranty and free battery replacements. Overall the value here is quite strong and should be on your list if you are shopping for a new rangefinder in 2022.
About Critical Golf
Launched in the spring of 2009 to shed light on the confusing world of golf equipment.

Our testing staff includes players ranging from low to high handicappers to provide perspectives relevant to all golfers, regardless of ability level. Each product is tested by all staff members to give you the best insight possible.